A child's bedroom is their haven: a place to play, dream and grow. As they transition through various stages of childhood, their tastes and needs evolve. In this journey, a children's bedroom transformation can be a fantastic way to nurture their creativity, promote comfort and adapt to changing interests. Here are some innovative DIY ideas to help you transform your child's bedroom into a space that's both functional and inspiring.
Themed Wall Murals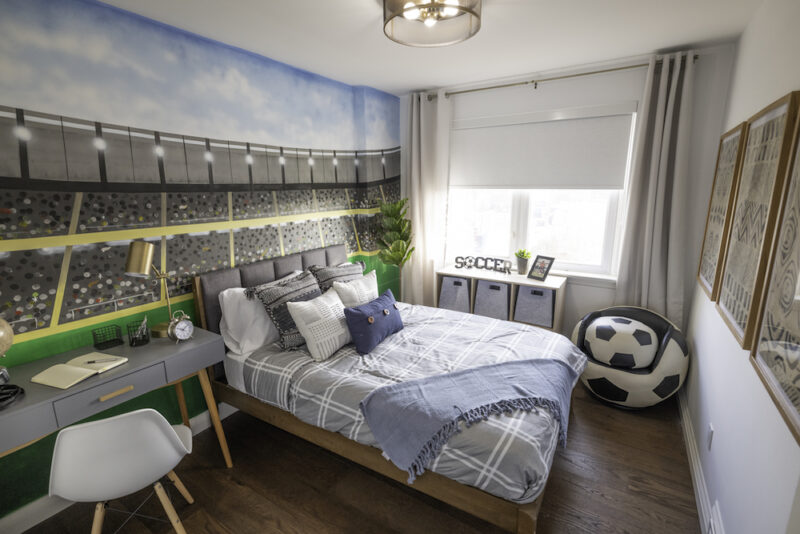 Why not begin with one of the most impactful DIY ideas: themed wall murals? Create a world of imagination by painting murals that reflect your child's interests and fantasies. From enchanted forests to outer space adventures or cartoon characters – the possibilities are endless. To make this project manageable, start with a simple sketch and use stencils if needed. Wall decals are also a practical alternative, allowing for easy removal or change as your child's interests evolve.
Chalkboard and Whiteboard Walls
Encourage creativity and learning by transforming a section of your child's bedroom into a chalkboard or whiteboard wall. This versatile DIY project allows your child to draw, write and express themselves freely. You can paint an entire wall or create a designated space for this purpose. Incorporating educational elements, such as a multiplication table or the alphabet, can add an extra layer of utility to this feature.
Upcycled Furniture
Elevate your child's bedroom with upcycled furniture. Repurposing old or second-hand items can not only save money but will also introduce a unique charm to the space. Sand and repaint a vintage dresser, add colourful knobs or turn wooden crates into storage units. Be creative and involve your child in the process – making it a fun bonding experience.
Custom Shelving and Storage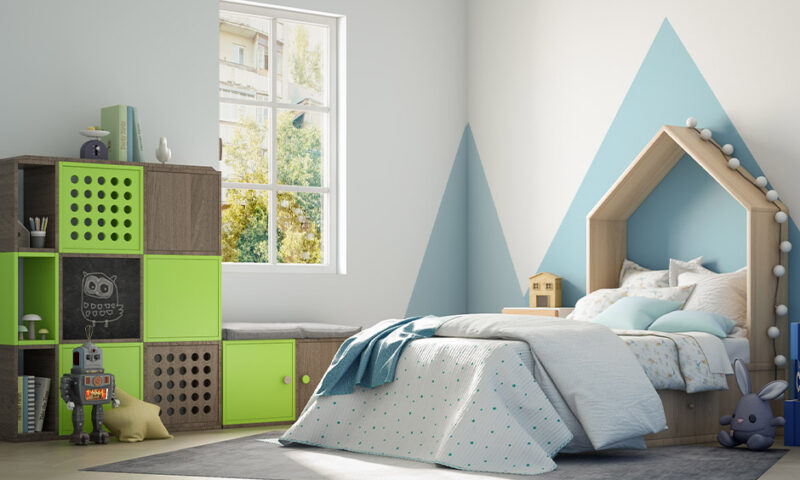 Effective storage is essential for a well-organised bedroom. DIY custom shelving and storage solutions can be both practical and visually appealing. Build a tree-shaped bookshelf for a nature-themed room, install floating shelves, or repurpose wooden crates for toy storage. These projects will help keep clutter at bay and make the room more organised. It is easy for kids' bedrooms to get messy, so plenty of storage space can help create a sense of order. You never know, with so many storage options, they might actually enjoy putting their toys away!
A Colourful and Cosy Reading Nook
Cultivate a love for reading by creating a cosy reading nook in your child's bedroom. Incorporate a comfortable chair or bean bag, soft cushions, and a well-lit corner with a small bookshelf. Add personal touches with your child's favourite storybooks and a cosy throw blanket. This will nurture their imagination and create a quiet space for exploration and reading.
A DIY Canopy Bed
Transform your child's bed into a dreamy retreat with a DIY canopy. A canopy adds an element of magic to the bedroom, making it feel like a castle or a secret hideaway. You can use sheer fabric, strings of lights, or even a curtain rod to create this magical ambiance. Encourage your child's input on the colour and style of the canopy to make it uniquely theirs. If you have more than one child sharing the room, consider investing in a triple bunk bed to save on floor space. This can be transformed into a secret canopy-style bed with the clever use of fabric to give your children a place to play and sleep.
A Personalised Art Gallery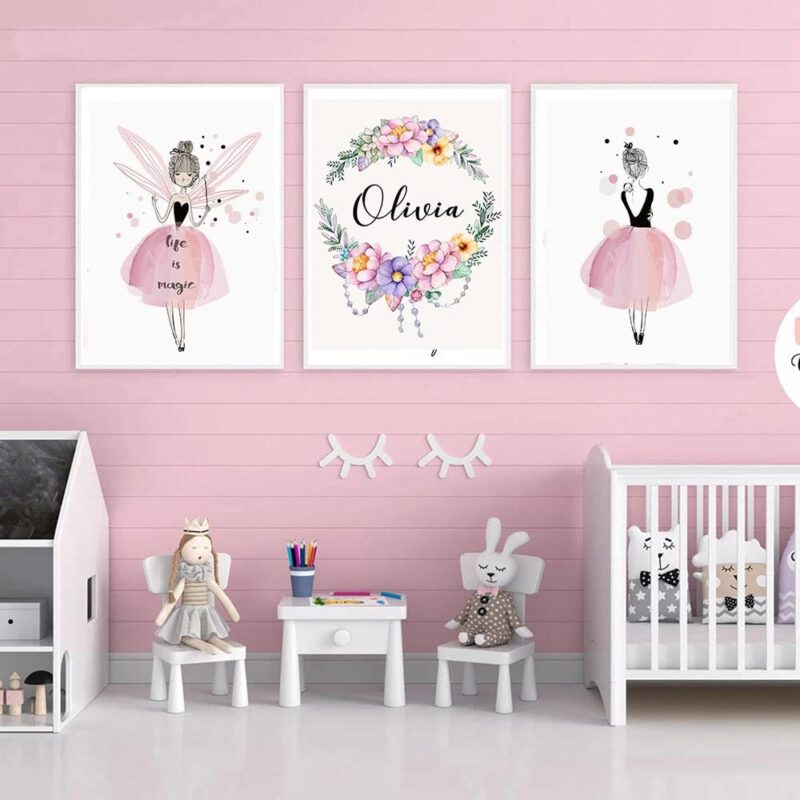 Children love to showcase their artwork, and a personalised art gallery is a fantastic way to make them feel proud of their creations. Dedicate a section of the wall to display their drawings and paintings; use string, clips or frames to exhibit their masterpieces. You could even hang pictures of their cherished memories with family and friends to make it a truly personalised space in the room. This promotes self-esteem and creativity while also keeping their artwork organised.
A Sensory Play Wall
Sensory play is crucial for a child's development, and a sensory play wall can offer endless entertainment and educational opportunities. You can create a sensory wall by attaching various textured, tactile and auditory elements. Incorporate objects such as fabric swatches, tactile materials, and musical instruments, all of which enable your child to explore and learn through touch and sound.
A DIY Craft and Homework Station
Support your child's creativity and productivity with a dedicated craft and homework station. Repurpose an old table or desk and provide ample storage for art supplies, school materials and stationery. This space not only fosters their artistic pursuits but also ensures a quiet, organised place for homework and study.
Magical Lighting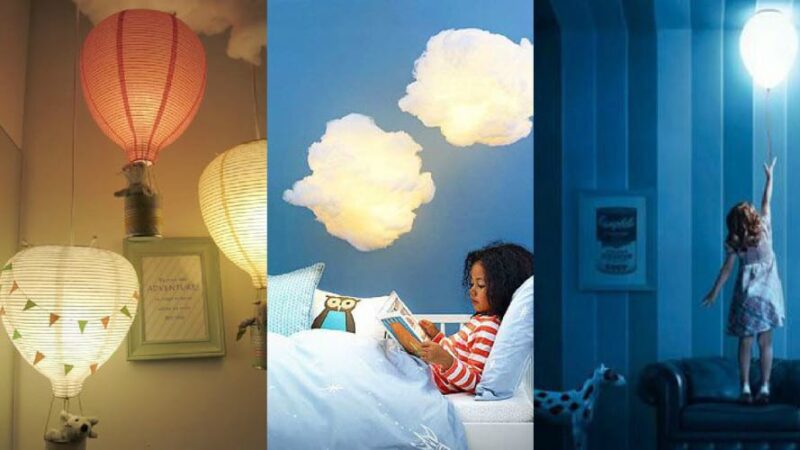 It's important not to  underestimate the power of lighting in transforming a child's bedroom. A clever use of light can add a magical touch to the space. String lights, paper lanterns or homemade cloud lamps can create a whimsical atmosphere. You could even consider projector lights to display images on the walls and ceilings at night. Encourage your child's input when selecting the lighting design to make their bedroom truly enchanting.
Nature-Inspired Elements
Create a soothing and natural atmosphere by incorporating nature-inspired elements into your child's bedroom. DIY projects might include a tree branch coat rack, flowerpot lamp stands or butterfly mobiles. These elements can help your child connect with the beauty of the natural world while relaxing in their own space. To create a truly relaxing ambience, you might want to invest in a speaker and play atmospheric jungle or rainforest noises to give a real nature feel to the room.
Conclusion
Transforming your child's bedroom with these DIY ideas is not only a creative endeavour but also a way to cater to their evolving needs and interests. From themed wall murals to personalised art galleries, sensory play walls and cosy reading nooks, these projects can ignite creativity, promote comfort and turn their bedroom into a space where dreams come to life.
As your child grows, consider involving them in the DIY process – allowing them to take an active role in shaping their bedroom. With a little imagination and effort, you can create a magical space that grows with your child and provides countless memories for years to come.