As the effects of climate change continue to damage the world around us, there has been a huge shift towards sustainability and making more eco-conscious decisions.
This starts with the basics like recycling and eating less meat, but it has now made its way into almost every aspect of our lives, including the home improvement space.
In a bid to reduce our impact on the planet, more and more people are looking for sustainable options when decorating their homes. And one room in particular where this has a big impact is the bathroom.
Between water, electricity and waste, this room can have one of the biggest footprints in the home. But making some simple changes to your bathroom can make a huge difference and if you're in need of a little inspiration to help you go green, you've come to the right place.
Below, we'll share some of the eco-friendly fixtures you could choose for your bathroom and some of the important changes you can implement to make a real difference.
Switch your bath for a shower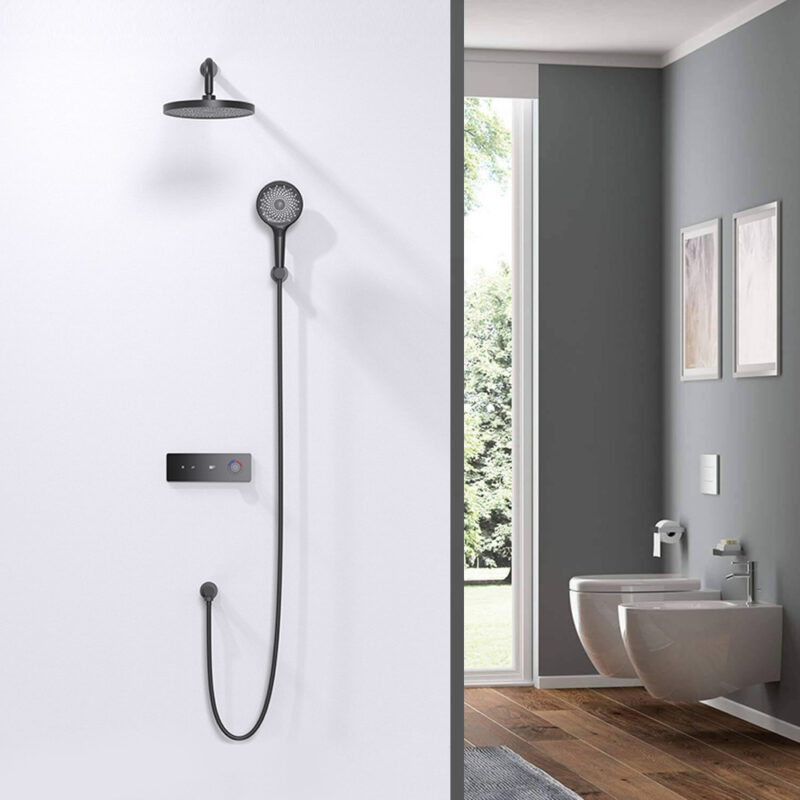 If you've got a big thirsty bathtub you never use, why not consider doing away with this altogether and swapping it for a luxury shower instead? This can save a huge amount of water, which is better for the planet but also for your bank balance.
Best of all, you can choose from a huge range of rain showers, digital shower heads and even seamless ceiling showers that make your bathroom feel sleek and minimalist. Whatever your style, this can be a great way to cut down on water usage and transform your bathroom into an eco-sanctuary.
Choose high-quality fixtures
When you're on a budget, it can be very tempting to go out and buy the cheapest fixtures and fittings for a quick, budget-friendly bathroom refurbishment. However, this can cost you a lot more in the long run.
These cheaper fixtures are not made to last. So while they may be cheaper to buy initially, it's more likely that you'll have to keep replacing them every couple of years. This is not only inconvenient and costly, but it is very wasteful and bad for the planet.
However, investing in good quality fixtures can be a far more sustainable option. These are likely to be more energy efficient right off the bat, less likely to leak and they will also last longer, saving on money and waste.
Install water-saving fittings
There are lots of great fixtures and fittings you can use to reduce water consumption. For one thing, simply replacing leaky taps can make a huge difference. In fact, it can save you up to 26 litres of water per day.
Some of the other options you have include installing automatic taps, also known as sensor taps. These are hands-free which is great for cleanliness and hygiene, but more than that, they have a low flow rate and turn off automatically, so there's no risk of leaving the tap on.
This can be particularly helpful if you have young children or distracted teens in your home who often leave the tap running.
You can also swap your old toilet for a modern one with a dual flush. These systems give you the option to use a smaller half flush if you don't require the full flush.
Alternatively, you can install a cistern displacement device. This is really simple, it is just placed in the cistern and displaces roughly one litre of water every time you flush. This can be a slow but steady way to cut down on your water usage.
Choose the right materials
You should also choose more eco-friendly materials and incorporate these into the fixtures around your bathroom. Some of the most sustainable materials include ceramic, steel, bamboo, brass and reclaimed wood.
Reclaimed wood and bamboo in particular can give a really rustic, spa-like aesthetic and bamboo is a highly renewable material. Alternatively, steel can be used for basins and taps and this is one of the most recycled materials in the world.
Upcycle or choose recycled products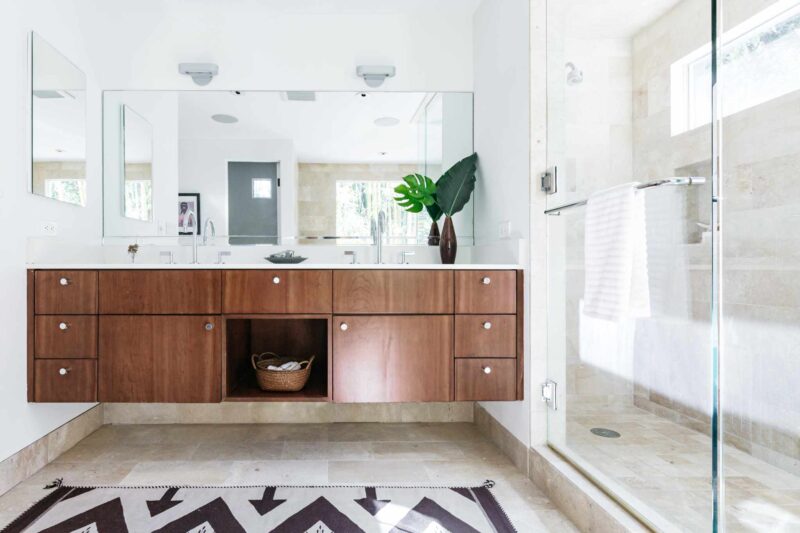 Upcycling has sky-rocketed in popularity over the last couple of years and interior design is one of the greatest ways to do this in your home.
What we mean when we say upcycling is transforming old or vintage furniture, fixtures and units. This can be done by fixing, repainting or sometimes even just deep cleaning items that you have at home or that you get secondhand.
There are lots of great apps that can help you find great secondhand furniture and, of course, you can always go to charity shops too.
Alternatively, if you're going to go out and buy new stuff for your bathroom, look for items that have been made from recycled materials. For example, ceiling panels, flooring and accessories like bins and bath mats can all be made from recycled goods.
And you should always check your fixtures and fittings before buying to determine if they can be recycled again and the best way to dispose of them when the time comes to get rid of them.
Switch your lightbulbs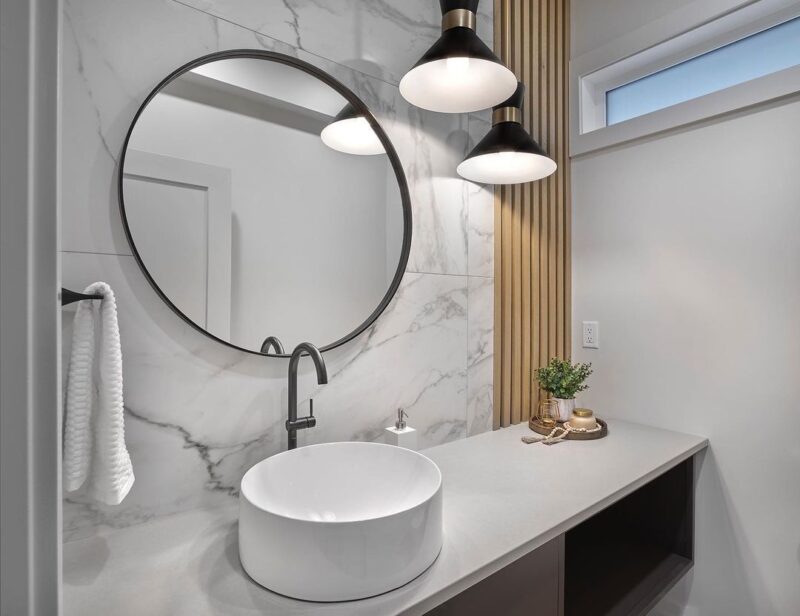 Another really simple and straightforward way to be more sustainable is to switch over to energy-saving lightbulbs. Sure, they cost a little more when you first buy them but they can use up to 90% less energy than traditional bulbs.
Not to mention there are loads of customisable LED lights for you to choose from, so you'll always be able to find the lightbulbs and fixtures to suit your style and benefit the planet.
Install smart devices
Finally, in today's digital world, there is a tool for everything. Smart devices have increasingly been introduced into the home, from smart speakers to video doorbells, but did you know you can install these devices in your bathroom as well?
You can improve your eco-friendly credentials by getting a smart thermostat installed. This is a device that allows you to control your heating remotely and keep an eye on how much energy you're using.
You can even install smart showers and lights. So not only can you save yourself money, but you can save the planet at the same time.