Installing solar panels is a wise investment for any house owner looking to go green and reduce energy costs. Solar PV systems, although low-maintenance over their 25+ year lifespan, still require some basic care and upkeep to ensure optimal performance.
As busy parents ourselves, we know how tough it can be to stay on top of the maintenance tasks. That's why we've put together this straightforward guide with solar panel maintenance tips specifically for parents with hectic schedules. Follow these simple steps to keep your solar panels in top shape!
1. Conduct Quick Visual Inspections
The durable tempered glass and sturdy aluminum framing used in solar power units are built to withstand hail, high winds, and heavy rain. Still, it doesn't hurt to do a quick walkaround visual inspection every few months to spot any potential issues like debris buildup, loose wiring, or damage from fallen tree branches.
Catching problems early allows for quicker resolution before they down the road. Set a recurring quarterly reminder on your calendar to remind busy parents to take 5 minutes for a solar visual check.
Installing solar power units is a wise investment for any homeowner looking to save on electricity costs and increase the usage of sustainable energy. Choosing a reputable commercial solar installation company with ongoing solar services ensures your system will remain optimized over its lifetime.
2. Update Software and Firmware
Like any tech device, the software and firmware that operate your solar energy system need occasional updating. Outdated programs can hinder performance and miss new optimization features.
Schedule a reminder to check for any software updates for monitoring apps, inverters, or other system components. Letting things lag could affect the system's efficiency or even void warranties. Keeping software current improves reliability.
3. Wash the Panels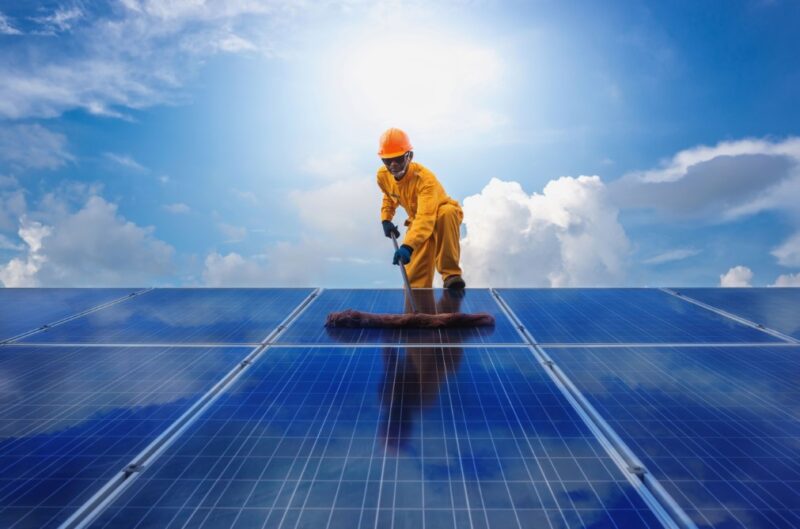 While rain typically does a good job keeping roof-mounted solar panels clean, it's still a good idea to wash them a couple of times a year. Solar units in areas with high pollen or air pollution may need more frequent cleaning.
Use a soft brush and mild, eco-friendly detergent to gently wipe away dirt, bird droppings, pollen, and other debris that could impede sunlight absorption. This simple solar panel cleaning can boost electricity production by up to 15%!
4. Monitor System Performance
One of the best ways to stay on top of your solar panel system's maintenance needs is by monitoring its performance. Fortunately, most modern systems come with user-friendly apps that track solar production in real-time.
Watch for any sudden drops in energy output that could signal issues like wiring problems, inverter failure, or panel malfunction needing professional repair. Being proactive saves you money in the long run.
5. Keep Panels Shading-Free
Solar panels can lose up to 25% of their generating capacity if even partially shaded by trees, chimneys, or other obstacles. Make it part of your regular maintenance routine to keep trees and bushes trimmed back from shading panels.
Also check that mounting racks and angles are optimized for maximum sun exposure, especially if you experience seasonal dips in solar energy capture. Keeping your solar panels shade-free ensures they absorb the brightest sunlight.
6. Optimize Tilt and Angle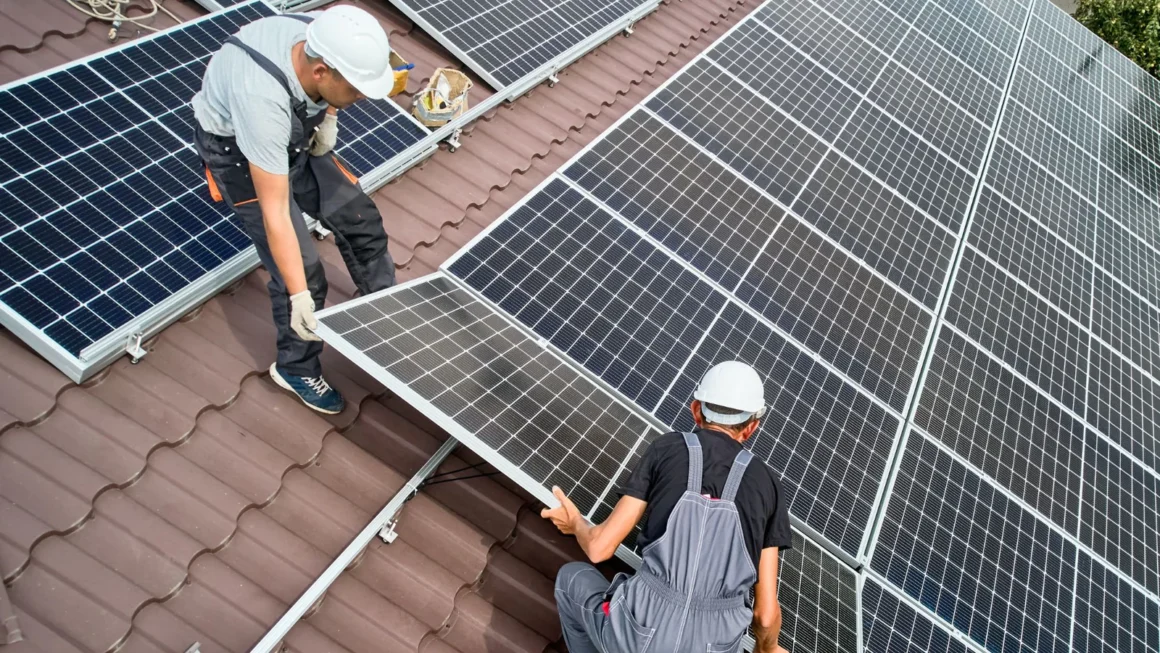 Depending on your location, adjusting the tilt angle and directional orientation of solar panels 2-4 times per year can maximize their sunlight exposure as the sun's position shifts.
While this may require professional adjustment for roof-mounted arrays, tilt optimization can be worthwhile, improving solar panel efficiency by up to 20% in some regions. Properly positioned panels equal more free electricity!
7. Schedule Professional Inspections
DIY cleaning and inspections cover the basics, but it's smart to have a solar pro conduct more thorough preventative maintenance every 12-24 months. Professionals have the expertise and tools to catch underlying issues.
An electrician can check all connections, wiring, and inverter functions while a roofer evaluates roof attachments and weather sealing. The peace of mind is worth the investment for optimal safety and performance.
8. Make Safety a Priority
Like any electricity-generating system, solar panels warrant caution and safe practices.
Check that all wiring and components are securely enclosed and attachments properly sealed, especially if in a high-wind area. Prioritizing safety gives parents peace of mind.
9. Involve the Family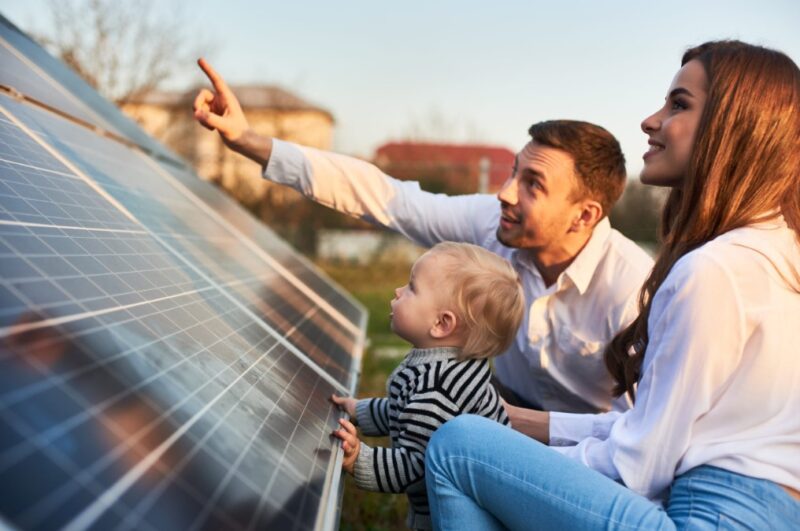 Maintaining a household solar energy system provides a great opportunity for teaching kids about renewable technology while fostering shared responsibility. Have them help check for debris or obstruction issues and learn how the system works.
Let older kids look at monitoring apps to see how weather impacts energy production. When everyone participates, your family stays invested in maintaining your solar investment.
10. Schedule Seasonal Maintenance
The position of the sun changes throughout the year, impacting how much sunlight hits your panels. Seasonal maintenance helps counteract these changes for peak efficiency. To help busy parents, try clustering your solar maintenance into seasonal sessions. For example:
Spring:
Clear any winter debris or snow buildup
Check for storm damage
Trim any new growth shading panels
Adjust panel angles for summer sun
Summer:
Clean panels to maximize sunshine absorption
Check for overheating issues
Ensure proper airflow to prevent efficiency loss
Fall:
Clean panels from dust and dirt buildup
Check for pest damages
Trim falling leaves blocking sunlight
Winter:
Clear snow when accumulation is heavy
Adjust angles for lower winter sun
Check for any storm damage
Scheduling seasonal maintenance ensures your panels are optimized for the unique sun conditions across the year. Companies offer customized commercial solar service packages to handle seasonal upkeep.
While remarkably minimal, solar panels do benefit from basic maintenance best practices to protect your investment. Following these handy tips will take less than an hour per quarter but pay dividends through enhanced safety, efficiency, and money saved on energy bills for decades to come!
Conclusion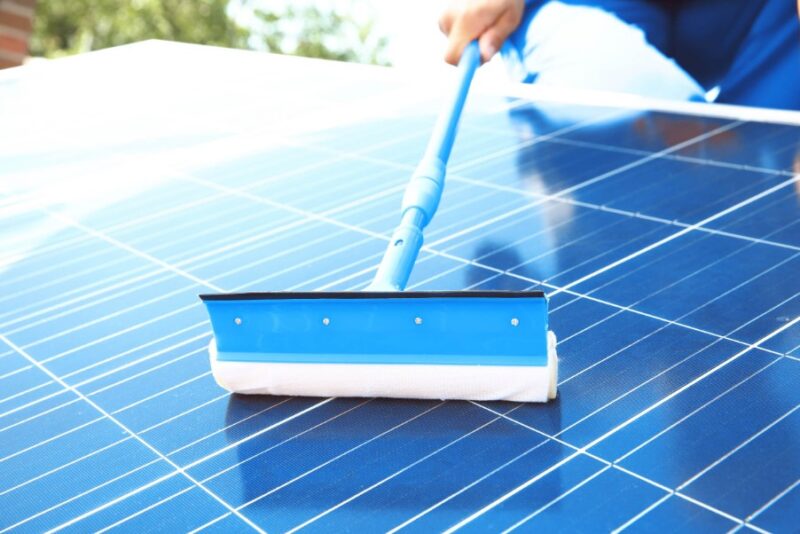 Following these simple maintenance tips will extend the lifespan of your solar system while helping you save time and money in the long run. Maintaining solar panels does not need to be a time-consuming process even for busy parents. A few basic preventative steps go a long way in protecting your investment!
To ensure your family's solar panels remain in optimal condition year-round, partner with a solar provider that offers comprehensive maintenance plans like Genie Solar Energy. Their team of experts will handle seasonal inspections, cleanings, software updates, and repairs, giving you peace of mind.
Frequently Asked Questions
How often should solar panels be professionally inspected?
Most experts recommend having a certified solar technician perform a thorough inspection of your solar energy system at least once per year. Bi-annual inspections can provide even greater preventative maintenance.
Is it safe to clean solar panels myself?
Exercising reasonable caution, solar panels mounted at ground level or on sloped rooftops can usually be safely cleaned by the homeowner using a soft brush and mild detergent. However, it's best to hire a professional for solar panel cleaning on steep or multi-story rooftops.
What are the benefits of monitoring my solar panel system?
Monitoring a solar energy system through a mobile app allows homeowners to track real-time and historical data on solar production, helping flag any potential issues and ensure optimal system performance.