Living in a small space can make you feel limited. But with clever furniture hacks, you can turn even the tiniest apartment into a stylish, functional oasis. From furniture with multiple uses to strategic layouts and DIY customizations, you can make the most of every precious square foot. Continue reading for ingenious ideas to create a welcoming small-space sanctuary.
Creative Furniture Picks for Small Spaces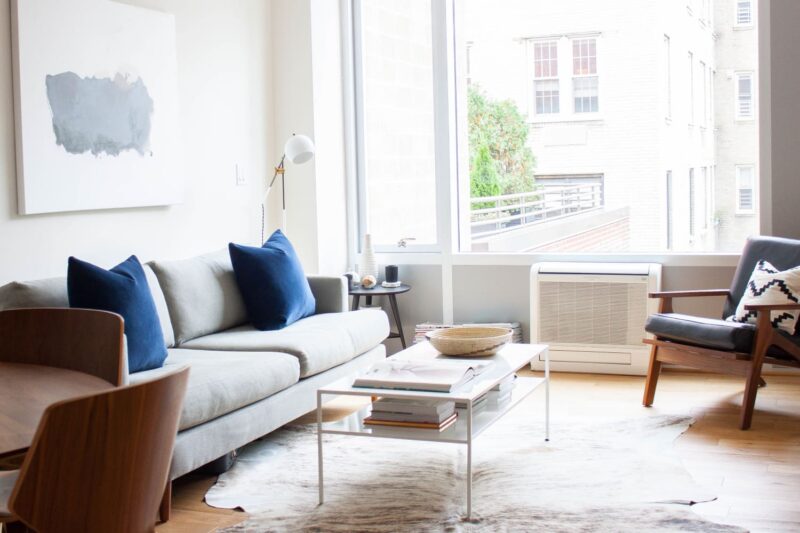 Picking the right furniture completely changes things in a compact home. Look for pieces that have extra uses or save space:
Murphy Beds – These beds fold into the wall. This opens up the living area when the bed is put away, and Murphy beds with storage cabinets maximize functionality.
Ottomans – Find ottomans with lift-top lids or storage for blankets, books, and more. Nesting ottomans save space when not being used.
Convertible Coffee Tables – Many convertible coffee tables can fold down into a bed for overnight guests, while others fold up to create additional space as needed.
Fold-Away Desks – These desks fold into the wall or a slim console. This creates a workspace when the desk is stowed.
Wall-Mounted Tables – These tables fold down from the wall when required. But store vertically when not in use. Great for eat-in kitchens.
Strategic Furniture Placement Tips
While finding the right multi-functional pieces is key, where and how you place them is truly what opens up a small interior.
Place furniture along the edges and walls to keep the center open and traffic flowing.
Arrange seating facing each other to promote conversation rather than spreading it out.
In bedrooms, center beds on one wall to maximize space for nightstands on both sides.
Use properly sized furniture – oversized items overwhelm while too small look skimpy.
Float furniture away from walls for an airy, uncluttered appearance.
Strategic furniture placement enhances the appearance and atmosphere of limited space.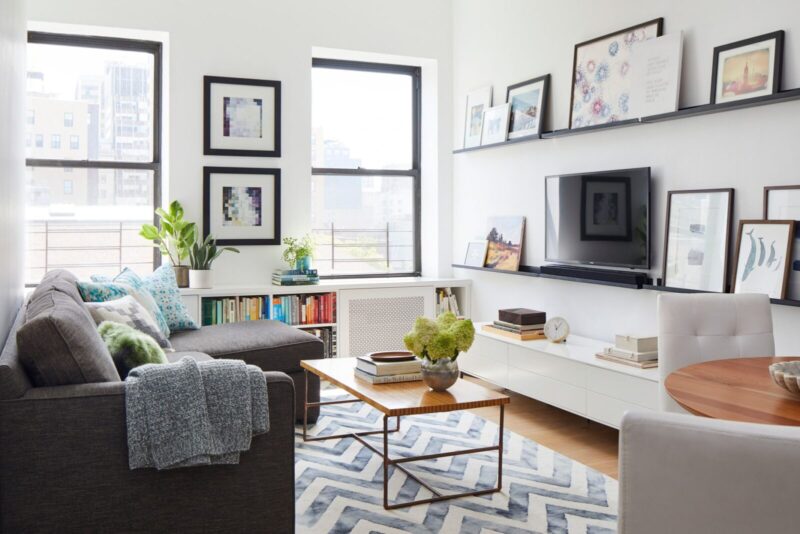 Make sure to consider these additional strategic placement principles:
Place the sofa across from the main entryway rather than against the far wall. This invites people in and defines the living area.
Angle furniture slightly rather than pushing everything against the walls. This creates more useful walking paths.
Float beds away from walls to allow nightstand access from both sides along with making the bed.
In open floor plans, use area rugs and slight furniture angles to delineate living, dining, and work zones.
Arrange seating in a U-shape to foster conversation while also allowing room to get in and out easily.
Use tall bookshelves or room dividers to separate spaces without completely closing them off.
Careful furniture placement enhances both aesthetics and practical functionality in tight spaces. When furnishing a small home, it's important to choose pieces thoughtfully to maximize your limited area. In the U.S., especially if you live in a city like Texas, seeking assistance from professional experts at furniture stores in Houston can be invaluable for choosing perfect-sized furnishings tailored to your compact spaces. The sales associates at reputable Houston furniture shops can assess your room dimensions and layout to help you pick ideal multipurpose and space-saving pieces. With their product knowledge and spatial design experience, Houston furniture store experts become invaluable partners for furnishing stylishly yet functionally.
DIY Customizations for Standard Furniture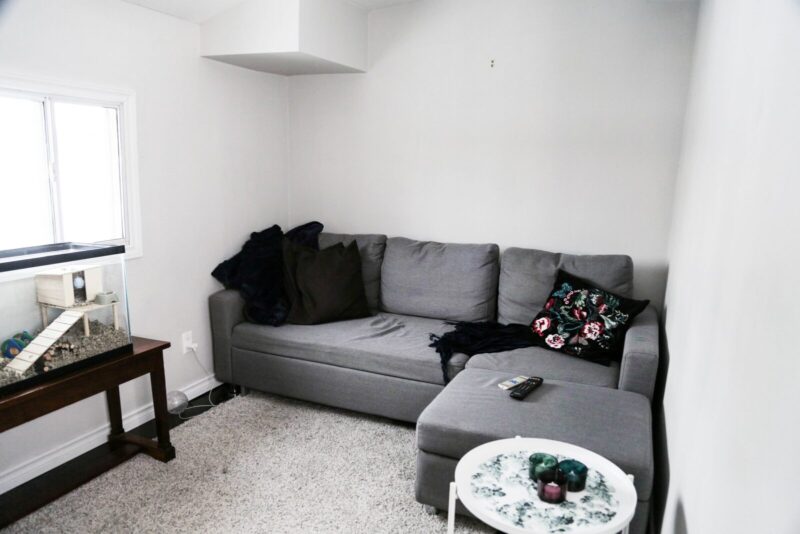 Standard furniture only sometimes fits the unique dimensions of a small home. With custom DIY tweaks, you can update pre-made pieces to fit your space perfectly.
Cut down oversized bookcases with a handsaw to fit narrow walls or odd corners.
Shorten table or chair legs with a saw to lower the height and accommodate low ceilings.
Attach functional hardware like drawer pulls, casters, and hinges to generic cabinets and tables.
Apply fresh paint or stain to the furnishings to match your decorating style.
Arrange collections and treasured items on shelves and dressers in coordinated vignettes.
With creative customizations, even budget finds can become one-of-a-kind small space heroes. Take furniture customization even further with these advanced DIY projects:
Turn a coat rack into a space-saving wall desk. Just attach a narrow wooden board across the bottom. Instant fold-down desktop.
Convert an old chest of drawers to a kitchen console table. Replace the top with a narrow wood butcher block. Add a rolling base for mobility.
Shorten dresser legs for use as a media console. Cut with a handsaw and reattach slightly inset from the corners so it still stands sturdy.
Build customized banquette seating using DIY upholstered benches on two sides and a table against the wall. Store cushions below.
Cut a hollow-core door horizontally into two pieces. Mount to the wall vertically as floating shelves. Paint or stain to coordinate.
Unleash your inner DIY genius; with creativity, anything is possible when customizing furniture for small spaces.
Maximizing Vertical Space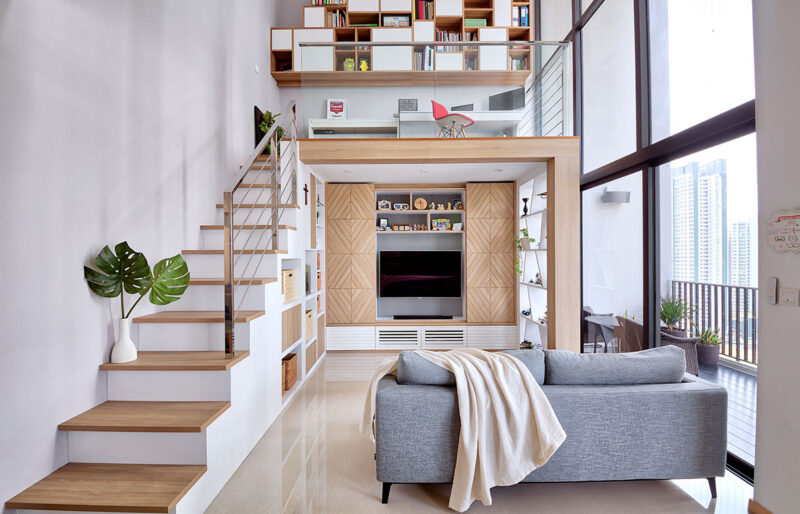 In cramped quarters, utilize every inch – including going upwards. Here are ways to fully leverage vertical real estate:
Install floor-to-ceiling shelving to display plants, books, and home decor. Maximize even awkward narrow spaces.
Hang rods, racks, or curtain rods below wall cabinets and shelves for extra storage. Utilize wasted air space.
Mount floor-length curtains or room dividers from ceiling to floor to delineate zones without walls. Define areas with fabric.
Arrange artwork salon-style starting near the ceiling to take advantage of tall, narrow wall areas. Build visual interest.
Add vertical gardens on rails hung from the ceiling or directly on walls for extra greenery. Grow herbs or plants.
Mount TVs, speakers, and lighting overhead to free up precious floor area. Get equipment up and out of the way.
Furnishing from floor to ceiling allows you to gain storage, function, and style. Make your small space soar with these additional vertical living ideas:
Install shelves above doors and windows to use dead air space for display and storage.
Hang a bike or ladder horizontally at the ceiling to display towels and free up closet rod space.
Use over-the-door hangers on the back of doors to create bonus storage for coats, shoes, and bags.
Mount shelving to the side of stair risers for display nooks. Great for photos, decor, and collections.
Install slim, wall-mounted drop-leaf tables that fold down when needed. Mount at standing height for quick meals.
Attach metal utility racks to walls in the laundry room for drying and organizing clothes vertically.
From floor to ceiling, use every vertical inch available to extend storage and style.
Conclusion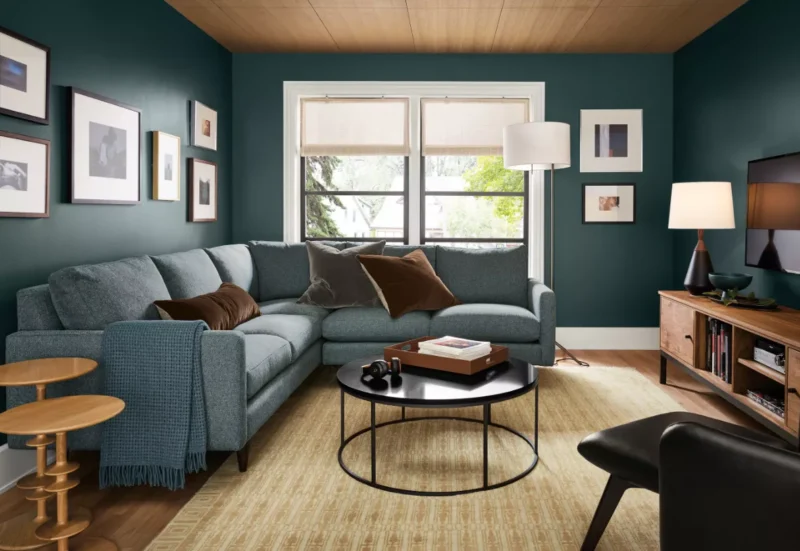 Small square footage does not need to limit your interior design style or comfort. Through smart multifunctional furniture, strategic layouts, DIY customization tricks, and bold vertical storage, you can stretch and amplify even the most modest spaces. Apply these transformative furniture hacks to craft a welcoming small retreat tailored to your preferences. With ingenuity and vision, small-space living can feel both stylish and highly functional.
FAQs
How can I make a small living room multifunctional without clutter?
The key is picking dual-purpose furniture and placing it carefully. Look for nesting coffee tables that tuck away, ottomans with storage inside, and fold-down wall beds to transform the room. Keep only essential pieces and de-clutter surfaces. Arrange seating in defined zones rather than scattering it about. Use multifunctional furniture but also adopt a minimalist mindset.
What are budget-friendly furniture hacks for small apartments?
Thrift store and flea market furniture can be customized to fit with some DIY spirit. Sand and paint secondhand finds to refresh and modernize. Add legs or casters to turn crates, barrels, or cabinets into handy tables. Cut down large dressers to create a media console or entry table. Upcycle a door into a desk by mounting it to the wall and adding trim shelf supports underneath. With creativity and hard work, you can furnish your space uniquely on a budget.
Are there innovative storage solutions for very small spaces like studios?
Maximize every storage nook with creative solutions: Install pull-out drawers under sofa cushions or beds for hidden storage. Mount small shelves or cubbies on walls in wasted space. Use hanging wall pockets for extra display and organizational shelves. Add over-the-door hooks on the back of doors for coats, towels, bags, and more. Store out-of-season clothes under window benches. Make the most of awkward corners with angled shelves. Embrace innovation with organization hacks in small homes.