In today's fast-paced and sedentary work environments, finding ways to prioritize our health and productivity is crucial. One innovative solution that has gained popularity in recent years is the standing desk. Standing desks have been hailed as the antidote to the detrimental effects of excessive sitting, offering various health benefits and improving productivity levels. If you're curious about why standing desks are essential for optimal health and productivity, read on to discover the science behind this workplace revolution.
The impact of prolonged sitting on health and productivity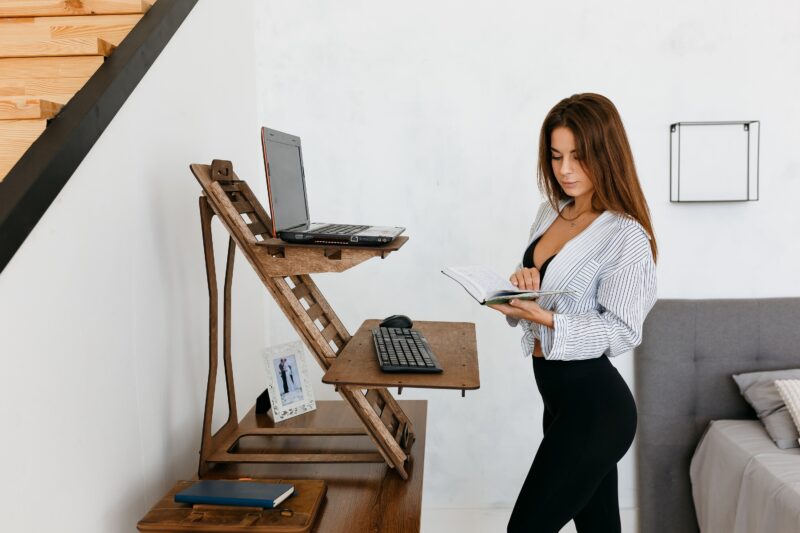 Sitting for long periods of time has become the norm in many workplaces, but its impact on our health and productivity is undeniable. Studies have shown that excessive sitting can lead to a range of health issues, including obesity, cardiovascular disease, and musculoskeletal problems. When we sit for extended periods, our metabolism slows down, which can lead to weight gain and increased cholesterol levels. Additionally, sitting for long periods can result in poor posture and back pain, which can significantly affect our productivity and overall well-being.
By opting for a standing desk, we can break free from the sedentary lifestyle and combat these negative effects. Standing while working increases calorie expenditure, improves blood circulation, and engages our muscles, promoting better health and reducing the risk of chronic diseases. Not only that, standing desks have been found to boost productivity levels by increasing focus, energy, and alertness. With these benefits in mind, it's clear that standing desks are an essential tool for enhancing both our health and productivity in the modern workplace.
The benefits of standing desks for physical health
Тhey offer a range of benefits for physical health that make them an essential tool for the modern workplace. One of the key advantages of using a standing desk is its positive impact on calorie expenditure. When we stand while working, our bodies engage in more movement, leading to increased calorie burn compared to when we are sedentary. This can contribute to weight loss or weight management, which is crucial in preventing obesity and related health issues.
Furthermore, standing desks promote better blood circulation throughout the body. When we sit for long periods, blood flow to our legs and feet can become restricted, leading to discomfort and swelling. By standing, we encourage proper circulation, preventing the formation of blood clots and reducing the risk of cardiovascular disease.
Another significant benefit of standing desks is their ability to engage our muscles. When we stand, we naturally activate our leg, core, and back muscles to maintain balance and stability. This continuous muscle activation helps to strengthen these areas over time, improving posture and reducing the risk of musculoskeletal problems such as back pain.
Using it can have positive effects on physical health by increasing calorie expenditure, improving blood circulation, and engaging our muscles. By incorporating standing into our work routine, we can take a proactive approach to our health and reduce the risk of chronic diseases associated with sitting for long periods.
Standing desks and improved focus and productivity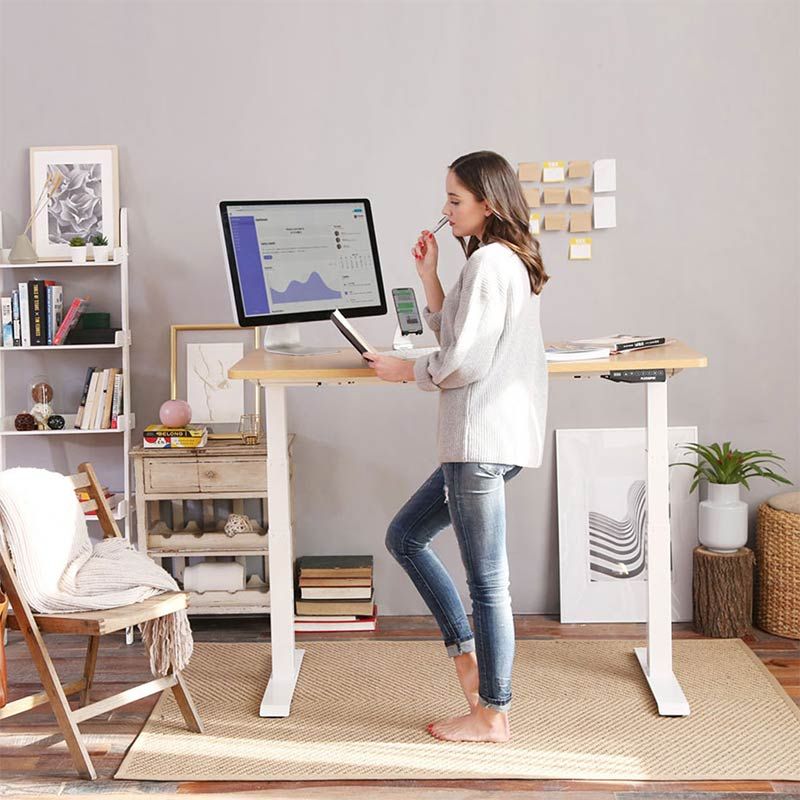 Standing desks not only benefit physical health but also have a significant impact on mental well-being and productivity. Research has shown that standing while working can improve focus and concentration, leading to enhanced cognitive function. When we stand, we are more alert and attentive, which allows us to stay engaged and focused on the task at hand.
Moreover, standing desks encourage more movement and flexibility throughout the workday. This increased mobility helps to alleviate the stiffness and discomfort that can occur from prolonged sitting. By allowing us to change positions and stretch our muscles, standing desks promote better overall comfort, which in turn can boost productivity.
In addition, it can have a positive effect on mood and energy levels. Sitting for long periods can lead to feelings of lethargy and fatigue, whereas standing promotes better blood flow and increased oxygenation to the brain. This can result in improved mental clarity, increased energy, and a more positive mindset.
Ultimately, incorporating a standing desk into your work routine can create a more dynamic and productive working environment. By enhancing focus, improving comfort, and boosting energy levels, standing desks contribute to optimal performance and overall job satisfaction.
Choosing the right standing desk for your needs
When it comes to incorporating a standing desk into your work routine, choosing the right one for your needs is essential. There are various types of standing desks available, each with its own features and benefits.
First, consider whether you want a fixed or adjustable standing desk. Fixed desks are set at a specific height and are suitable for individuals who prefer to work in a standing position continuously. On the other hand, adjustable desks can easily switch between sitting and standing positions, allowing you to find the most comfortable and ergonomic setup for your body.
Next, consider the size and surface area of the desk. Ensure that it can accommodate all your necessary equipment such as a computer, keyboard, and other peripherals. Additionally, check if there are additional storage options or cable management solutions available to keep your workspace organized and clutter-free.
Lastly, don't forget to consider the overall design and aesthetics of the desk. Choose a standing desk that complements your office or home decor, creating a pleasant and inviting workspace.
By considering these factors and selecting the right standing desk for your needs, you'll be well on your way to reaping the numerous health and productivity benefits that standing desks offer.
Incorporating movement and breaks into your work routine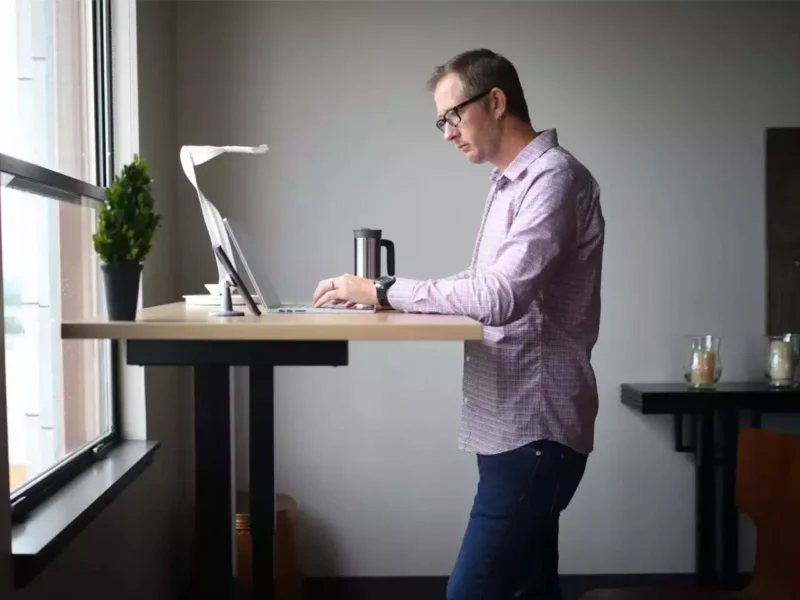 Incorporating movement and breaks into your work routine is another essential aspect of using a standing desk to optimize your health and productivity. While they provide the opportunity to reduce sedentary behavior, it is important to remember that standing in one position for too long can also have negative effects on your body.
To counteract this, make it a habit to incorporate regular movement and breaks throughout your workday. Take short walks, stretch your muscles, or even do some light exercises to keep your body active and engaged. This will not only help prevent fatigue and discomfort but also improve blood circulation and reduce the risk of developing musculoskeletal issues.
Additionally, be mindful of your posture while using a standing desk. Maintain a neutral spine, engage your core, and avoid slouching or leaning on the desk for prolonged periods. This will help prevent strain on your back and neck and promote proper alignment and balance.
Remember, the key to reaping the full benefits of a standing desk is finding a balance between standing, sitting, and moving throughout your day. By implementing these strategies, you can create a work routine that is not only beneficial for your health but also enhances your productivity and focus.
Supporting employee wellness with standing desks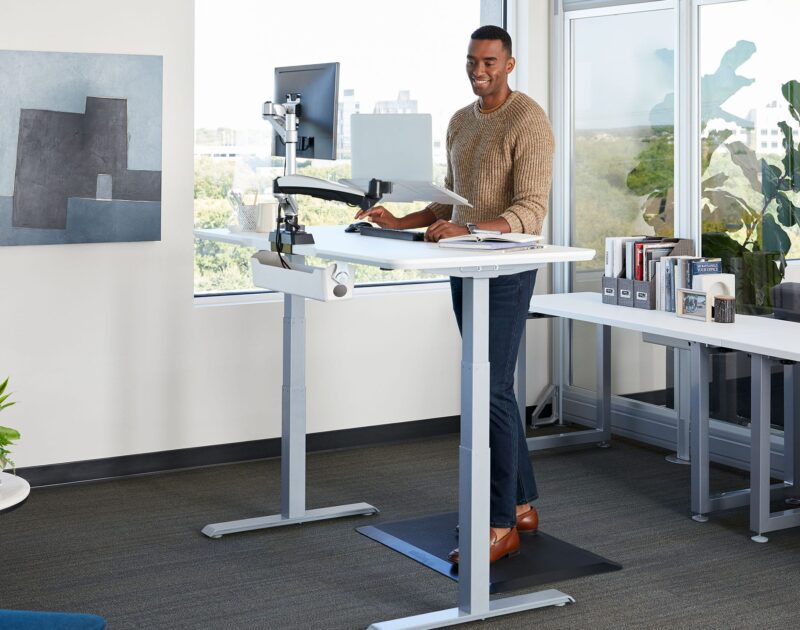 Implementing standing desks in the workplace is not only beneficial for individual employees but can also support overall employee wellness. By providing employees with the option to use standing desks, employers show that they value their employees' health and well-being.
Studies have shown that prolonged sitting can lead to various health issues such as obesity, cardiovascular disease, and musculoskeletal problems. By incorporating standing desks, employers can help their employees combat these risks and create a healthier work environment.
Furthermore, standing desks can also improve employee productivity. When employees have the option to stand and move throughout the day, they are more likely to stay active and engaged, leading to increased focus and productivity.
Investing in standing desks is a proactive approach to creating a positive work environment that prioritizes employee health and ensures their well-being. By doing so, employers can ultimately reap the benefits of a healthier, more productive workforce.
Conclusion
Standing desks have become an essential tool for promoting both optimal health and productivity in the workplace. By providing employees with the option to stand and move throughout the day, employers can make a positive impact on their employees' overall well-being.
Not only does incorporating standing desks help to combat the health risks associated with prolonged sitting, but it also creates a more dynamic and engaging work environment. When employees are given the opportunity to stay active, they are more likely to remain focused and productive throughout the day.