Blue is always a cool color for home furniture because it stands out among other colors. In addition, it is calming and relaxing. Besides, if blue is the color of your kitchen walls, it will be a great idea to go for one of the blue kitchen cabinets sold online.
However, don't just buy your dark or light blue kitchen cabinet from any online store. You need to do a little bit of due diligence before choosing where to buy your cabinet. You may want to follow these five tips:
Choosing Where to Buy Your Blue Kitchen Cabinets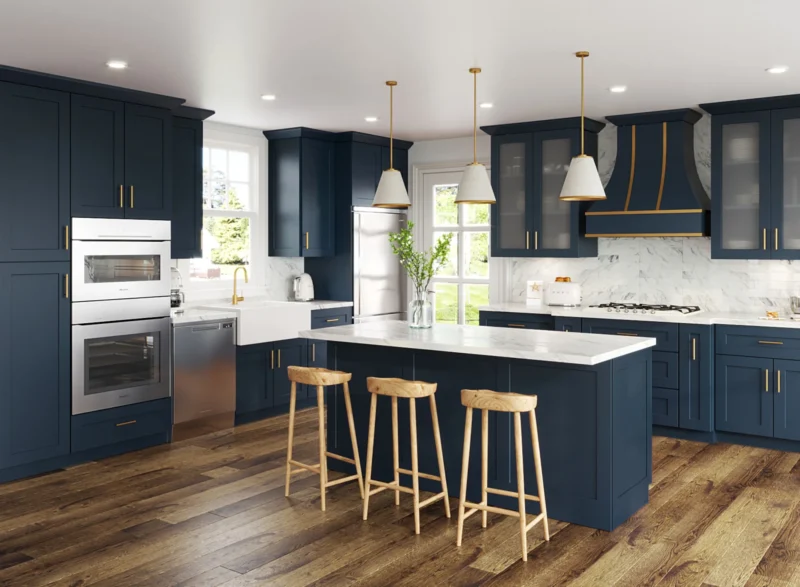 1. Variety Matters
Of course, you have decided to turn your kitchen into a blue-cabinet kitchen. But do you know that there are several shades of blue? There may be a blue cabinet whose color is closer to the color of your walls than the first blue cabinet you come across online. In fact, there are light blue cabinets, dark blue cabinets, and several other shades in between both colors. And there are cabinets with a combination of blue and white colors.
2. Consider the Reputation of the Store
Although there are numerous online stores where blue kitchen cabinets are sold, some of them have a better reputation than others. That's why you should select the store with the most convincing reputation. Read as many reviews of their store online as you can to get a good picture of who you're dealing with before you spend your money on their site. Examples of verified and trustworthy review sites are TrustPilot, the BBA and Google Reviews. Reviews are the single most important source of truth when dealing with online stores, and they are free. Read them and avoid regrets.
3. Price Comparison Is Necessary
To get the best deal on kitchen cabinets, you need to compare the prices on several online stores before you make your decision on where to purchase your kitchen cabinet. This will help you get the most competitive deals.
4. Find Out About Their Customer Support
Some stores will be very nice to you while trying to convince you to buy their product. But once the sale is made, they'll stop picking up your calls and replying to your emails, especially when it's about a problem you encountered while using their product.
And some other companies will always be there for you anytime and every time. No matter what, you should purchase your cabinet from a company that will always be responsive to your plight. Therefore, you should dig deep into the customer support reviews of your preferred online store before purchasing cabinets from them.
5. Do They Offer Customized Blue Kitchen Cabinets?
As mentioned above, there are numerous shades of blue. And it is possible that you've not seen the blue cabinet that matches your exact shade of blue. Furthermore, you may need customization on the design, style, finish, and size of your preferred kitchen cabinet.
Every kitchen is unique. You need a store that can design and construct a cabinet according to your personal specifications. You can find some of the stores to purchase blue kitchen cabinets online below.
Walcraft Cabinetry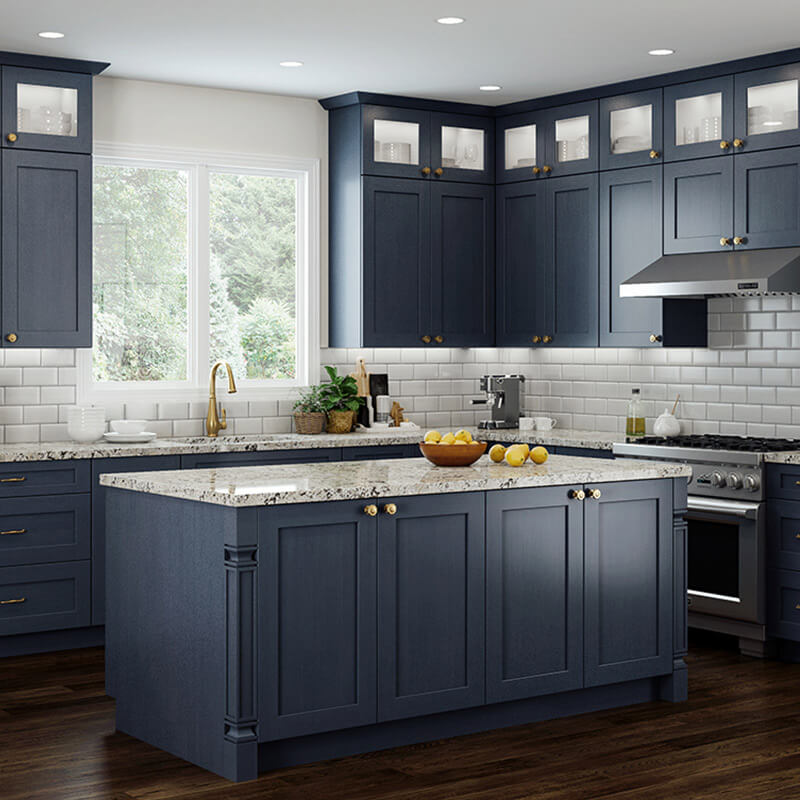 This online store is #1 on this list because of the variety of blue kitchen cabinets they offer. Remember, variety is key. You'll find several shades of blue cabinets among their products. You'll also see blue cabinets with varying designs, styles, and finishes.
Also, according to online reviews, Walcraft Cabinetry is one of the most reputable online kitchen cabinet stores and their products are of a very high quality. They've been in business for several years and offer warranty on all cabinets sold.
They promise that if you purchase cabinets worth more than $2,500, they will ship them for free. All these are the reasons why Walcraft Cabinetry is #1 on this list.
Mod Cabinetry
This is another store where you can purchase blue kitchen cabinets online. Although this store has a wide range of cabinets of all sizes and styles, it only has a few blue kitchen cabinets. Nevertheless, the store should be on this list because its few blue cabinets are of superior quality.
One fact that attracts American homeowners to this store is that all its kitchen cabinets are made in the United States. And the cabinets are made of Cherry, Alder, Maple, Painted, Rift Oak, and Walnut finishes. Regardless of all these selling points, Mod Cabinetry trails behind Walcraft Cabinetry.
Cabinet DIY
This is the third store on this list. Although Cabinet DIY offers several shades of blue cabinets, they all seem to be on the darker side of blue. You won't find light blue or any shades of light blue kitchen cabinets in their online store. If you fancy dark blue cabinets, give them a visit.
But if your kitchen's artistic décor does not go with dark blue cabinets, you have no business going to their online store. This store sells kitchen cabinets in the following shades of blue – Navy Blue, Royal Blue, Matte Blue, Sicilian Blue, Blue Sage, and Dusty Blue. With the six shades of blue, Cabinet DIY deserves a spot on this list.
Kabinet King
This is another store where you can get blue kitchen cabinets. As a matter of fact, this store offers up to 14 different types of high-quality, exquisite, modern kitchen cabinets. Once you purchase a kitchen cabinet from them, you're sure of purchasing quality and durability.
If for any reason, you don't like the cabinet you received from them, you have 14 days to return it in its original shipping pack. When they receive them, they inspect them over a seven day period before they credit your account with a refund excluding the 25% restocking fee.
Cabinet Select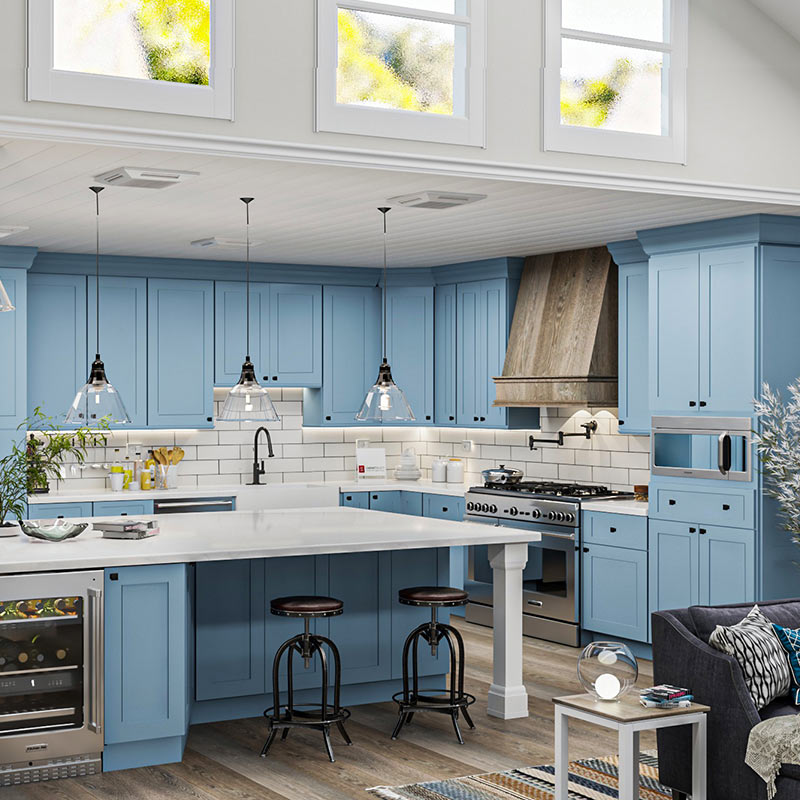 This is another store where you can get magnificent blue kitchen cabinets. The store displays pastels in bold and vibrant shades of blue. You'll get the following five shades of blue kitchen cabinets in the store – Oceana Blue, Xterra Blue, Elegant Ocean Blue, Fashion Ocean Blue, and Park Avenue Ocean Blue.
Final Thoughts
If you're yet to install modern cabinets in your kitchen, this may be the best time to take the giant leap. It will not only give your kitchen a striking visual appeal, but it will also boost the value of your home by a figure that's much higher than the cost of the cabinets. There's a reason the global kitchen cabinet market is expected to grow from $134.4 billion in 2022 to about $147.15 billion by the end of 2023.