According to a 2021 survey, 90% of Americans have come to appreciate their outdoor living spaces even more. With outdoor spaces gaining unprecedented value, optimizing them for energy efficiency is the next logical step.
Imagine hosting a backyard party only to have the lights go out. Not just inconvenient, it's a safety hazard. The lighting of outdoor spaces is very trendy and beautiful. But people have their doubts about finalizing what cables they should use, Will the changing climate affect your cables? This article will help you to choose the right cables for your lights. Let's dive into why proper wiring is non-negotiable for your outdoor spaces.
The Importance of Proper Wiring for Outdoor Spaces
According to the National Fire Protection Association (NFPA), using lighting and power tools that are listed by a qualified test laboratory can significantly reduce the risk of electrical hazards in outdoor spaces.
Outdoor electrical wiring requires weatherproof and corrosion-resistant materials to withstand the elements. Improper wiring can lead to electrocution, fires, or power interruptions that disrupt outdoor living activities and damage property. Especially around pools or water features, faulty wiring poses severe risks.
Think through your power needs for lighting, speakers, heaters, and appliances to install adequate circuit capacity from the start. Also, factor in potential future additions. Working with a licensed electrician ensures you meet local codes and avoid DIY mishaps. The upfront investment in robust outdoor wiring pays dividends through safety, reliability, and convenience.
If you're located near the Pompano Beach area and need help with your outdoor wiring project, consider contacting a professional data cabling company Pompano Beach for assistance that would transform your outdoor space into a place of wonder. Make sure to choose an experienced and reputed company that will consider your needs as well as the geographical features of the place.
Energy-Efficient Outdoor Lighting Solutions
Outdoor lighting accounts for around 9% of home energy use, adding up to over $10 billion annually in the US. By choosing efficient options, you can reduce costs while still enjoying a beautiful nighttime ambience.
LED lighting is a game-changer, using at least 75% less energy while lasting 25 times longer than incandescent bulbs. ENERGY STAR-certified LEDs ensure quality and energy savings. Installing bulbs with the right lumen output avoids the temptation to use more lights than needed.
For frequent or extended lighting needs, solar fixtures harness renewable energy from the sun. They avoid the need to connect to household wiring. Solar path lights, spotlights, and floodlights are widely available. Carefully position them for adequate sun exposure.
Smart lighting systems allow customizable control from anywhere. Automation based on schedules or sensors further reduces energy waste. Choose systems with energy monitoring to track savings over time. Upgrading wiring and adding circuits may be required for integrated smart home systems.
Motion sensors on security lighting prevent lights from staying on all night unused. Dimmers allow adjusting light levels to suit the occasion. Group controls make it easy to turn entire areas on or off as needed. Optimizing your outdoor lighting brings savings on your energy bill. It also minimizes light pollution. By thoughtfully selecting energy-efficient outdoor lighting solutions, you can reduce your carbon footprint while enhancing your home's function and beauty.
Wiring Considerations for Decks and Patios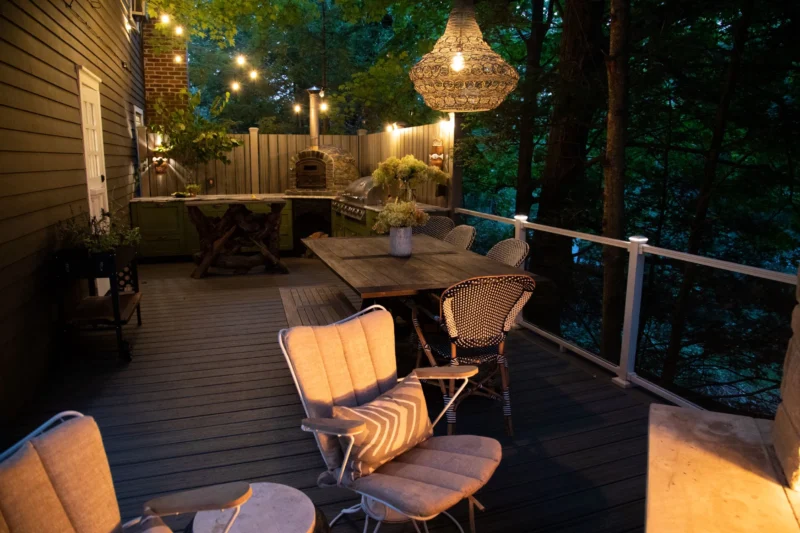 Decks and patios have unique wiring needs given their exposure to weather and foot traffic. Material Choices
Weather-resistant wires: Use thicker 12 or 10-gauge wires rated for outdoor use. The insulation resists moisture, UV rays, and temperature swings.
GFCI outlets: Ground Fault Circuit Interrupters (GFCIs) monitor current leakage and quickly cut power to prevent electrocution. They are code required for outdoor outlets within 6 feet of water sources.
Conduits: PVC conduits protect wires from damage and provide an attractive surface mount option for hiding wires. Conduit sizes must match your wiring capacity needs.
Junction boxes: Outdoor-rated junction boxes safely enclose wire connections. Mount them appropriately to allow easy access.
Low voltage lighting: 12V or 24V systems reduce wire distance limitations and electrical risks. The tradeoff is needing a transformer.
Safety Measures
Circuit breakers: Prevent overloads and provide ground fault protection. Have enough circuits for lighting, outlets, and appliances.
Warning signs: Indicate any live circuits near water fixtures. This prevents accidents if someone tries to service them.
Cable organization: Use wraps and staples to neatly bundle and attach wires. Avoid loose or dangling wires which pose tripping hazards.
Routine inspection: Periodically check wires for damage, loose connections, and weathering. Address issues promptly to maintain safety.
DIY vs. Professional Installation
| | |
| --- | --- |
| DIY Wiring | Professional Wiring |
| Lower upfront cost | Ensures correct codes and permits |
| Sufficient for simple projects | Better for complex lighting systems |
| Higher safety risks if inexperienced | Added expertise and warranty benefits |
Consider your skill level and project complexity when deciding between DIY and professional wiring. Professionals ensure adherence to the National Electrical Code  and acquire necessary permits. The added cost brings expertise, inspection, and warranty benefits.
For simple low-voltage lighting projects, DIY is likely sufficient. But for receptacles, switches, and integrated systems, the risks often outweigh the savings of DIY wiring.
Once you've got your deck and patio lighting sorted, it's time to illuminate the rest of your outdoor paradise. Let's talk about zoning, layering, and lighting choices to make your landscape shine.
Landscape Lighting Design Principles
Outdoor landscape lighting not only provides visibility and security but transforms your home into a welcoming retreat. Follow these design principles for stunning professional effects:
Zoning and Layering
Divide your landscape into logical lighting zones based on usage – pathways, seating areas, architectural features, foliage, etc. Layer lights at varying heights to add depth and dimension. Uplights in trees combined with low-level path illumination make spaces feel vibrant yet intimate.
Types of Lights
Path lights: Low-level lights at ground or step level safely illuminate walking paths
Spotlights: Directed narrow beam fixtures highlight architectural features like fountains or statuary
Floodlights: Wide beam for dispersing illumination across a large area
Up lights: Soften and highlight foliage and tree canopies from below
In-ground: Recessed fixtures diffuse light subtly from pools, grass, or hardscape
Combine complementary lighting types for balance. Favor warm color temperatures for outdoor relaxation.
Control Systems
Smart control systems allow customization, automation, and remote access:
Timers: Allow scheduling lights to turn on/off automatically.
Motion sensors: Activate lighting when needed for convenience and savings.
Dimmers: Set the perfect ambience from bright festive to cozy nighttime.
Remotes: Adjust lighting scenes easily without running back and forth.
Investing in an integrated control system unlocks the full potential of your landscape lighting.
Key Takeaways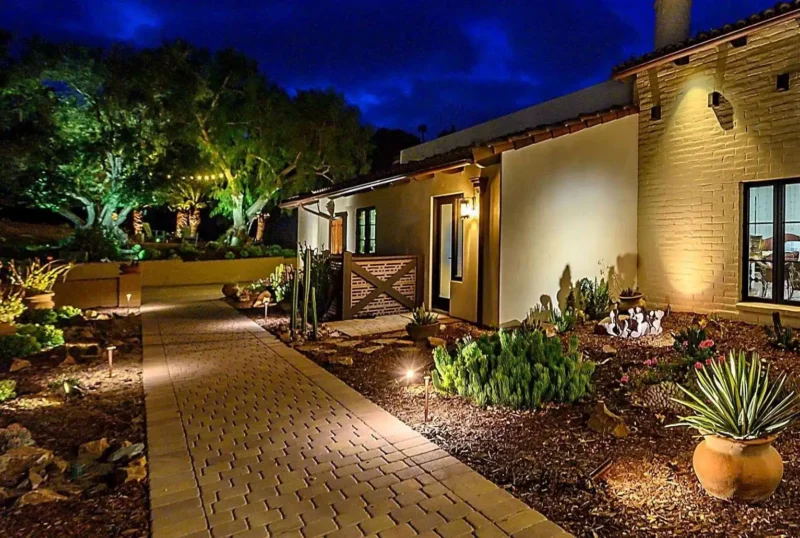 Proper outdoor wiring is critical for safety and function
LED lighting provides maximum energy savings
Smart controls add convenience and customization
Routine maintenance prevents problems down the road
Design principles like zoning and layering enhance the ambience
With strategic planning and quality materials, you can ensure your outdoor spaces are wired to illuminate and delight for years to come. Safely enhance your home's beauty, security, and enjoyment with innovative and efficient outdoor lighting solutions.
Enhancing outdoor spaces goes beyond just taking care of the garden or installing good lighting. The structural integrity and design of spaces like decks also play a crucial role in making the outdoors appealing and functional. If you're considering adding a deck to improve your outdoor space, you'll want it built with precision, creativity, and durability in mind. For such needs, considering the top-notch skills of our deck builders in Oregon City is essential. They are equipped with the expertise to transform your exterior space into a beautiful and comfortable area that complements the overall ambiance of your property.
Conclusion
We've covered a lot of ground, from the importance of proper wiring to smart lighting solutions for your ideal outdoor living space. By planning adequate circuits, using the right materials, designing thoughtfully, and incorporating automation, you can create an outdoor paradise that's both stunning and sensible.
Your investment will pay dividends for years through enhanced safety, energy efficiency, aesthetics, and utility. For specialized help creating your dream outdoor lighting system, consult a landscape lighting professional. Get a quote today for your deck, patio, or landscape lighting project. Don't wait for a lighting emergency to assess your wiring situation – be proactive in illuminating your outdoor world!
You're now well-equipped to light up your outdoor spaces safely and efficiently. But you may still have some questions.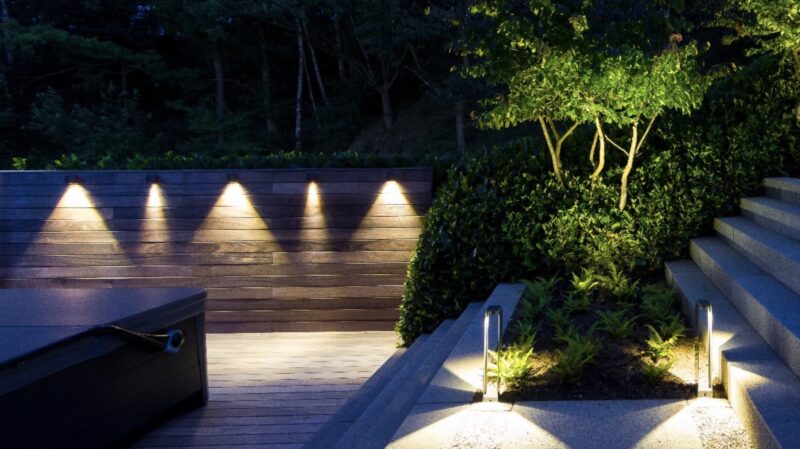 Frequently Asked Questions
What are the most common electrical hazards in outdoor spaces and how can they be avoided?
Using outdoor-rated materials, GFCIs, and proper circuit protection is key to avoiding shocks, fires, and tripping hazards from outdoor wiring.
How can I make my outdoor space both functional and energy-efficient?
Strategic lighting zones, smart controls, and LED bulbs coupled with good wiring practices allow you to enjoy your outdoor oasis while saving energy.
What are the long-term costs associated with different types of outdoor lighting?
While LED lighting has a higher upfront cost, the energy savings and longer lifespan lead to the lowest total cost of ownership long-term.