Having a dog is something many people enjoy hugely. They are great companions, give unconditional love, and even help us stay fit and healthy. Of course, there are some things you'll need to do in return to ensure that your pet is also fit and healthy and lives a happy life. This includes making sure your home is dog-proof.
Dog-proofing your home isn't just about using barriers to keep your pet out of certain rooms, although sometimes that might be necessary. There is actually a lot more to dog-proofing than this, and it's wise to understand as much as possible and to ensure you can put all the relevant ideas in place if you want to have complete peace of mind that your dog (and your home) will stay safe. With that in mind, read on to find out more.
Get Pet Insurance
Although pet insurance won't technically dog-proof your home, it will give you peace of mind that, should anything happen within your home, you'll have good dog insurance lifetime cover to help put things right again.
Pet insurance is an excellent safety net that you can use if your pet is injured or becomes unwell, and although dog-proofing is still crucial, it's a wise investment to have this additional help in place just in case you need it.
Keep Dangerous Items Out Of Reach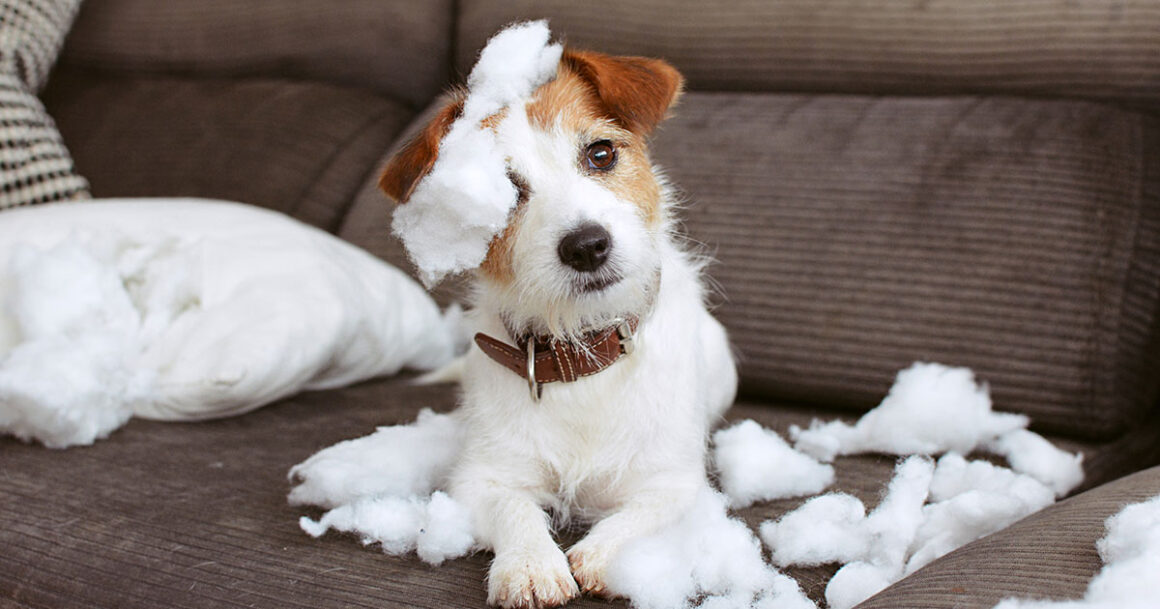 Dogs are naturally curious creatures, and they will explore everything they can whenever possible. Although much of this exploring will be done through their sense of smell, dogs also use their mouths to investigate new things. This means that anything within their reach can quickly become ruined and chewed. This is a natural thing for a dog to do, and training will help to reduce the problem, but sometimes they just won't be able to help themselves, and they'll want to know more about their environment. This is especially true if something new is brought into it.
To stop this from happening, you'll need to store things out of reach. Anything you don't want your dog to chew should be kept away from them. This is particularly important when it comes to dangerous items like household cleaning chemicals and medication. Always keep these dangerous items in a locked cabinet and high up to prevent your dog from swallowing them and becoming seriously unwell.
Secure Loose Items
Dogs can be rambunctious, and they love to play. Anything nearby could become a toy when they are in a playful mood.
If your dog is running around and playing inside, furniture like bookshelves and chairs or small tables can easily be knocked over. This could cause a lot of damage and maybe some serious injuries to your pet and anyone nearby. Therefore, if your pet likes to play and could do so inside, it's best to secure as many items as possible. Screw cabinets and bookshelves to the wall and use weights to keep side tables and chairs in place. Even better, make sure you take your dog outside to play with them, and they will be less likely to do so inside where it's a lot more dangerous.
Create A Dedicated Dog Area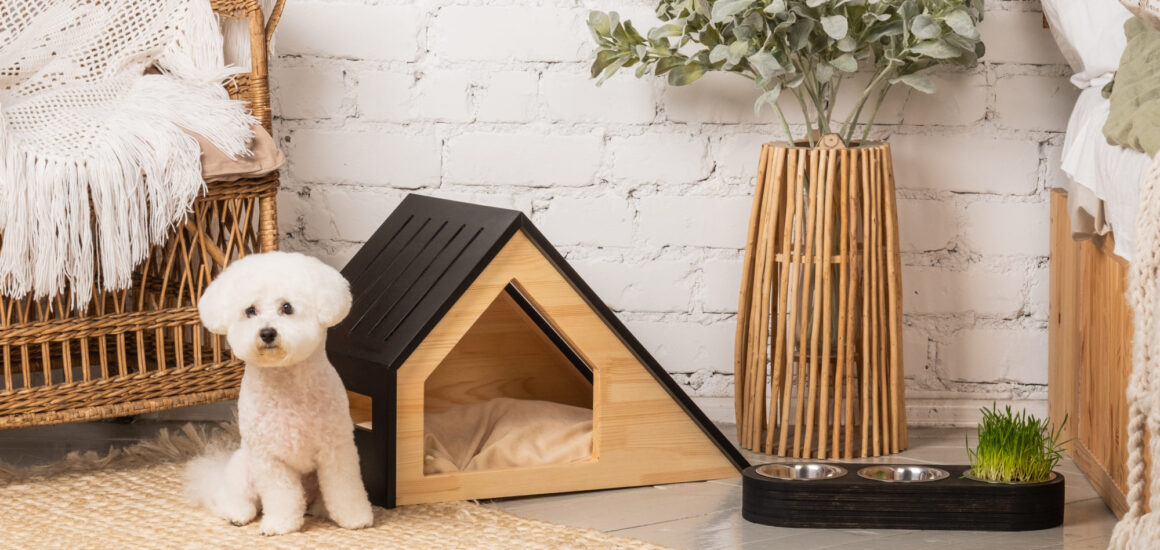 If hiding things away and securing dangerous items isn't possible, you can consider having a dedicated dog area. As mentioned above, this will mean using barriers like a child's safety gate to keep your dog in one place. Although this is a good idea in theory, it can be hard to do in practice because the dog will want to be with the rest of the family, and probably vice versa. Separating everyone can even cause mental health issues for the dog in question.
In this case, a crate can work well. The crate can be in the same room where people tend to be most of the time, and with good training, your dog will know that the crate is their own space and a safe space too. They'll go there voluntarily, and you can keep them safe and protected by using it when you're not around.
You can also create a dedicated dog area in your garden. The next section of this article explains why this is a good idea.
Check Your Garden
When you have a dog, having a good outside space for them to exercise and use the bathroom is ideal. However, you can't just let your dog outside and expect them to be safe and to come back to you if you haven't done your checks first. It could be that the yard is a very dangerous place.
Some plants are toxic to dogs, so you'll need to make sure you don't have any of those growing in your garden. Examples of toxic plants include foxgloves, lilies, and rhododendrons, among others. Plus, you'll want to make sure your gates and fences are secure, and there are no gaps that your dog could use to leave the garden and go exploring on their own. Finally, there must be no dangerous items like tools or chemicals within reach of the dog.
Because of all this, it can be easier to fence off a dedicated dog area outside. You'll know your dog will be safe and get the exercise and fresh air they need, and on top of that, you'll be able to keep the majority of your garden neat and tidy – you'll only have one area to clean up.
Keep Food And Bins Secure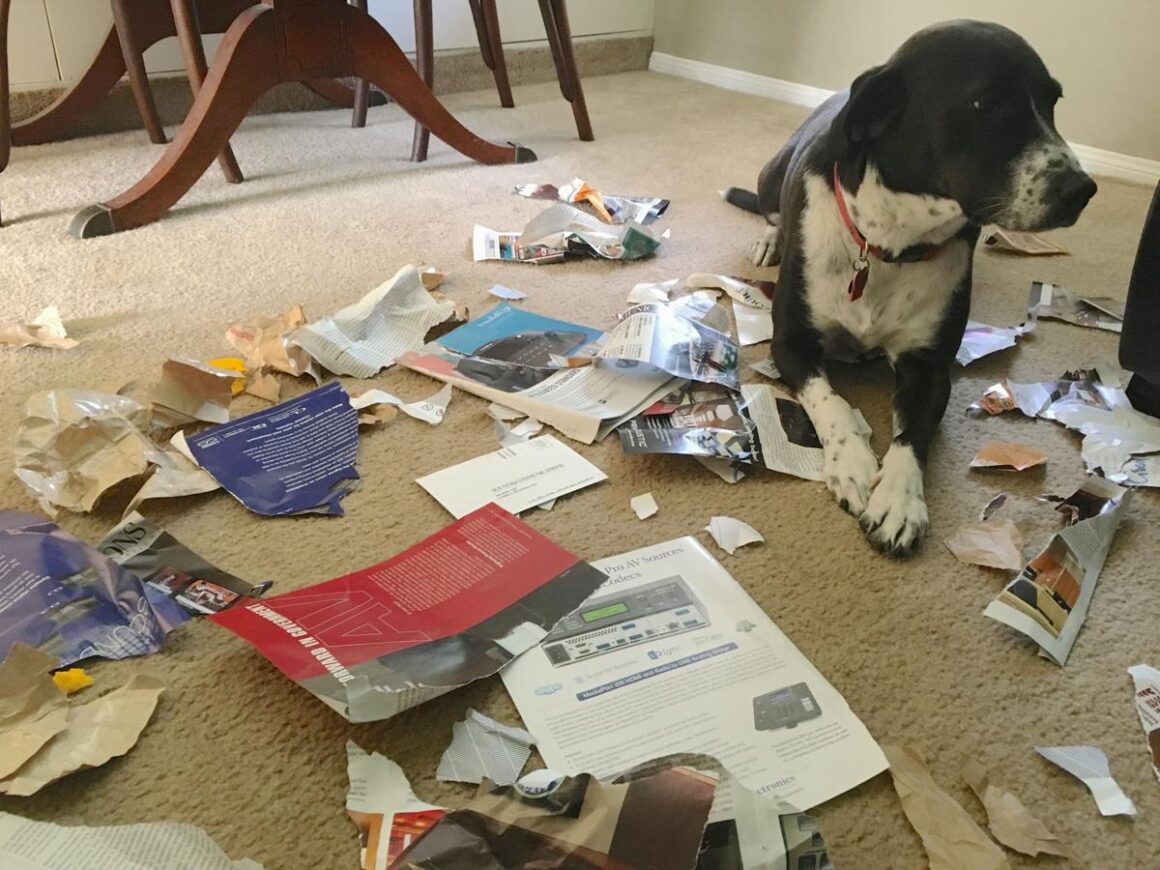 Dogs like to eat, and as mentioned above, they like to explore. So if they come across something in their explorations that smells and tastes good, they are likely to eat it, whatever it might be.
When it comes to human food, this can be disastrous. At best, if it keeps happening, your dog will grow obese, but at worst, it can lead to all kinds of health problems, including digestive issues and even heart disease.
Human food should always be kept away from dogs, so another way to dog-proof your home is to keep all your food in cupboards and secure your bins so the dog cannot get into them.