Balconies & Balustrades
Balustrades help to give these raised spaces more stability and security, which is ideal if you have young children or small animals. Rigid, structurally sound balustrades can help to give you a clearer peace of mind.
A balcony or raised decking area can quickly transform an uninteresting, flat garden space into something that feels far more luxurious. Separate levels in a garden can help to make the space feel larger, by clearly defining separate, individual zones for both you and your guests to enjoy.
Garden Furniture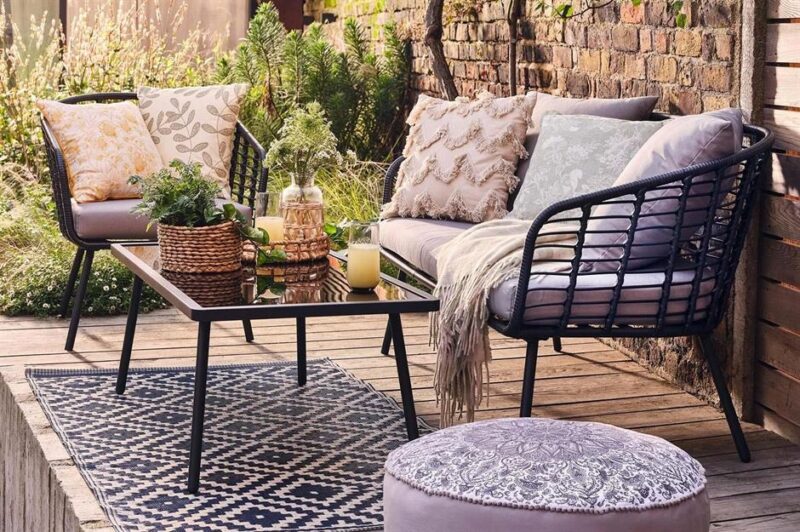 There are many options for outdoor garden furniture, including cast aluminium metal tables and chairs, or seating made from rattan. One of the key advantages of rattan furniture is that it is extremely easy to wipe down when wet, and incredibly stylish, with their neutral tones pairing gorgeously with pale patio slabs or lighter decking.
Cast aluminium instead offers a stark, crisp black contrast, but similarly offering a clear focal point. Whatever you choose, garden furniture is best decorated with hydrophobic furnishings, such as cushions, to allow you to enjoy your space no matter the weather.
Want to have garden furniture, but not sure you can stretch your budget for any new additions? We've got you covered. You can easily reuse or repurpose any unused furniture from the inside of your home and take it outdoors.
All you need to do is repaint and treat it to preserve it, to help create an outdoor seating area whilst being kind to your savings. Many incredibly stylish gardens have employed this "shabby chic" aesthetic in their own spaces, to great effect, highlighting that you do not need to spend a fortune to embody breathtaking outdoor design.
Hot Tubs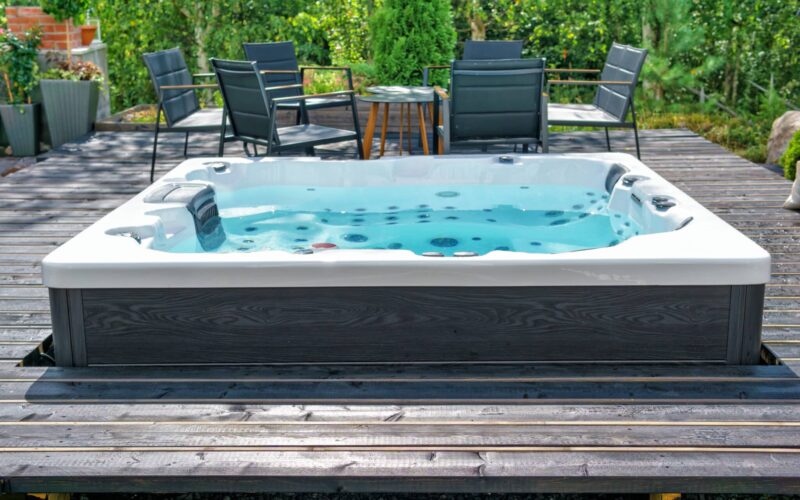 A hot tub is an excellent way to encourage more use out of your garden during the colder seasons. Many homeowners consider their garden as something they can only use in the spring and summertime, leaving their outdoor space neglected and uncared for as soon as the temperatures drop.
However, with a hot tub, you can enjoy those crisp, cool winter evenings, whilst remaining warm and comfortable, giving you more of an excuse to keep your garden occupied even in the cold.
When installing a hot tub, remember to place it atop something that can appropriately take the weight, and is either waterproof or impervious to the effect of weathering. Installing a hot tub can turn your garden into a space that feels more like you're on a cold Nordic holiday, by allowing you to enjoy the invigorating feeling of plunging into hot water after spending time in the cold, biting winter air.
Water Features and Swimming Pools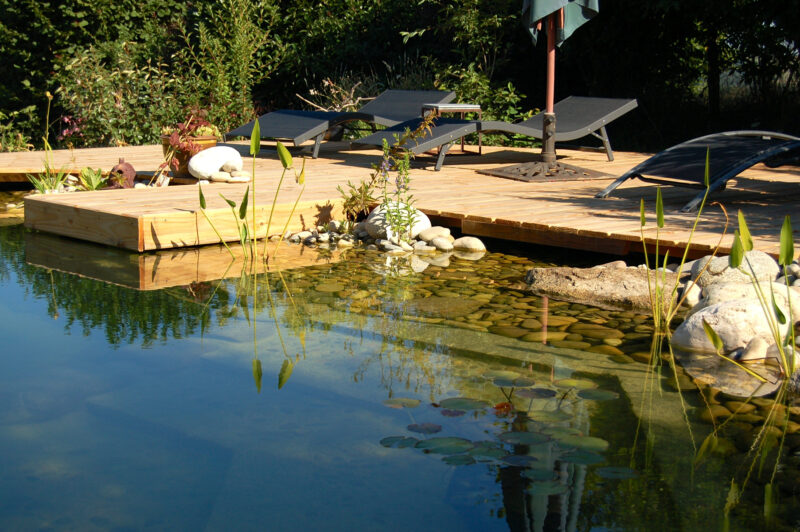 The sound of water in a garden space can help to create a deeply peaceful atmosphere. There are many ways you can incorporate water into your garden design, including the installation of natural pools, ponds, or shallow rills, as well as the installation of a hot tub.
If you want to spend less money, you can even start simple, by purchasing small bird baths or extravagant ornamental water features.
If your space or budget allows it, why not opt for a full outdoor swimming pool? A swimming pool has many advantages, including health benefits and helping to make you feel more relaxed after a long day. You can even make an outhouse adjacent to the pool, for visitors to leave their towels and a change of clothes.
If you are feeling particularly ambitious, you can build an outhouse that feels more like a separate bathroom away from the house, complete with toilets, mirrors, tiling and hand dryers.