In the ever-evolving world of outdoor design, pergolas have emerged as essential canvases for transforming mundane spaces into captivating outdoor oases. As we step into 2023, a plethora of trends are reshaping the pergola landscape, breathing new life into gardens, patios, and backyards. From sustainable materials to innovative smart features, this blog post explores the exciting modern ideas that are taking pergolas to the next level.
Sustainable Materials: Eco-Friendly Pergolas Shaping the Landscape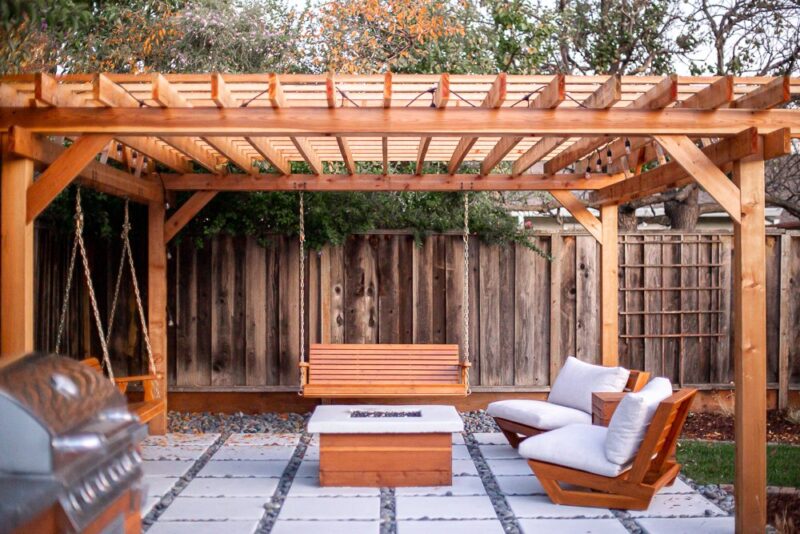 Modern pergolas align with environmentally conscious aspirations by embracing sustainable materials. Bamboo, reclaimed wood, and recycled metal are gaining popularity for their low environmental impact. These materials not only add a rustic charm to outdoor spaces but also reduce the carbon footprint. Incorporating eco-friendly pergolas not only showcases your commitment to the planet but also creates a natural and inviting atmosphere that nurtures both aesthetics and conscience.
Minimalist Designs: Simplicity and Elegance Redefine Outdoor Comfort
In 2023, the essence of "less is more" profoundly influences pergola design. The allure of minimalist pergolas lies in their sleek contours, open areas, and subtle refinement. Through the celebration of simplicity, these constructions provide a serene sanctuary from the complexities of contemporary existence. Adorned with thoughtfully selected furnishings and a modest spectrum of hues, minimalist pergolas seamlessly blend into your living space, establishing a peaceful milieu for unwinding and introspection.
Smart Features: Integrating Technology for Convenience and Ambiance
Welcome to the era of intelligent pergolas, where technology seamlessly merges with nature. From adjustable louvers that respond to weather conditions to integrated speakers that fill the air with your favorite tunes, smart pergolas redefine outdoor living. Imagine controlling the lighting, temperature, and even the fragrance of your pergola through a smartphone app. These tech-savvy features ensure that your pergola is not just a static structure but a dynamic, adaptable space that enhances your outdoor experience.
Vertical Gardens: Living Walls That Adorn and Breathe Life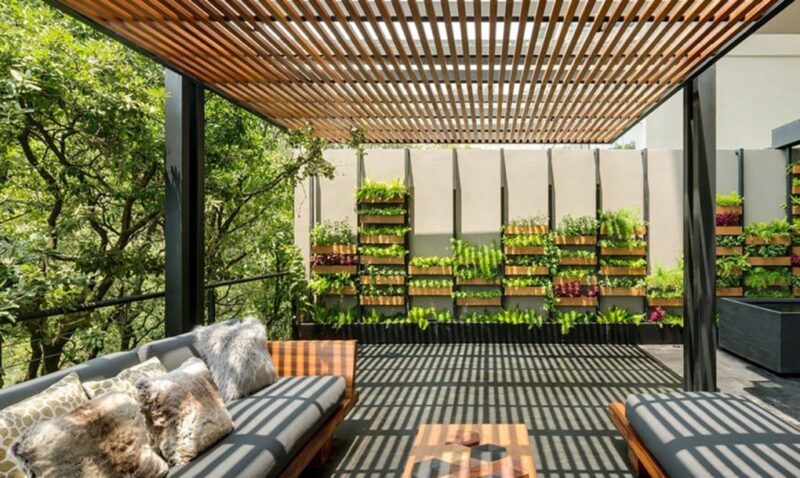 Vertical gardens, also known as living walls, have blossomed into captivating displays that merge aesthetics with environmental vitality. These verdant tapestries breathe life into urban spaces, transforming plain facades into thriving ecosystems. By utilizing vertical space, these gardens ingeniously maximize the potential for greenery in constricted urban landscapes, making them a cherished trend in 2023.
Beyond their visual appeal, vertical gardens offer a host of benefits. They purify the air, mitigate urban heat, and provide insulation, contributing to a healthier and more sustainable urban environment. With a carefully curated selection of plant species, these living walls become a symphony of colors, textures, and fragrances, enhancing the ambiance and fostering a sense of tranquility.
Multi-Functional Spaces: Outdoor Kitchens, Gyms, and More
The conventional functions of structures are being transcended as they become multipurpose spaces that meet a variety of demands. For hosting outdoor feasts, outdoor kitchens with grills, sinks, and eating spaces are ideal. Gyms with covered pergolas mix exercise and fresh air to create a motivating training setting. These modifications not only make the most of your outdoor area but also turn it into a multipurpose center for different activities, promoting a more active and interesting way of life.
Bold Colors: Vibrant Palettes Adding Character to Pergola Aesthetics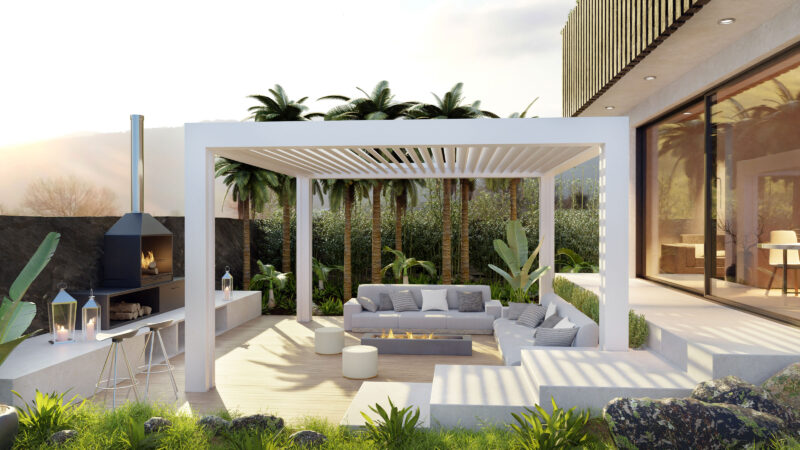 Bold colors have emerged as a striking trend, infusing new life into the aesthetics of design. In 2023, these vibrant palettes are redefining outdoor spaces, turning them into captivating focal points. Gone are the days of muted tones – now, rich reds, deep blues, and vibrant yellows boldly grace these structures, adding personality and charm.
These daring hues create an immediate visual impact, transforming arbores into statements of individuality. They provide a refreshing contrast against natural backdrops, encouraging a lively and energetic atmosphere. By incorporating bold colors into design, homeowners can evoke emotions, set moods, and reflect personal style.
In a world where self-expression knows no bounds, vibrant palettes for bowers celebrate the joy of color and empower spaces with distinctive character. This trend exemplifies the marriage of artistic expression and functional outdoor design, making each pergola a canvas of vibrant creativity.
Shade Solutions: Innovative Retractable Canopies for Versatile Comfort
As the sun's rays become more intense, the importance of shade cannot be overstated. Enter innovative retractable canopies – the ultimate solution for adapting to changing weather conditions. These canopies can be extended to provide shelter from the sun's heat or retracted to bask in the warmth during cooler hours. With weather sensors and motorized mechanisms, you can effortlessly control the amount of shade, ensuring comfort and protection for you and your guests.
Mixed Materials: Blending Wood, Metal, and Fabric for Visual Intrigue
The fusion of different materials is emerging as a powerful trend in design. Combining wood, metal, and fabric creates a captivating visual contrast that adds depth and intrigue to the structure. Metal accents provide a contemporary edge, while fabric canopies soften the look and offer a cozy ambiance. The interplay of textures and materials not only elevates aesthetics but also brings a tactile dimension to your pergola, making it a sensory delight.
Curated Lighting: Illuminating Pergolas with Artistic and Cozy Radiance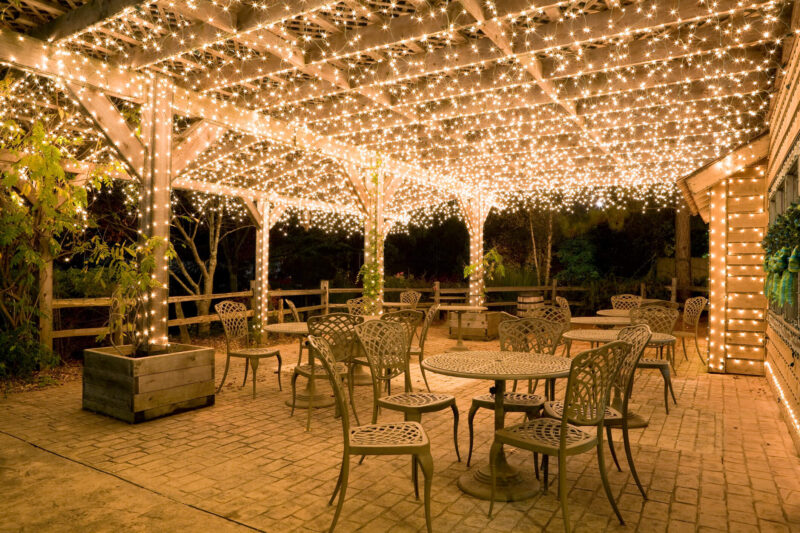 The right lighting can transform a pergola from a daytime retreat to a magical haven after sunset. In 2023, carefully curated lighting takes center stage. String lights draped across rafters, strategically placed lanterns, and recessed fixtures can create a dreamy atmosphere that encourages relaxation and conversation. By combining various lighting elements, you can achieve a balance between artistic radiance and cozy intimacy, ensuring that your arbor remains enchanting long into the night.
Conclusion: Embrace These Trends for a Contemporary Outdoor Haven
As we navigate the landscape of pergola trends in 2023, it's clear that these structures are no longer simple outdoor shelters. They have evolved into dynamic spaces that cater to individual preferences, harness the power of technology, and celebrate the beauty of nature. Whether you're drawn to the eco-friendly allure of sustainable materials or the modern charm of smart features, there's a trend for every taste. By embracing these ideas, you can transform your pergola into a captivating outdoor haven that reflects your style while offering comfort, beauty, and endless possibilities.