Have you been dreaming about a large bathroom lately? We usually have the opportunity to see these in movies, but the reality is completely different. Architects often give the least importance to the bathroom, all with the aim of leaving as much space as possible for other rooms. This is especially true when you live in an apartment. The result is small cramped bathrooms in which a person cannot turn around. Definitely not very pleasant, especially if you take into account that a large number of people spend a lot of time in this room, given the fact that this is where we start and end our day.
Lucky for you, there are a couple of options to consider to make your bathroom larger. When you are doing bathroom remodeling, there are also a couple of tricks you can utilize with minimum effort, to visually expand the space. Here are some tips on how to make a small bathroom look less cramped, and some of them will contribute to freeing up more space.
Go for Huge Mirrors
If you are renovating, or just organizing the layout in the bathroom differently, think carefully about where another mirror could be placed, preferably of larger dimensions. Who says that one mirror in the bathroom is enough? Especially if there's only one small mirror in front of the sink… Replace it with the biggest one that can fit on that wall. One of the options is to have the mirror cut to size in a glass shop, have its edges processed, and simply stick it on the wall without any framing. Consult only with the glazier which silicone to use for gluing the mirror, so as not to damage its background, because not all silicones are of the same composition.
Choose Neutral Colors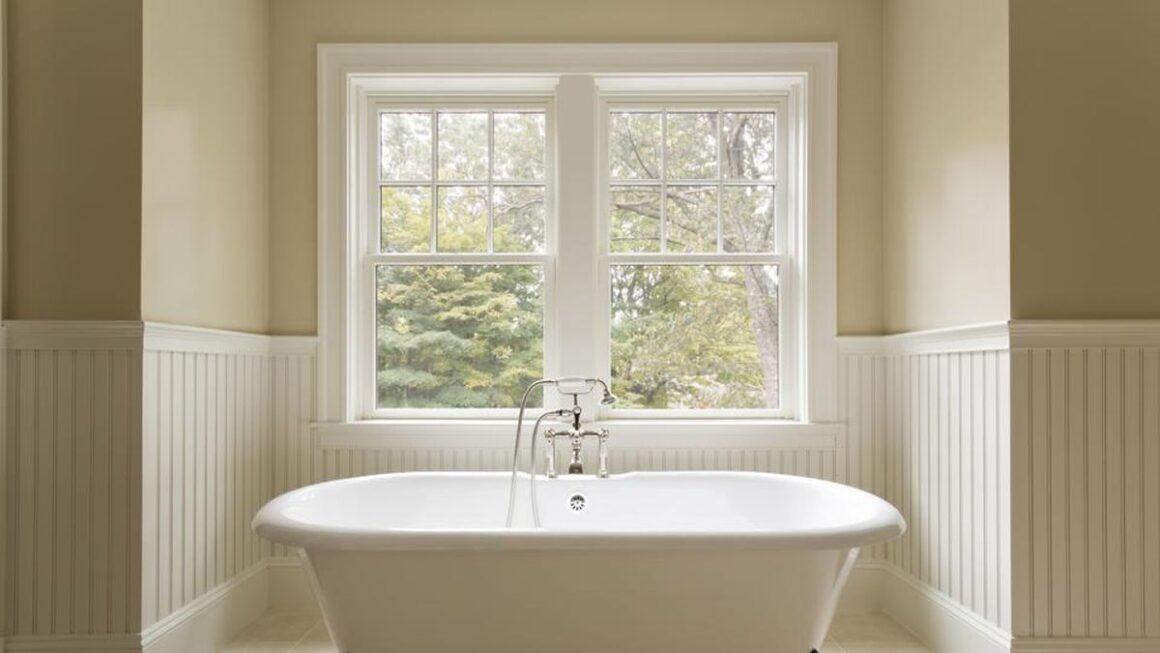 If you are remodeling the bathroom, choose lighter and neutral colors. Light colors reflect light, so the room will appear larger. Wooden surfaces, such as doors and windows, will literally disappear if they are the same light color as the walls. Dark brown doors will literally "eat" any small room. So, try to keep everything in the same color, preferably white. In order to avoid a monotonous and sterile look, only a few details are enough – for example, a set of towels in light green.
Introduce as Much Light as Possible
If it is a major remodeling you're doing, there may be an opportunity to increase the window opening. There's nothing better than natural light. Or if you are changing the joinery, for the bathroom you can choose a window made of aluminum profiles, which can be very thin, unlike PVC profiles, so that the window frame itself blocks as little light as possible. Also, if you are renovating, consult so that you can install more than one light source. Neon and LED lighting are very economical, so you will not increase the cost of electricity.
Choose a Glass Shower Cabin
If you have a small bathroom, there is a high probability that you have a shower cabin instead of a bathtub. If you are changing it, choose one with glass doors. Clear glass will optically occupy incomparably less space than murky glass or a cabin with white plastic panels. Colorful curtains are the worst option. Use another trick – always keep the shower door open when not in use, because that way there will really be more space in the bathroom.
Choose Adequate Tiles for Walls and Floors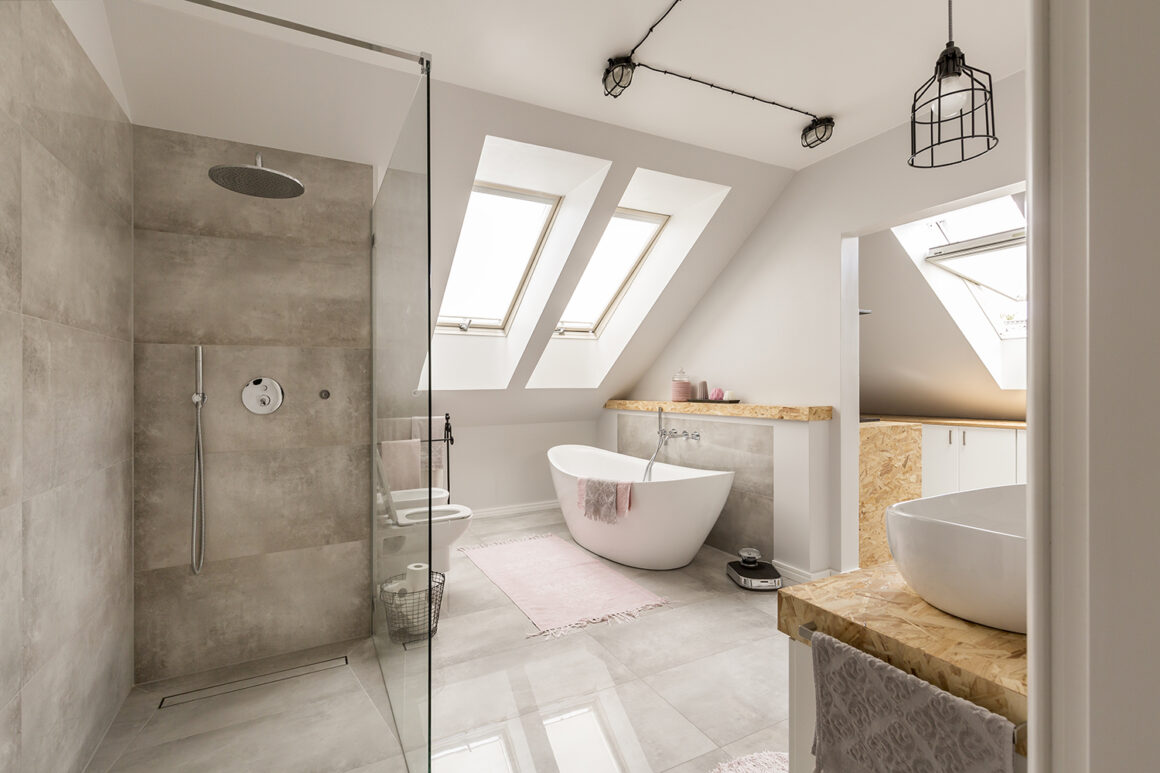 Remodeling is a great opportunity to change tiles as well. The size of a small bathroom, whether for walls or floors, will have a big impact on how the space feels visually – in other words, will it feel smaller or bigger. Did you know that a small one looks better with large tiles? This is because, with fewer grout lines, the whole area feels less cluttered, making the room feel a lot larger than it is.
Using smaller tiles, such as mosaics, will give you lots of grout lines, making you feel like you're in a box. That doesn't mean you have to avoid them entirely. If there's a mosaic you really like, you can mix it up a bit by using tiles of different sizes in different areas of your bathroom.
A thin towel rail is a nice touch for warming and holding towels. Adding sliding doors or folding doors will give you more space than traditional hinged doors. A large bathtub may be aesthetically pleasing, but it will take up twice as much space as a shower cubicle.
Do not create partitions in the bathroom by creating opaque walls for the shower. Instead, frame it with clear glass to allow a full view of the bathroom. The unusual houseplant looks great in small bathrooms and will thrive in a warm, humid environment.
Throw out The Unnecessary
Minimalism is the best friend of small apartments, and the same applies to small bathrooms. Look around you and think carefully about what could be thrown out of the bathroom, there is certainly a lot. The large towel chest can perhaps be replaced by a smaller one, and perhaps it can stand in the hallway in front of the bathroom.
Of the 40 bottles and boxes with cosmetics, only one-third was probably used in the last year. Throwing out the unnecessary is good advice not only for the bathroom but also for the whole apartment, and it is probably good advice in life in general…
Wrapping Up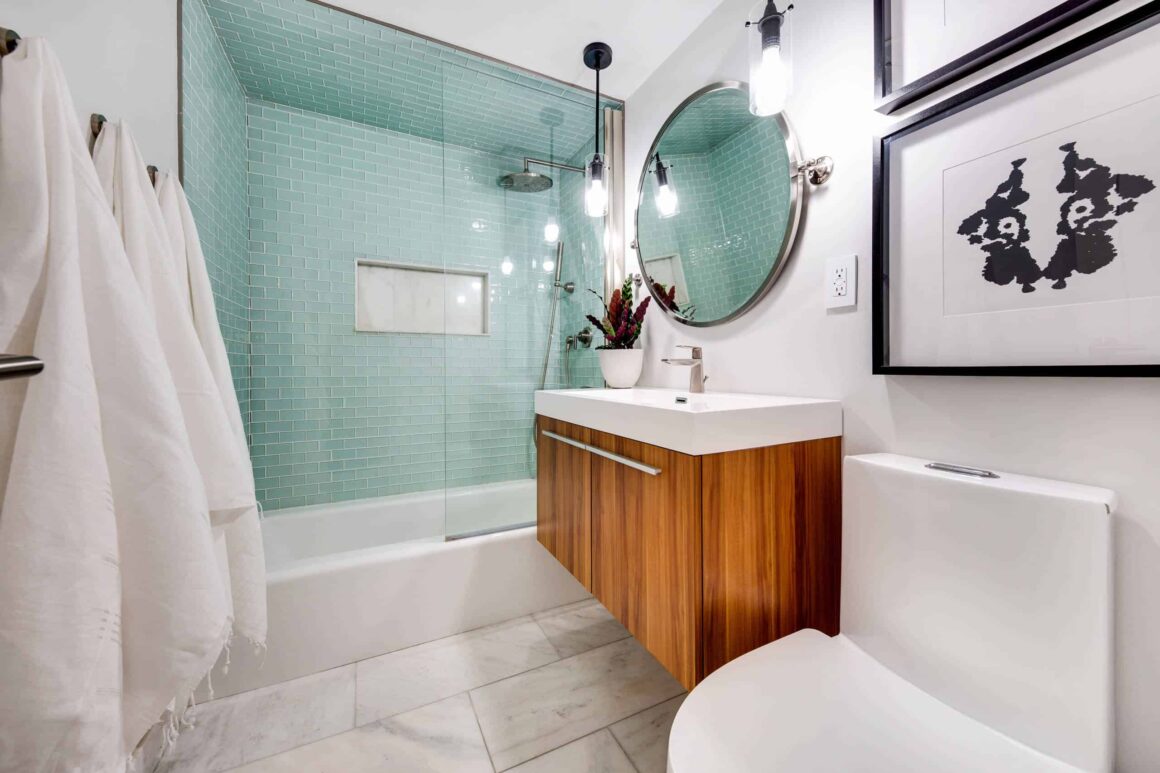 As you can see there are quite a few things you can use to make the space larger, but also to make the time you spend inside, a lot more pleasant. As we mentioned in the introduction, you're beginning and ending your day here, so might as well make it pleasant.