When it comes to building or renovating a deck, homeowners have a variety of materials to choose from. One popular option that combines style, durability, and low maintenance is vinyl decking. Vinyl decks offer a range of benefits that make them an attractive choice for outdoor spaces.
Find out about the features and advantages of vinyl decks, highlighting why they are stylish and long-lasting decking options.
Durable and Weather-Resistant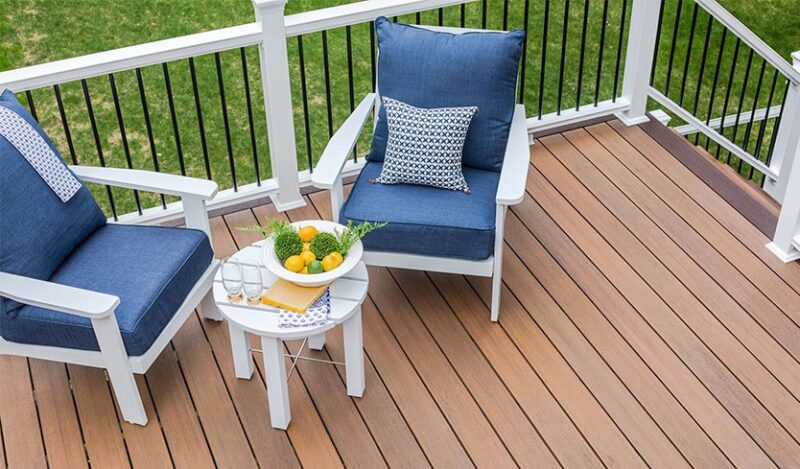 One of the key advantages of vinyl decks is their exceptional durability and ability to withstand harsh weather conditions. Vinyl is a synthetic material made from PVC (polyvinyl chloride), which provides superior resistance to moisture, rot, and pests. Unlike wood, vinyl decks do not warp, crack, or splinter, even when exposed to intense sunlight, rain, or snow.
The weather-resistant properties of vinyl make it an ideal choice for decks that need to endure varying climates. Whether you live in a hot and humid region or an area with freezing winters, vinyl decks can maintain their structural integrity and appearance over time, reducing the need for frequent repairs or replacements.
Low Maintenance
Vinyl decks are known for their low maintenance requirements, making them an attractive option for homeowners seeking a hassle-free outdoor space. Unlike wood decks that require regular staining, sealing, and painting, vinyl decks only need occasional cleaning to keep them looking their best.
Cleaning a vinyl deck is a straightforward process that typically involves using mild soap, water, and a soft brush or cloth to remove dirt or stains. With minimal maintenance efforts, homeowners can enjoy their outdoor space without the worry of time-consuming upkeep tasks.
Wide Range of Styles and Colors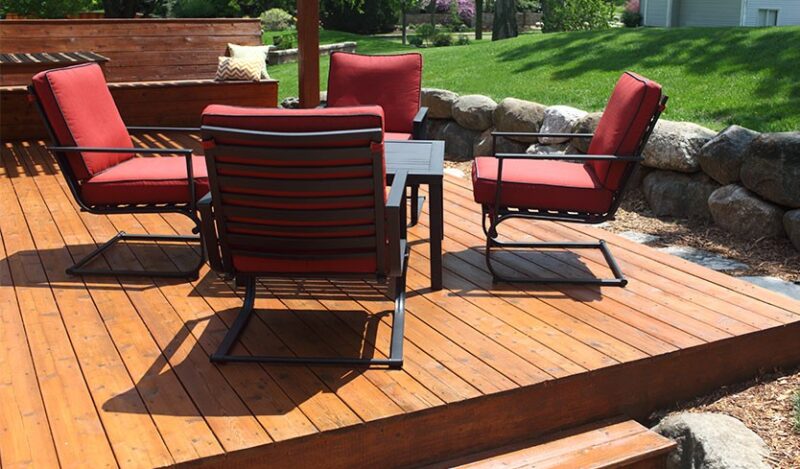 Vinyl decks offer a wide range of styles and colours, allowing homeowners to find the perfect match for their aesthetic preferences. Whether you prefer a traditional wood grain appearance or a contemporary design, vinyl decking can emulate the look of various natural materials, including wood, stone, and tile.
Furthermore, vinyl decks are available in a diverse palette of colours, ranging from earth tones to vibrant hues. This variety allows homeowners to personalize their outdoor space and create a deck that complements their home's architecture and landscaping.
Comfort and Safety
Vinyl decking provides a comfortable and safe surface for outdoor activities. Unlike wood decking, which can become hot under direct sunlight, vinyl decks remain cooler to the touch, making them more comfortable for bare feet. This is particularly advantageous in regions with hot climates or for families with young children who may spend a significant amount of time on the deck.
Additionally, vinyl decks are designed with slip-resistant surfaces, reducing the risk of accidents, especially when the deck is wet. The material's inherent resistance to mould and mildew also contributes to a safer environment by preventing the growth of slippery and hazardous substances.
Environmentally Friendly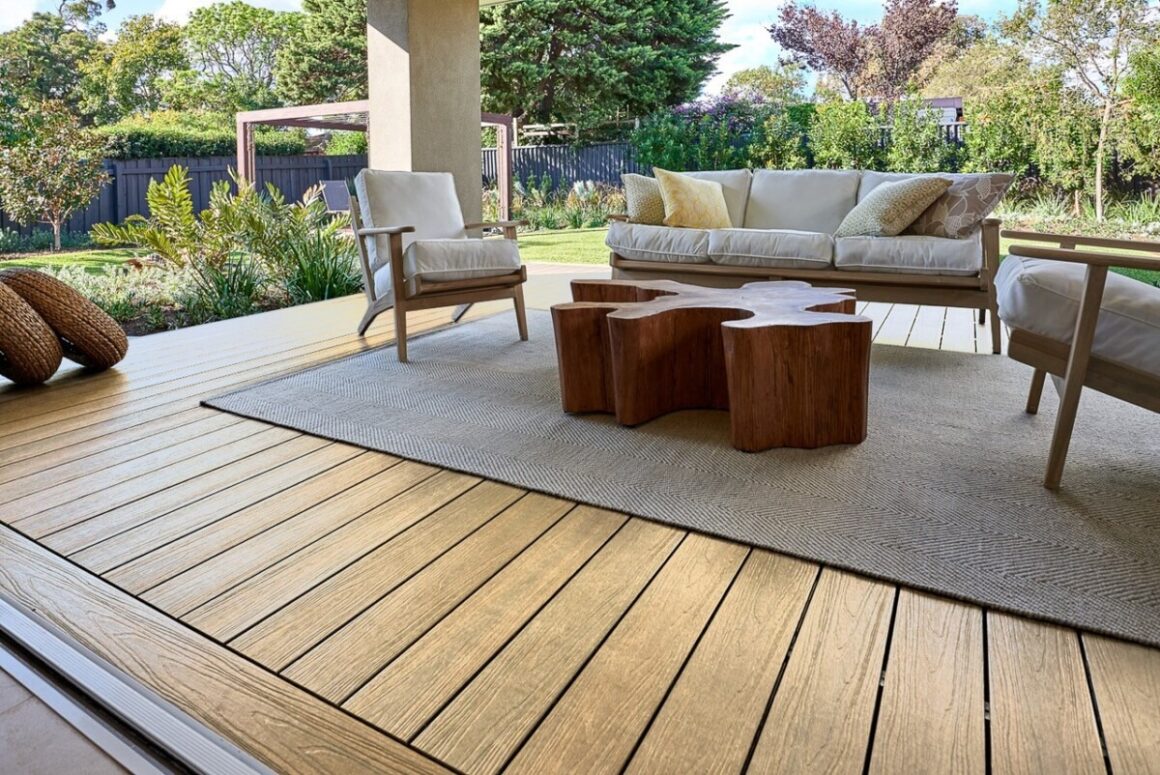 Vinyl decks are considered an environmentally friendly choice compared to traditional wood decking options. Vinyl is a recyclable material, and many manufacturers use recycled vinyl in the production of decking materials. Opting for vinyl decks reduces the demand for new timber, contributing to the conservation of natural resources and the preservation of forests.
Furthermore, the longevity of vinyl decks minimizes the need for replacement, which reduces waste and landfill impact. By choosing a sustainable decking material like vinyl, homeowners can make an eco-conscious decision while enjoying a stylish and long-lasting outdoor space. Vinyl decks have emerged as a popular choice among homeowners for their durability and aesthetic appeal. While the deck itself becomes a centerpiece of the outdoor space, complementing it with the right landscaping can elevate its beauty and functionality. In fact, integrating decks with natural elements like plants, trees, and even water features can create a cohesive look and feel. If you're considering enhancing the surroundings of your vinyl deck, seeking expertise from a trusted source is essential. For those residing in Greenville, SC, top-rated landscaping in Greenville, SC by CollinsBrooke Landscape Construction can provide the perfect amalgamation of design and quality to surround your deck with nature's charm.
Conclusion
Vinyl decks offer a stylish and long-lasting decking option for homeowners seeking durability, low maintenance, and design versatility. With their exceptional resistance to weather, low maintenance requirements, and wide range of styles and colours, vinyl decks provide a practical and attractive solution for outdoor spaces. Additionally, the comfort, safety, and eco-friendly nature of vinyl decking make it a compelling choice for creating a beautiful and sustainable outdoor environment.
More than the benefits mentioned above, vinyl decks also offer excellent resistance to fading, staining, and scratching. The material's protective outer layer helps maintain its vibrant colour and prevents stains from penetrating the surface, ensuring that your deck looks beautiful and new for years to come. Furthermore, vinyl decks are designed with ease of installation in mind. Many vinyl decking systems utilize interlocking panels or hidden fasteners, resulting in a smooth and seamless surface. This not only enhances the aesthetic appeal of the deck but also minimizes the risk of tripping or catching on protruding nails or screws. Overall, vinyl decks provide homeowners with a durable, low-maintenance, and stylish outdoor space that can withstand the elements and offer years of enjoyment. Whether you're seeking a contemporary look or a traditional appearance, vinyl decking is a versatile and long-lasting option that can transform your outdoor area into a functional and inviting retreat.