Without a roof over your head, things can be pretty tough, literally. Imagine this, you are building a home for your family. Everything is going great like your basement coming good and the walls are near-perfect. But those things do not matter if the roof of your home is not right in almost all the ways.
So, what you can do? You think the contractor will take good care of your house. Most of the time, yeah, they do a pretty good job, but it is vital to check crucial steps like choosing the roofing material, the type of mortar that the contractor using, and so on. After all, it is not a house, it's a home for your family.
But these crucial steps need a little bit of information to get it right. Like for example, choosing the right roofing material. We know it can be tough if you do not know where to start. That is why, we came up with the idea of giving you essential pieces of information about the roofing material so, that it won't overwhelm you when the time comes.So, without wasting time, let's get into it.
Cost of Roofing Materials
Firstly the burning question of them all, is the cost.
The cost of roofing materials can vary a lot depending on what you choose, especially your location. Cities like New York can cost you a lot of money, while cities like Vancouver can cost you a fair amount of money. Also, the quote from the New York contractor can also vary compared to roofing contractors in Vancouver, WA. On the whole, your location matters.
Now returning to the cost of the roofing material. If you're watching your wallet, asphalt shingles are a smart move. They usually cost between $80 and $150 per square (which is about 100 square feet). Simple 3-tab shingles are cheaper, while fancier architectural ones can go from $150 to $300.
For a budget-friendly option, consider wood shakes and shingles. Cedar shakes or shingles go for $200 to $500 per square. If you want fire-resistant wood shakes with pressure treatment, add around $150 to $250 to these prices.
Metal roofing, like steel or aluminum, is in the range of $120 to $600 per square. The cost changes depending on things like the metal thickness, coating, and how it's installed. Light aluminum shingles start at about $200 per square, but strong steel panels can go past $600.
Going for tile or slate? Get ready to spend more. These fancy choices cost between $700 and $1,500 per square. Concrete and clay tiles are around $700 to $900. But the king of the hill is natural slate tiles, starting from $900 and going up to $1,500 per square.
Thinking about how long your roof will last is just as important as the cost. Sure, sturdier materials like metal, tile, or slate might cost more upfront. But they stick around for way longer and can actually save you money over time.
To know how many years each material can tough out in your area, it's smart to talk to a roofing expert. They'll help you figure out which one is the right fit for your climate and budget.
Popular Roofing Material Trends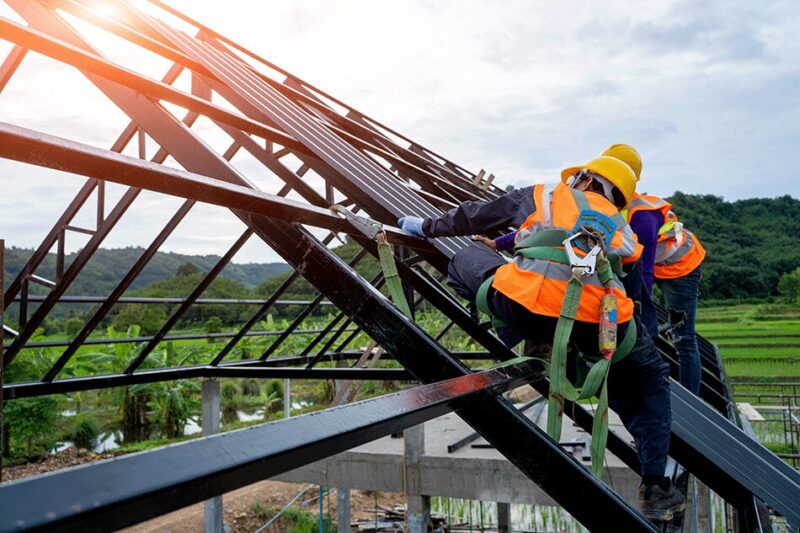 Asphalt shingles have stolen the show as the top roofing choice, gracing over 80% of homes. People love them because they're affordable, easy to find, and simple to install – perfect for most homeowners. Lately, architectural shingles with extra layers are getting more attention. They're tougher than basic ones, only a tad pricier.
But the star of the show now? Metal roofs. They can last over 50 years, laugh at fires and bugs, and drain rainwater like champs. Plus, they've got that sleek modern look that lots of folks dig. Among metal options, standing seam metal roofing takes the cake. It's super tough and pretty darn attractive.
And guess what's on the rise? Solar roofs! People are digging them, and new tax credits let homeowners snag a 26% discount on solar setup costs until 2032. Asphalt and metal roofs team up best with solar panels for a seamless look. Tile and slate can do it too, but they might need a bit of extra roof support.
Longevity of Roofing Materials
When it's a showdown of roofing lifespans, tile and slate are the champs, sticking around for a jaw-dropping 70 to 150 years. Metal roofs are close runners-up, hanging tough for 40 to over 70 years. Asphalt roofs have a good run, averaging 15 to 30 years. Meanwhile, wood shake/shingle roofs clock in at 10 to 40 years.
Remember, the trick to making your roof last is nailing the installation and keeping up with maintenance. Chat with your contractor to learn the ropes and make your chosen material go the extra mile.
Maintenance Requirements
When it comes to upkeep, asphalt and wood roofs need the most attention. They're all about sealing, patching, and swapping out worn shingles every now and then.
Metal roofs, on the flip side, are nearly maintenance-free. Just tighten a few screws here and there and seal up some seams every once in a while.
Tile and slate roofs are also pretty chill when it comes to upkeep. You might need to replace a tile or two if things get wonky.
When you're crunching the numbers for the long haul, remember to factor in maintenance. Sure, strong materials like metal and slate cost more at first, but their easy upkeep can save you bucks down the line.
Roofing Material Aesthetics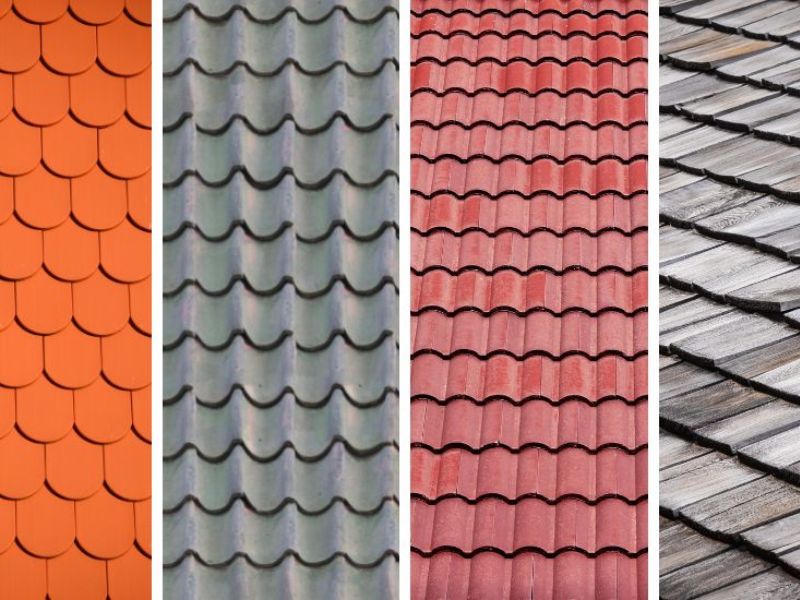 The look of your roof matters too. Asphalt shingles are a hit because they come in all sorts of earthy colors and textures. Wood shakes have a cozy, rustic vibe.
Tile and slate roofs give off a fancy, high-end feel. But if you're into a modern, sleek look, metal roofs – especially standing seam ones – are your jam.
And if you're putting in solar panels, pick a roof color that goes well with them. A design pro can help you choose the perfect look that matches your home's style. After all, your roof isn't just a roof – it's your home's style statement.
Roofing Installation Factors
If you're all about saving on labor costs, asphalt shingles are the go-to for DIY installation. But if you're eyeing materials like metal, tile, or slate, it's smart to bring in the pros – those materials need some finesse.
Plus, make sure your roof's got the muscle for heavier stuff like slate, tile, or stone-coated steel. They can weigh between 600 to 1500 lbs per square. To keep things safe and steady, it's a good call to have a structural engineer take a look.
And don't forget about local rules for roofing materials. In some places, you might not be able to use wood shake or composite shingles because they could be a fire risk. Always a good idea to double-check the codes.
How Climate Impacts Roofing Decisions
Where you live makes a big difference when picking roofing materials. In rainy spots, materials like metal or tile with steep slopes and smooth surfaces are smart – they help water slide off.
In hot areas, go for reflective metal or tile. They soak up way less sun heat compared to dark asphalt shingles.
Cold places? Asphalt and slate are cool. They grab the sun's warmth and help melt snow off your roof.
For the best materials for your weather, chat with a local contractor who knows all about your area's climate. They'll steer you in the right direction.
Roofing Warranties
When you're weighing your options for different roofing materials, don't forget to dig into the warranties they come with. Shingle makers often tout "lifetime limited" warranties, but those usually cover manufacturing mishaps for around 20 to 50 years – not the whole roof life.
Metal and tile folks, though, often roll out 50+ year limited warranties. These cover defects, color loss, and sometimes even storm damage.
But the real deal is reading and getting what the warranty's all about. Knowing the nitty-gritty helps you see what's covered and what's not. A trustworthy manufacturer shows their faith in their stuff, especially when it's put in and looked after just right.
Frequently Asked Questions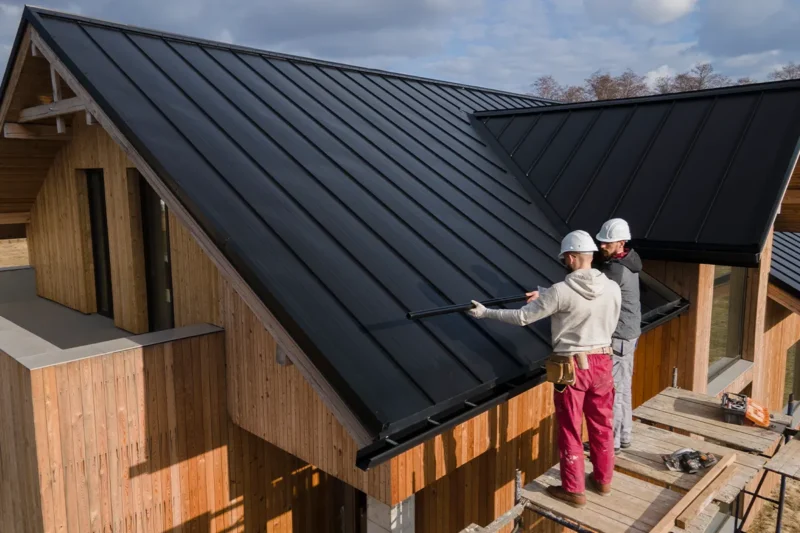 Can I install new shingles over my existing roof?
In some cases, installing new asphalt shingles over existing ones is possible. This is contingent on the roof having no more than two existing layers, solid structural integrity, and proper fastening of the new shingles. However, doing this will likely void your existing roof warranty.
How do solar panels impact my roofing choice?
Solar panels add weight and roof penetration points that not all materials can accommodate. Asphalt shingles offer the most solar-friendly option. Tile, metal, and slate can also integrate solar panels but may require added roof structural support.
What are "cool roofs" and why are they beneficial?
Cool roofs utilize reflective paint or coating to minimize solar heat absorption. This enhances energy efficiency by reducing cooling costs. Cool roofs are recommended in hot climates and for homes with flat or shallow-sloped roofs which get maximum sun exposure.
Key Takeaways
When it comes to picking roofing materials, there's a lot to think about. You've got the upfront cost and the long-haul durability to weigh. Tougher materials might cost more at first, but they often save you money down the line.
Don't forget about the upkeep – some materials need more TLC than others, which can add up over time.
Also, where you live matters too – if it's rainy, sunny, cold, or hot, your roof needs to handle it.
Look into warranties from different makers, not just how long they last, but what they cover.
And last but certainly not least, looks matter– Roofing is also a part of your home's style.
Take your time and think about all this stuff. It'll help you find a roof that's both smart and suits your style. After all, your roof's not just over your head, it's over your home.