We spend a lot of time and energy making sure that our homes are clean, safe, and comfortable for our families. Everything gets its turn – from garden patios to deep carpet cleaning – but one area that often gets overlooked is the upholstery. We buy our furniture to last, but oftentimes, it's the part that suffers the most when it comes to regular wear and tear.
That's why it's so important to make sure that your upholstery gets the attention it needs and deserves – and the best way to do that is to hire a professional upholstery cleaning service. From the specialized techniques that they use to the benefits that they offer, here's why you should consider calling in the experts when it comes to cleaning your couches and chairs.
Quick Answer
Hiring a professional upholstery cleaning service can provide numerous benefits, such as more thorough deep cleaning and longer lasting results. Additionally, professionals have the necessary tools and expertise to safely and effectively clean a variety of fabrics without damaging them.
Detailed Cleaning and Protecting with Professional Upholstery Cleaners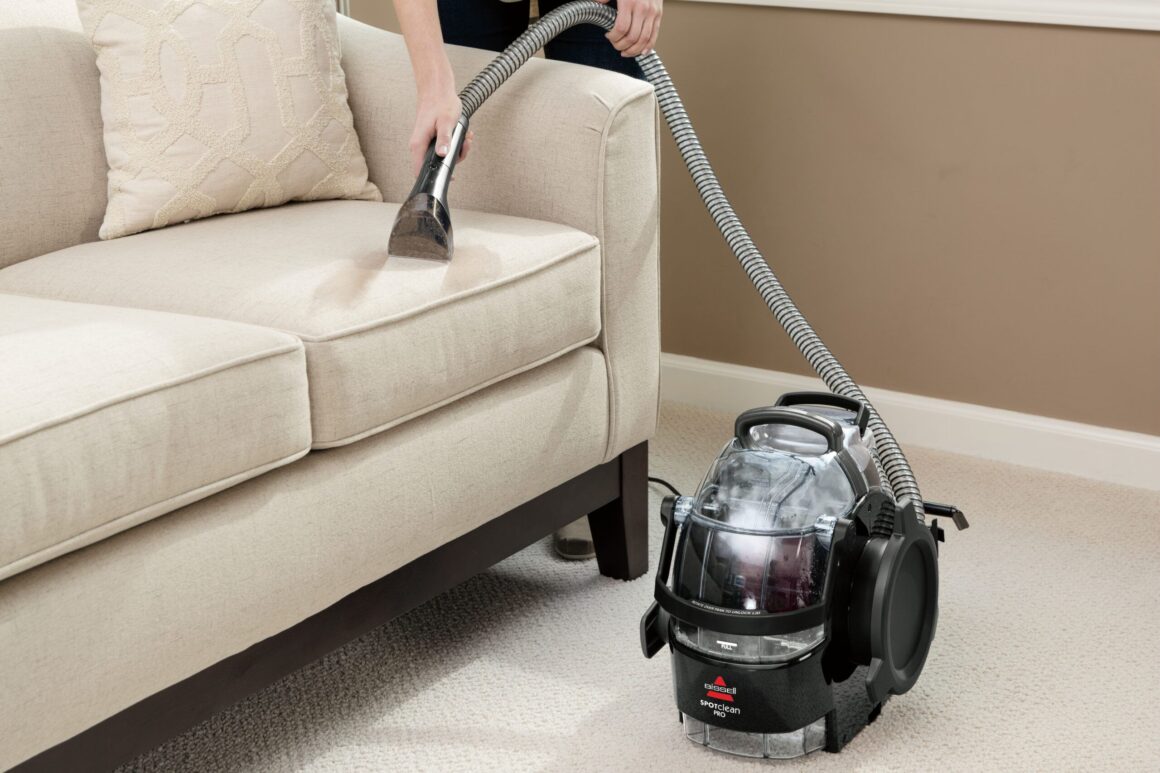 Detailed cleaning and protecting with a professional upholstery cleaning service can help extend the life of your furniture and protect it from damaging dirt and stains. Detailed cleaning is a more thorough version of spot-cleaning that aims to remove the build-up of dust and other allergens from deep within the cushions. This process involves pre-treating any visible soils, scrubbing with special upholstery shampoo, and then applying a special protector so that future soil does not become embedded in the fabric fibers.
There has been a debate about whether or not upholstery protection is necessary, as some view it as an added cost with no tangible benefit. However, many professionals argue that when done properly, upholstery protection will help prevent fabrics from becoming stained or damaged down the line. Professional upholstery cleaners combine specialized machines, skilled knowledge, and fine-tuned techniques to ensure that each piece of furniture receives an optimal cleanse and protective finish – something which regular home spot-cleaning simply cannot provide.
When done right, professional upholstery cleaning can help protect your furnishings against further damage in the long run, making it all the more worth investing in. The next section covers why hiring a skilled professional upholstery cleaner makes all the difference when it comes to preserving your furniture's condition and removing dirt and stains.
Skilled Upholstery Professionals Remove Dirt and Stains
When it comes to removing dirt and stains from your upholstery, hiring a skilled professional is essential. Their experience and expertise will allow them to identify the type of stain, fabric and filling materials in order to come up with the most effective cleaning technique. Home cleaning solutions may not be able to address tougher or older stains as successfully as a professional cleaner.
For example, high-traffic furniture such as armchairs and sofas are prone to general body oils, food spills and drink splashes which need adept dealing. A skilled professional can target their approach towards these specific issues for maximum spot removal without damaging the upholstery.
On the other hand, taking the DIY route can be gentle stubborn stains that are quite tough to maneuver. Without any professionals on hand, DIY attempts may risk causing more damage that would require extensive repairs. Moreover, amateur cleaners might not have access to specialized equipment and machines which can further complicate matters. Ultimately, a professional upholstery cleaner with experience should always be consulted when it comes down to tackling spots and spills for efficient results.
Overall, hiring an experienced upholstery cleaner is often necessary in order to expertly remove dirt and stains from your pieces of furniture. With the right tools and products in hand, they can clean away even the toughest grime while ensuring lasting protection–something that DIY cleaning approaches cannot offer. This way, you can rest assured that your furniture's life expectancy will be extended significantly as its beauty will also be restored effortlessly.
Once an experienced professional ensures that your beloved furniture pieces are completely free of dirt and stains, they're ready to move on to restoring an item's original fresh look–which we shall explore next time around!
Must-Know Points to Remember
Hiring a professional upholstery cleaner to remove dirt and stains from furniture is usually necessary for effective results. They use the right tools and products which can often clean away the toughest grime while protecting the piece. DIY solutions are generally not as effective and can even cause more damage that would need repairs. With professional help, furniture's life expectancy will be extended while its beauty is also restored effortlessly.
Restoring the Original Fresh Look of Furniture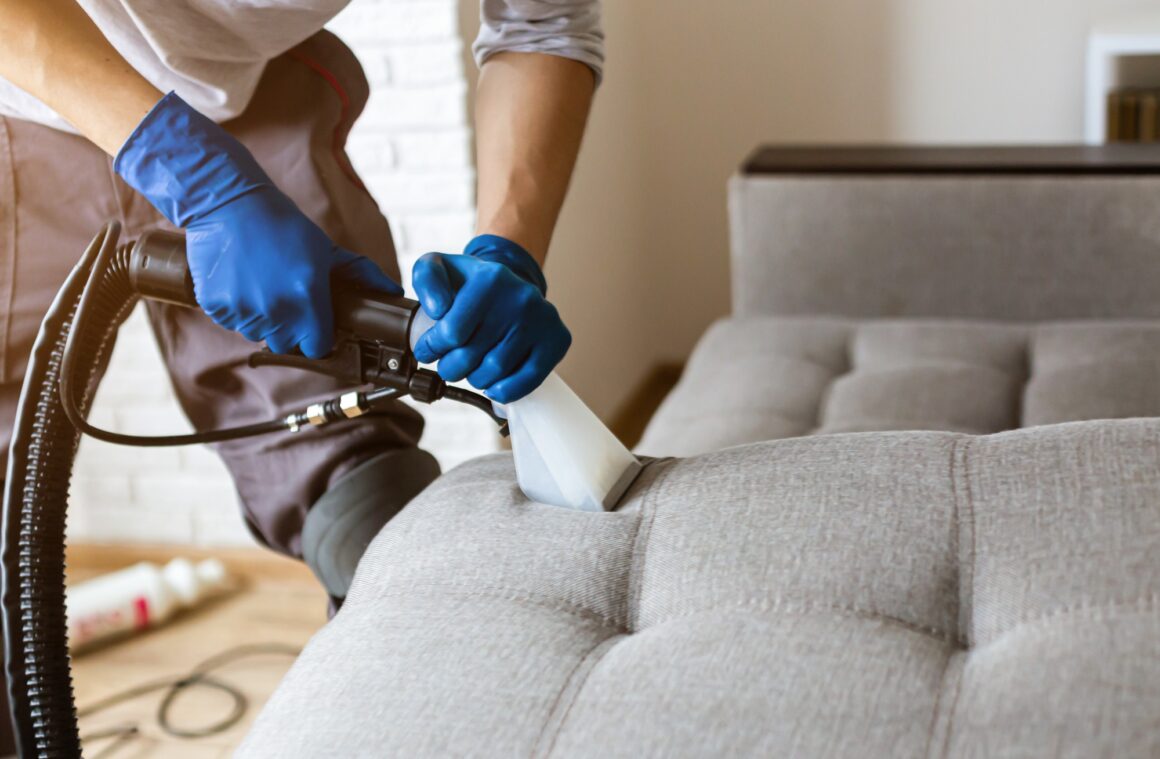 Upholstery cleaning professionals have the knowledge and techniques needed to restore all types of furniture to its original, like-new condition. Upholstery fabrics are often delicate materials that require special care in order to remain undamaged, making it highly advisable for homeowners to hire a professional. Upholstery that is cleaned regularly by a professional can maintain its fresh appearance much longer than furniture cleaned using DIY methods.
The debate on whether DIY or professional cleaning services are most beneficial often arises but the truth is one should weigh the cost of a professional service against the risk of damaging their upholstery. Professionals not only use high-pressure yet gentle steam and cleaning solutions, but they can also inspect the piece for potential problems and provide appropriate solutions such as re-tacking sagging springs, patching or scrunching fabric, and simply changing padding where necessary. Professional cleaning services often come with additional protection measures such as Scotchgard which help keep furniture looking new for longer, while DIY cleaners may lack this essential element.
The fact of the matter is, when it comes to restoring furniture to its original fresh look, hiring a professional upholstery service is key. With their skilled use of advanced steam cleaners, powerful chemicals, stain removals and additional protective products, professionals have an array of solutions at hand that help restore fabrics to their appropriate luster. The next section will discuss solutions found within these professional processes that effectively restore furniture fabric back to its original color.
Solutions that Restore Fabrics to their Original Color
Restoring the original color of fabrics is a key benefit that can come with hiring a professional upholstery cleaning service. Over time, fabrics tend to fade from sun and wear over their lifetime. Many homeowners try to renew the color of fabrics with store bought solutions, however this often only masks the problem temporarily and can strip away the fabric's protective sealant.
On the other hand, professional upholstery services have access to chemical cleaning solutions that help bring out the original colors of fabrics without stripping them or causing them further damage. This can help preserve a piece of furniture's longevity while also restoring its original color.
When it comes to choosing between a store bought solution or a professional upholstery cleaning service, there are pros and cons to both options. Store bought solutions are usually cheaper initially, however they don't offer any long term solutions. Professional upholstery cleaners on the other hand will often cost more upfront but come with years of experience and expertise in bringing back life and original colors to fabrics.
In addition to having access to better solutions, professional upholstery cleaning services have the tools necessary for deep stains and hard-to-reach crevices that cannot be easily reached with everyday household products. This means that more specialized stains can be tackled that would have taken much longer with store bought solutions.
Now that we've discussed how professional upholstery services can restore the original color of fabrics, we'll move on to discussing how these services can give homeowners peace of mind by providing a bacteria free environment in their home—after all, there's nothing quite like knowing your family is safe and secure in a clean and hygienic living space.
The use of commercial-grade upholstery cleaning equipment and products by professional services can reduce allergens like mites, mold, pollen and dander trapped within furniture fabrics.
According to research reported by the American College of Allergy Asthma & Immunology (ACAAI), upholstery cleaned by professionals on a regular basis can result in up to 60% reduction in airborne allergens when compared to do-it-yourself methods.
Professional cleaning services can also help to maintain the color and texture of fabric while improving its resistance to dirt, dust and staining.
Improving Quality of Life with a Bacteria Free Environment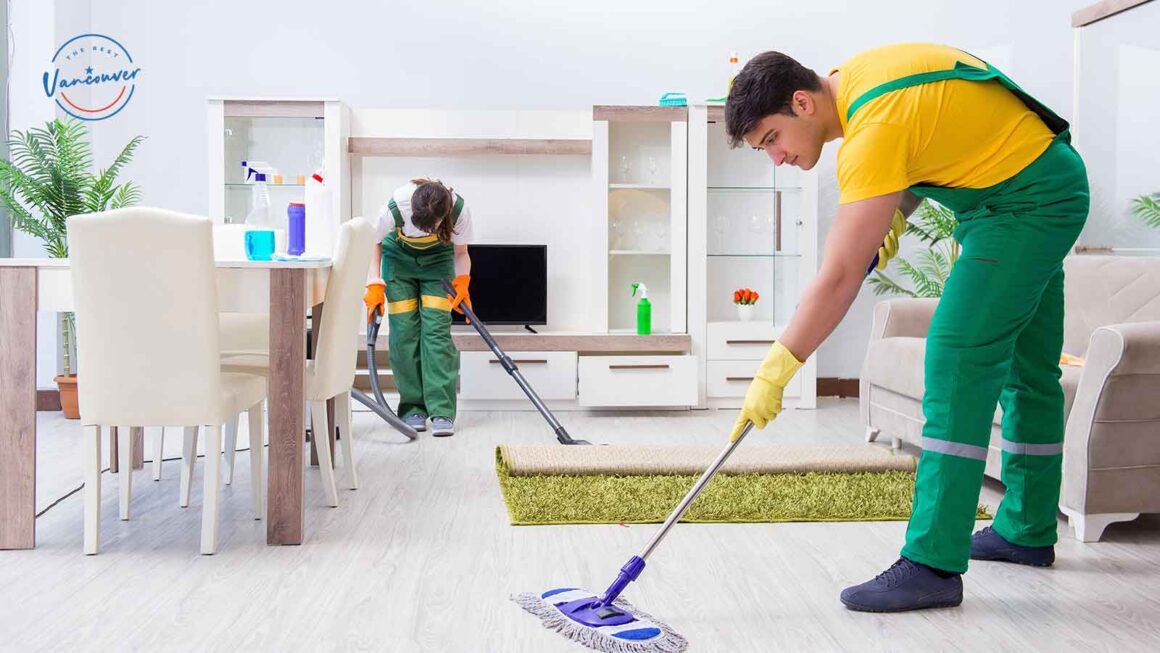 When it comes to maintaining the cleanliness and longevity of your upholstery, professional help can make a world of difference. With the right expertise and tools, professionals can effectively remove stubborn stains and dirt, leaving your upholstery looking as good as new. For those seeking such expert assistance, zerorez.com/indianapolis is a reliable platform that offers comprehensive cleaning solutions tailored to your needs.
The importance of bacteria-free living conditions is often overlooked. Not only does it reduce the risk of disease, but also can be a contributing factor in improving your quality of life. In particular, fabrics that are cleansed properly can prove to be a source of comfort and psychological wellbeing. For instance, studies have shown that sleeping on unclean surfaces may lead to more restlessness compared to clean ones, resulting in less restful nights⁠—possibly even causing physical ailments like fatigue and irritability. Professional upholstery cleaning services employ advanced techniques and quality products to sanitize your furniture and fabrics so they're safe from exposure to potentially harmful bacteria.
On the flip side, there are those who suggest that most homes aren't at high-risk for harboring infectious bacteria that would accumulate on surfaces such as furniture and carpets. However, it's difficult to dispute the fact that our environment plays a vital role in influencing our physical health and emotional wellbeing. The argument that upholstery cleaning is necessary doesn't necessarily suggest offense by any means; rather it serves as an additional element in creating an optimal living space where you can foster healthy habits and psychological clarity.
In conclusion, while professional upholstery cleaning may not guarantee total annihilation of microbes, it certainly reduces your chance of exposure by eliminating any potential threats that weren't identified before hand. This could benefit you greatly if you seek peace of mind knowing all surfaces within your home are free of germs and maintain a higher level of hygiene no matter the season.
Properly cleansed furniture also provides a calming atmosphere conducive for relaxation and productivity in addition to improved quality of life psychologically speaking. As we transition into our next section, let's discuss how best to protect your family from unsanitary surfaces.
Protect Your Family from Unsanitary Surfaces
In addition to the improved quality of life, hiring a professional upholstery cleaning service can also help keep your family from coming into contact with unsanitary surfaces. Upholstered furniture can be breeding grounds for bacteria, germs, and allergens due to the fact that their soft fabrics are able to hide and lure a variety of disease-causing agents. To protect your family, professional upholstery cleaners will use steam cleaning, chemical treatments, vacuuming, and other methods to remove these elements from your furniture.
A study conducted by the American College of Allergy, Asthma and Immunology found that those who use professional upholstery cleaning services saw a decrease in allergic responses. The study focused on the effects of having dust mites living in couches and beds where individuals spent significant amounts of their time seated or sleeping. It was discovered that these people had lower levels of allergies when they used professional cleaning services to rid their homes of harmful particles and debris. This is because upholstery also harbors mold spores, pollen, pet dander and other indoor pollutants that can cause respiratory ailments such as asthma or bronchitis.
However, some may argue that regular vacuuming and dusting should suffice for keeping furniture clean enough for family members not to become ill. While it is possible for regular maintenance practices to reduce levels of dust and other contaminants, professional cleaners can take things a step further through advanced techniques such as deep steam cleaning and extraction. These processes use temperature-controlled steam vapor to penetrate deeper into fibers than vacuuming alone or even spot-treating with commercial products. Doing this removes debris that had been living deeply tucked away within fabric segments – something the expectancy of a vacuum cleaner could never do effectively, even in its lifetime.
Ultimately, hiring a professional upholstery cleaning service is an important part of protecting your family from a variety of health risks posed by coming into contact with unsanitary surfaces. Professional cleaners go beyond what regular home maintenance attempts can do in order to thoroughly rid furniture pieces of germs, allergens, or any other contaminants lurking within the material which makes them the ideal option for families looking to combat indoor air pollution.
Common Questions and Answers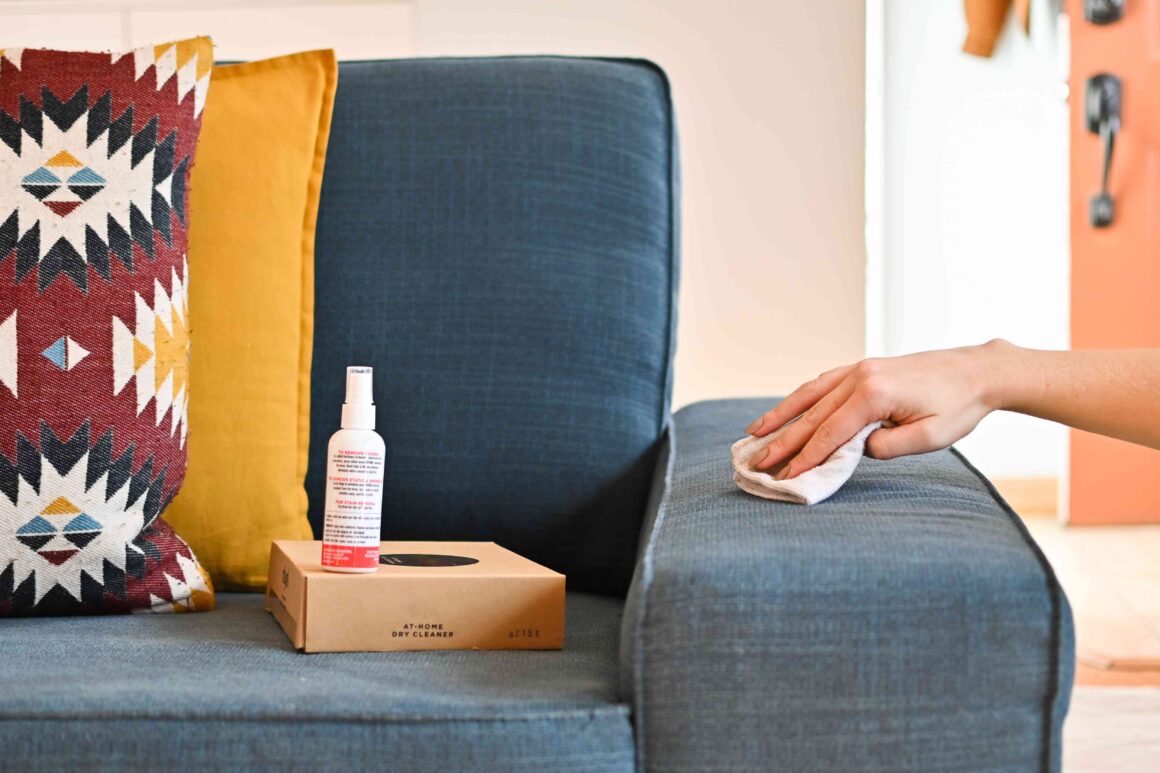 What types of upholstery fabrics can be safely cleaned with a professional service?
All fabrics can be safely cleaned with a professional upholstery cleaning service, however some fabrics are better suited than others. The most common upholstery fabrics that can be safely cleaned with a professional service include polyester, cotton, wool, velvet, leather, and some synthetic blends. Polyester is among the most resilient of fabrics and stands up to repeated professional cleanings without deteriorating over time. Cotton is also very easy to maintain and does not easily stretch or wear with cleaning.
Wool is quite durable but may require a specialized cleaning solution if delicate fibers need extra care. Velvet is one of the more challenging fabrics to clean due to its fineness and sensitivity which may require extra attention in order to prevent damage while being handled. Leather requires the utmost care when it comes to cleaning and should be left up to an experienced professional who knows the proper techniques to use in order to uplift dirt and grime without damaging the fabric. Lastly, certain synthetic blends that mimic natural materials such as suede and silk are better off being cleaned by professionals due to their delicate and sensitive fibers that may be easily damaged if not handled with care.
What are the key steps involved in a professional upholstery cleaning service?
A professional upholstery cleaning service follows a few basic steps to ensure quality results. First, the technicians will inspect the items to be cleaned and select an appropriate method and cleaning solution; they may use dry cleaning or steam cleaning depending on the fabric. Next, they will pre-treat any stains with a specialized solution then use a vacuum to remove dirt, dust and debris.
Following this, the technician will apply the chosen cleaning solution and employ special brushes to agitate the fabric and help penetrate into deeper layers for more thorough cleansing. Finally, spot treatments will be applied before rinsing, drying, and deodorizing the furniture item. By relying on professionally trained technicians and using specialized tools and cleaning solutions tailored to each respective fabric, homeowners can trust that their upholstery is being treated with care and receiving optimum results.
How do professional upholstery cleaning services compare to do-it-yourself methods?
When it comes to maintaining a clean and healthy home, it's important to pay attention to not just the visible areas but also the hidden ones like your HVAC ducts. That's why professional duct cleaning services like Green Street HVAC's can be a great investment in your family's well-being. With their expertise and state-of-the-art equipment, you can rest assured that your ducts will be thoroughly cleaned and free from any contaminants. Check out Green Street HVAC duct cleaning services to learn more.
Professional upholstery cleaning services are often considered the best option in comparison to do-it-yourself methods. Professional cleaners have access to better technology, more products and equipment, and knowledge of specific techniques that make the process much more efficient and effective. Additionally, they carry insurance liabilities which protect furniture owners from any damage incurred while they are working.
Not only that, but professional cleaners can also provide deeper cleanings, reaching all the built up dirt, dust and debris collected over time in a way that is not quite possible with DIY solutions. They know how to use the right detergents for different fabrics and color-fast dyeing which ensures safe removal of stains without causing any discoloration on the fabric.
Finally, their experience allows them to spot potential problems before they become permanent damage that may require expensive repairs or replacements. In short, hiring a professional upholstery cleaning service is an investment that can save money in the long run by protecting furniture from damage and ensuring consistent results time after time.