Have you ever been to someone's home and been wowed by the way their front entrance looks? Did you ever wonder what tricks they used to make their entryway stand out? Don't worry, we've got you covered. In this blog post, we'll show you how to decorate your front entrance and make it look amazing.
So grab a cup of coffee, sit back, and get ready for some tips and tricks on how to spruce up your front door!
Accent Pieces
No matter your decorating style, adding design elements to the front entrance of your home can provide an added sense of sophistication and welcoming warmth to family and visitors alike. Accent pieces add function and flair to this frequently overlooked area, so it's important to choose items that not only create an inviting atmosphere but also reflect an appreciation for life's little details. Here are some tips for how you can make your entrance look amazing with accent pieces:
Add a statement piece: A decorative object such as a mirror or piece of artwork hung near the door will be a great first impression for those entering your home. Choose eye-catching items that add interest, color, and texture to your space while providing a focal point in the entryway.
Be creative with seating: A bench or chair placed near the entryway allows guests to sit while they remove their shoes and coat. In addition, it also creates another area in which to display accessories such as lamps and other accent pieces—plus gives you another useful surface on which you can place items like books or bags.
Include plants: Live plants on either side of the doorway help give visitors an immediate feeling of warmth when they arrive. Opt for some low-maintenance houseplants like spider plants, snake plants, or Chinese evergreens which are all excellent options for adding life that doesn't require too much attention once set up.
Hang curtains: A soft fabric or patterned window panel hung above doorways is a great way to create a cozy atmosphere both inside and outside of the home by blocking out light from windows whilst also bringing depth into otherwise narrow entryways when used sparingly along with other accents pieces like rugs and furniture for a complete look.
Don't forget about doormats! A great and functional way to add decor to your entryway is with a stylish and inviting doormat. Choose from a variety of shapes, sizes, and colors that reflect your personal style and welcome visitors with a warm greeting. Doormats such as Lobster Mat Doormat can also be used to provide an extra layer of protection against dirt and debris, while still adding the perfect finishing touch to any front door.
Color Schemes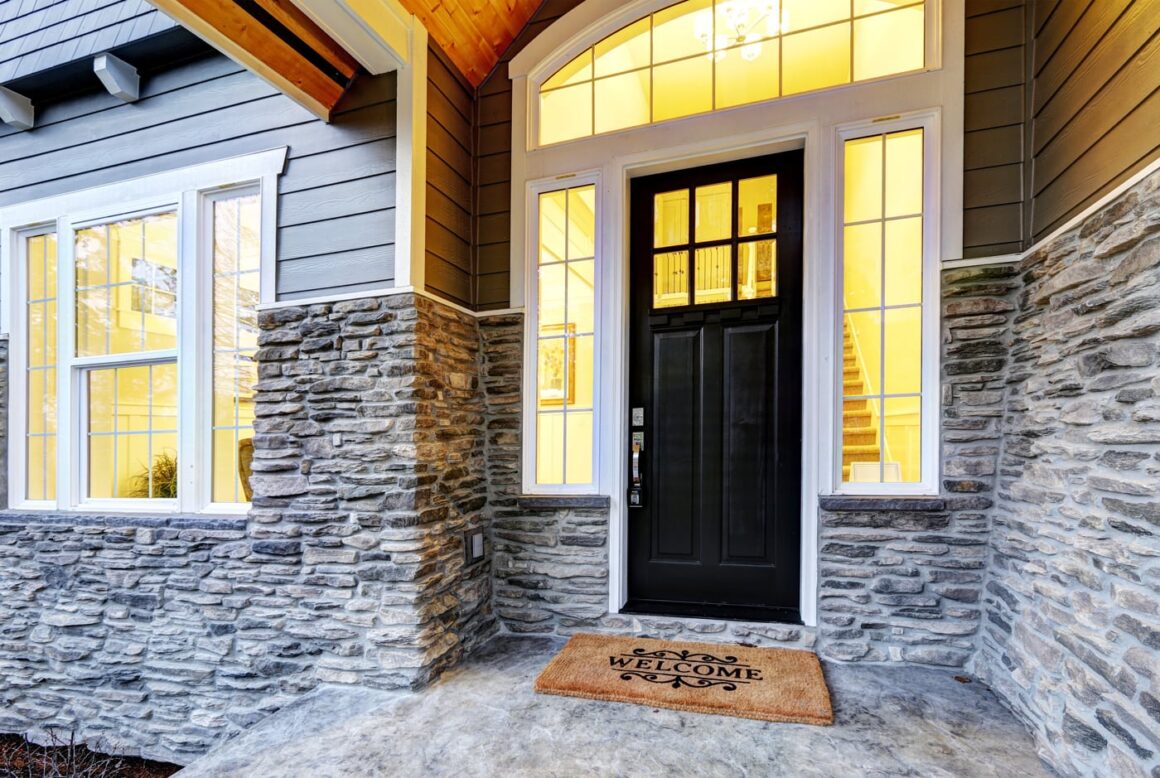 Color has the power to create or maintain a mood and make an otherwise drab space attractive and inviting. Whether you go for neutral shades or something more daring, here are some tips for choosing a great color scheme for your front entrance:
Start with neutrals – Neutral colors like white, ivory, beige, taupe, grey, and black are incredibly versatile and create an elegant look when used in moderation throughout your entryway.
Add pops of color – Use brighter colors such as reds, blues, and purples to accent the neutral palette. Painting door frames with a bolder hue can also add some visual interest to the space.
Balance warm and cool tones – Warm colors like yellow, orange, and red create drama while blues and greens bring out a more calming effect. When selecting colors for your front entrance use them together strategically for optimum results.
Use artwork to add color – Hang artwork that reflects the desired atmosphere of your entryway – abstract designs or landscapes work well as bold pops of color in neutral spaces.
Consider texture – Thinking beyond paint colors is just as important when creating a cozy look at the entrance of your home – painting shutters or doors using different textures creates an added element of depth while adding character to space.
Lighting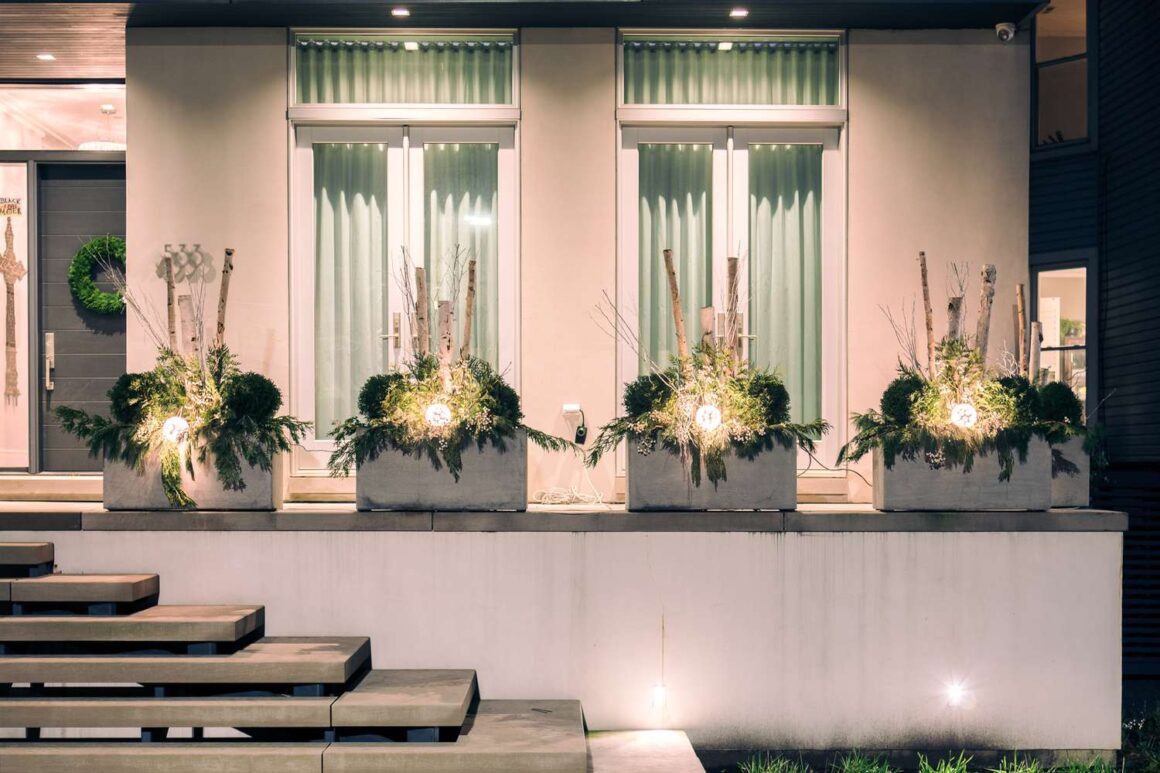 Lighting plays an important role in creating a welcoming ambiance for entranceways. Ambient lighting should be used to ensure visitors can easily find the door handle and navigate the stairs if necessary.
Install wall-mounted lamps, sconces, lanterns, or hanging chandeliers on either side of the doorway and use soft light bulbs to create a pleasant atmosphere. You can also utilize outdoor pathway lighting to spotlight shrubs, trees, and flowerbeds, making them stand out during the evening hours
For convenience, motion-activated lights can be installed so that as soon as you turn onto your street, your front entrance will automatically illuminate. Dimmable fixtures are also great for setting a mood or providing enough light to read nameplates or outside house numbers when needed. And don't forget about timer functions on your lights that let you set how long they stay on after they sense movement. Finally, colored floodlights can bring some drama to your front entrance and add curb appeal when used on a periodic basis – during holidays or summertime patio parties for instance.
Seasonal Changes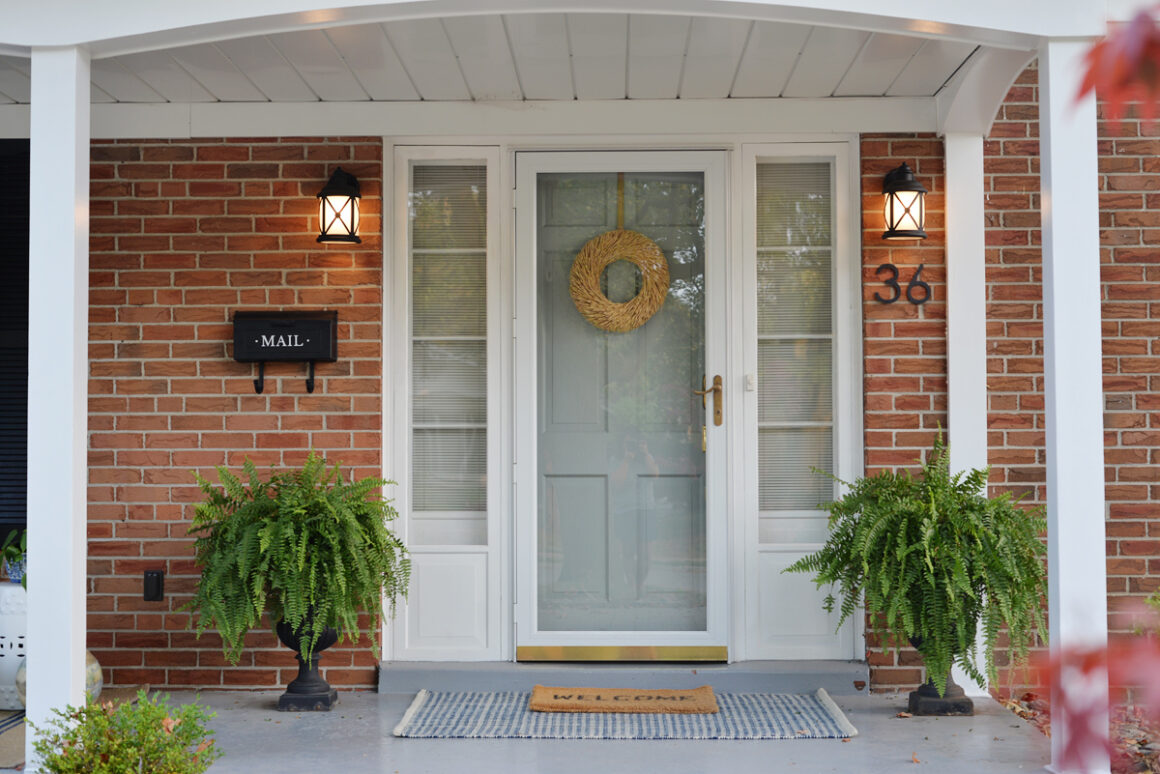 For winter, consider a festive wreath with pinecones and berries or evergreen branches adorned with colorful ribbons or lights. You can also decorate a covered porch or entryway by hanging strings of lighted lanterns for the holidays. In summer, choose hanging baskets with brightly colored flowers for a cheerful welcome at the door. For autumn, use mums, pumpkins, gourds, and leaves to create a cozy and inviting atmosphere.
Conclusion
Making that first impression count is easier said than done, but it's worth the effort. After all, you never get a second chance to make a great first impression. Whether you enlist the help of an outdoor home decor professional or choose to DIY, there are plenty of ways to create a welcoming and inviting entrance for your guests and passers-by.
Consider the options carefully so that the finished product truly reflects who you are and the feel of your home. With some thoughtful decisions about color options, lighting strategies, and personalized touches, your front entrance will be sure to turn heads for years to come!