A dining room is where everyone gathers around and enjoys their meals. Nowadays, many homeowners are redesigning or renovating their dining rooms. You can choose from plenty of themes and appearances to suit your taste. However, a modern minimalist is an excellent choice for a sleek and clean look.
A modern minimalist dining room is all about clean lines, simplicity, and functionality. It can be both stylish and practical. At its heart is making a space feel calm and neat. If modern minimalism interests you, below are some design tips to help you achieve the look:
1. Focus On Your Dining Set
Your dining set is the highlight of any dining room. It can make or break the entire theme you're going for. As you look for suitable designs from the range of dining sets available online, choose one that gives a minimalistic approach. If you cannot find one, you can always mix and match.
Ideally, the dining table should be simple and clean. Choosing natural or neutral colors is best to keep it plain yet sophisticated. Most people prefer plain rectangles with neat edges. While using patterns sounds fun, they might take away the essence of minimalism in the room.
For your dining chairs, choose a material that complements your table. They can be the same color as your table. You can also select a palette that blends perfectly with your dining room. Some homeowners find it chic to pair their gray table with white chairs or other options that are simple yet sophisticated. Busy designs or patterns can spoil the theme. Hence, opting for classy furniture that exudes modern appeal is wise
2. Use A Neutral Color Palette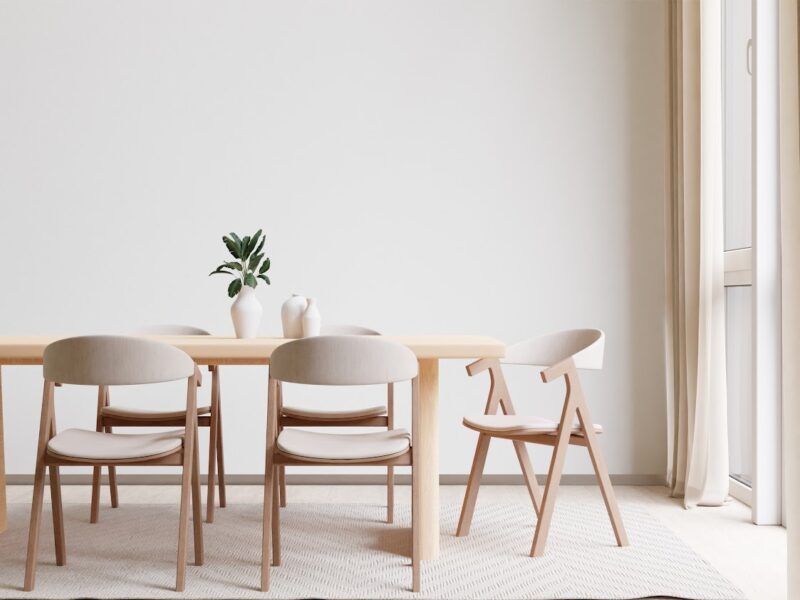 What makes a room minimalist is how you play with colors and hues. It might be challenging to mix and match if you're using bright or loud colors. Instead, you can use a neutral color palette for your dining room.
You can apply various shades of that palette to your walls, floors, ceilings, furniture, and decorations. Playing with shades of white, wood, gray, beige, and black can help you find what you want.
Depending on which side of modern you'd like your home to be, you can go with a darker or lighter shade. However, always remember to keep the perfect balance of light and dark. A dining room that's too dark or blindingly bright may spoil your appetite.
3. Choose Proper Lighting
Proper lighting plays an essential role in minimalism. You can have recessed lighting besides a chandelier or pendant lights. Recessed lighting gives your dining room a sleek and straightforward appeal. It gives you just the right amount of brightness.
When adding other lights in your dining room, keep them plain and simple. You can add layers but keep them straight and neat. The main goal is adding light to the room—not another excessive decorative piece.
4. Keep The Area Clean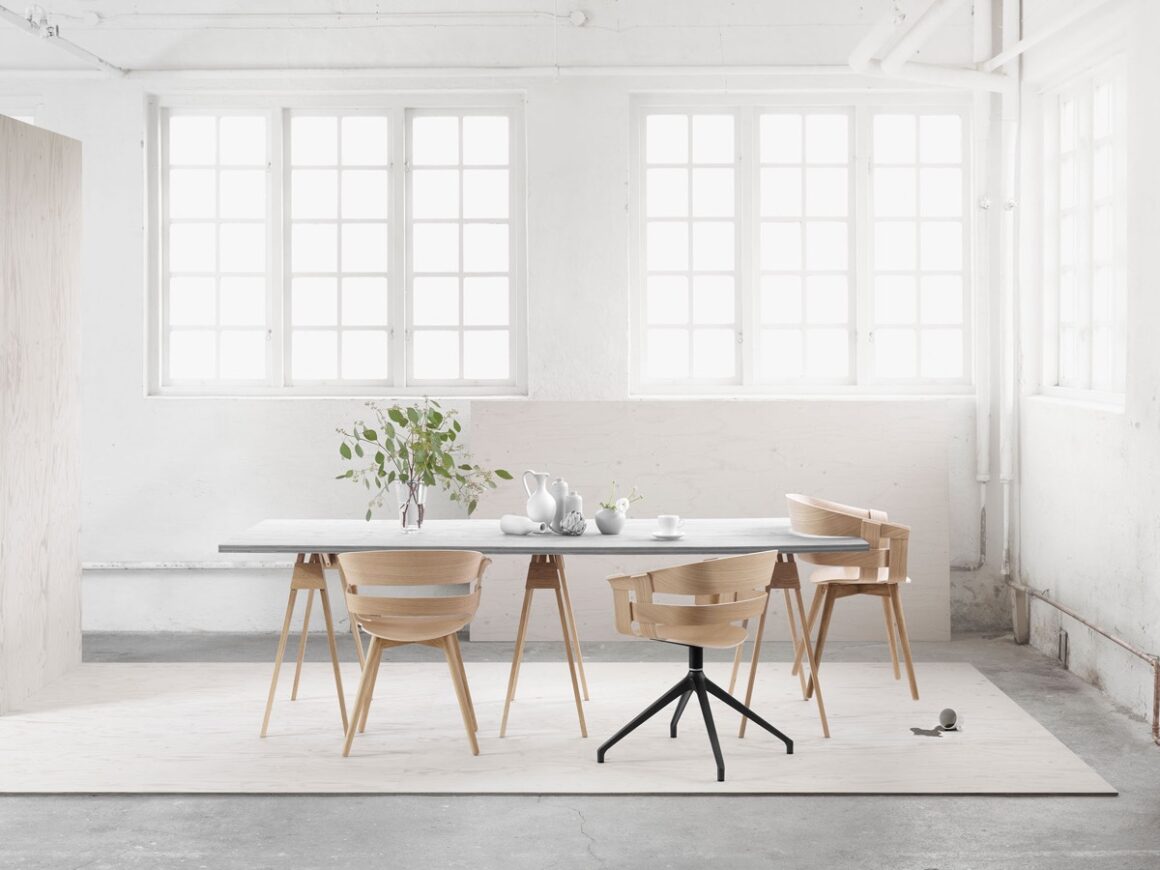 Minimalism practices less or no clutter in the room. Hence, keeping your dining area clean and free from mess is essential. You can store everything inside the cabinets to keep your dining room spotless. Drawing inspiration from interior design magazines can help you find the right vibe.
'A place where there are no clutters but only a few decorative pieces' is what other people say about minimalism. You may choose to keep a vase or a utensil set. However, opt for objects that look simple and neat. The idea is to create an organized space with less clutter.
5. Maximize Storage Options
Creating more storage space is the answer if you're looking for a place to put your clutter away. An excellent storage option should be near your dining area. This way, you can easily reach for your utensils, spices, and other kitchen needs.
Let the area evoke minimalism if your dining room is inside the kitchen. You can try a modular kitchen design if you have an intimate space. You can also build a dish rack, spice console, or mini pantry to maximize the room.
6. Minimize Decorations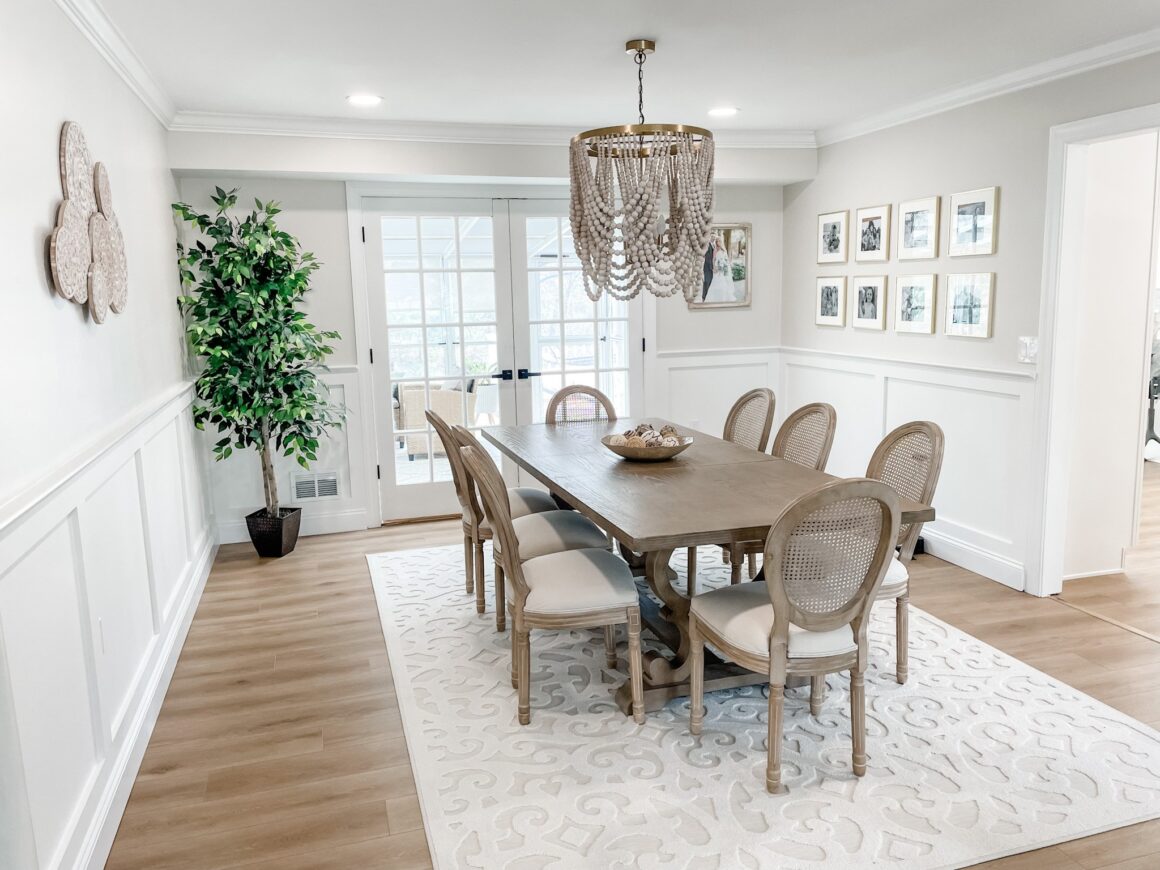 A minimalist dining room is far from having excessive decorations to capture a low-key vibe. For your dining table, remove any opulent or tacky decorations. If you must have one, a flower vase can breathe life into your dining area.
If you want to add a rug, ensure it complements your dining area. Meanwhile, try to use subtle designs for your wall decors. You can add a few paintings or life-size black-and-white photographs. Keep in mind that the fewer decors you can add, the better for a modern minimalist look.
7. Avoid Busy Patterns
Minimalism emphasizes the use of simple and plain designs. With this theme, avoiding using busy patterns at all costs is ideal. You can add a thick stripe at most, but never something too bold. Simplicity should apply to every part of the room—from furniture to decorations.
Use a plain pattern when using fabrics for your dining chair. You can use two colors at most but use the complementary color as a lining. Try to keep your rugs in muted designs. They shouldn't steal the room's attention but blend well with it. Adding too many busy patterns can ruin the idea of minimalism.
8. Match Your Utensils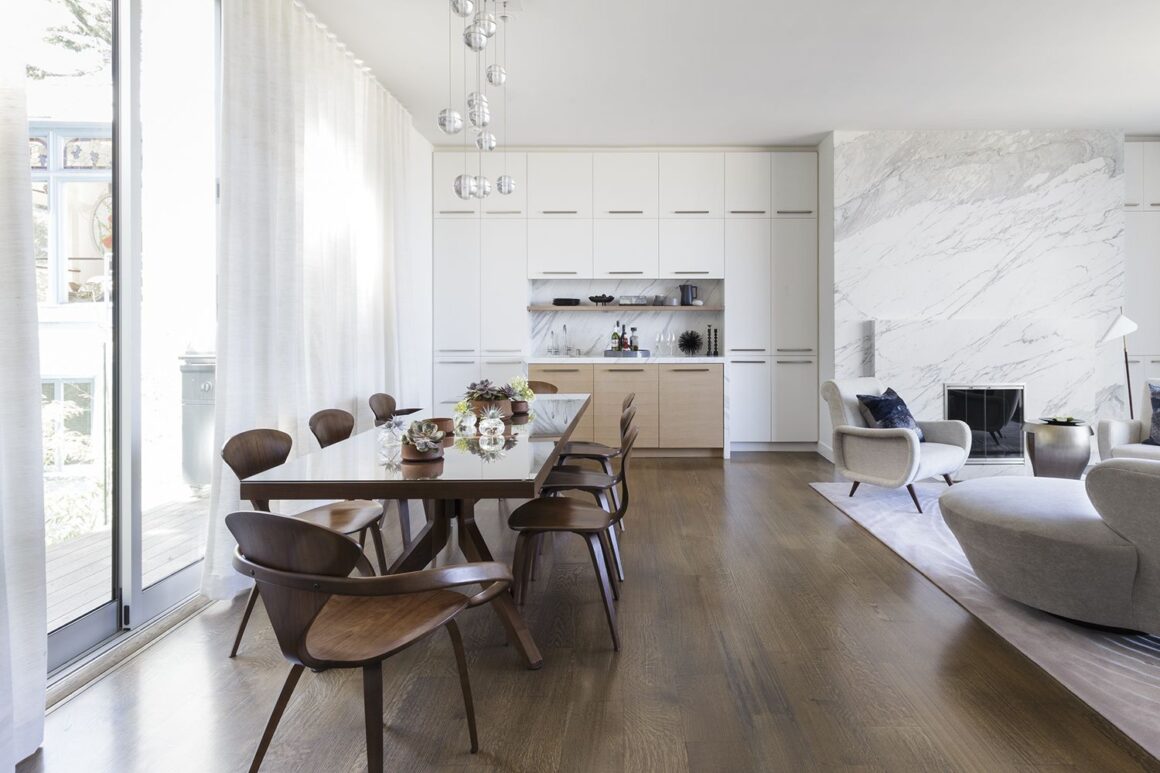 A minimalist dining room should look the same before and during mealtimes. As you set the table, matching your utensils with a minimalistic mood can set the atmosphere. You can choose to have plain, simple, or luxurious utensils.
Using a solid-colored plate can enhance the mood. If you'd like to add a lining, use a neutral color. However, if you want to add a bit of sophistication and elegance, you can play with gold, silver, or bronze. Meanwhile, you can opt for a table napkin that matches the color of your rug or table.
9. Invite Natural Light
Some houses maximize the use of natural light to emphasize minimalism. The sun's warm glow can make any space feel calm and peaceful. If you're renovating, you can add or expand your windows. Letting natural light inside the room can maximize minimalism and save energy.
Takeaway
Achieving a modern minimalist dining room can be easier, especially with the help above. You can start by choosing simple designs and neutral colors for the room. It's also best to keep the space clutter-free and use minimal decorations. This theme can make the space look airy, clean, and bright. It's also cost-efficient as you're not spending too much on decorative pieces.