In past times, the dining table in the house was a place for family members to gather. Families talked about their daily activities and bonded over a meal. It was a great experience as it fostered communication and built values for generations. In the current state of the world, everyone is in haste. Families no longer stay in the same space to eat and bond because everyone is about their business. These tables were and still are the gateway to bringing families together. They are not just decorative sets at home, they have a purpose to fulfill. Every family needs a dining area to foster bonding and proper growth for their children. According to Family Dinner Statistics, the National Center on Addiction and Substance Abuse at Columbia University surveyed children who share family dinners. These children have a better experience psychologically, academically, emotionally, and physically. 
The Best Modern Dining Table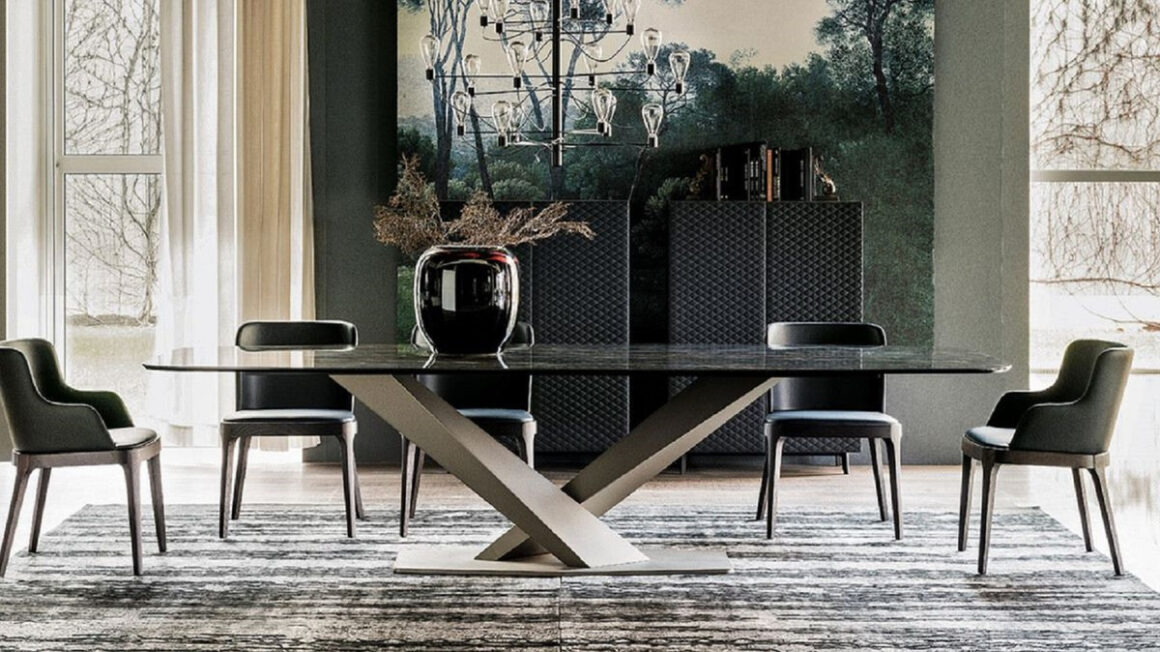 When shopping for a modern dining table, a buyer's mind wanders through to the size, aesthetics, and luxury of the dining table as a good fit for their home space. You will agree with me that the choice of a luxury table that will fit inside a dining space and be perfect in a kitchen space will be a modern round kitchen table. They are the best choice of tables for small and large spaces. And they also create inclusiveness and intimacy during meals. From inception, round tables have been linked to inclusiveness to create a balance for everyone to interact. The idea of a round table signifies equality and freedom. A round modern table creates a safe space for everyone to be vocal about their opinions without discrimination. Round modern tables also create a peaceful, simple, and luxurious environment. 
Shapes of Dining Table for Your Luxury Dining Experience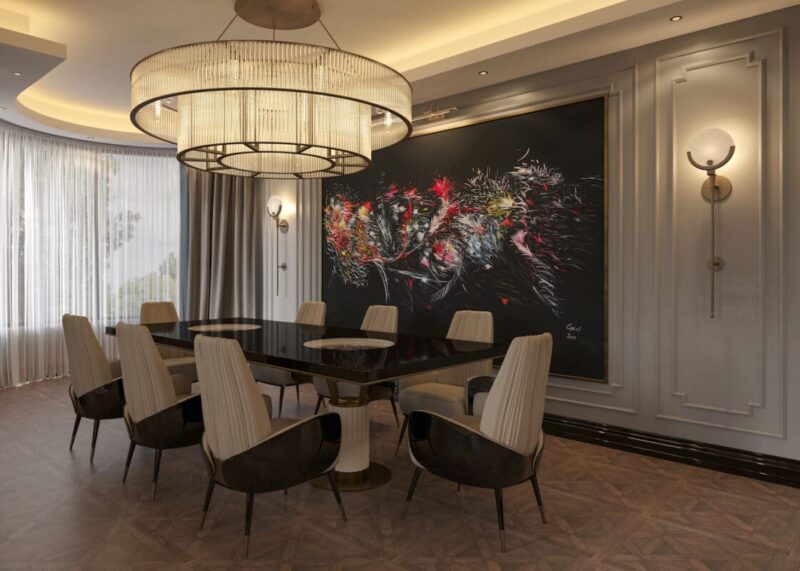 The qualities of a round dining table cannot be denied. Its ability to exude an atmosphere of equality and inclusiveness is a great advantage that elevates your dining experience. But, round dining tables are not the only shapes of dining tables that can be used in a dining or kitchen space to elevate your dining experience. Below are some other shapes of  tables found in a dining space:
Oval Dining Table:
The oval dining table is a combination of round and rectangular tables. It is a good selection for a semi-large space and can be used in a kitchen or dining space. In the case of a large audience, a chair can be placed around the table since it comes with curved edges. The Oval Table will be a good purchase for a large-scale family with a semi-large space.
Rectangular Dining Table:
The mental picture this type of table gives is banquet style – a dinner party with a large audience having different hierarchies. Rectangular tables create a formal atmosphere and it is great to promote teamwork during a banquet. The food will not get to the last person on the table if it is not passed hence teamwork is required. I'll recommend a rectangular table for a large family where hierarchy is emphasized. 
Square Dining Table
This table is known for its multipurpose usage. Square ones can also pass for a reading table when laid against a wall. Its versatility is great for anyone. The least number of persons a square table can occupy is four so small minimalist families can opt for this type. Square Table is also great for large families but it does not create an atmosphere of inclusiveness. 
Guide to Purchasing a Luxury Modern Table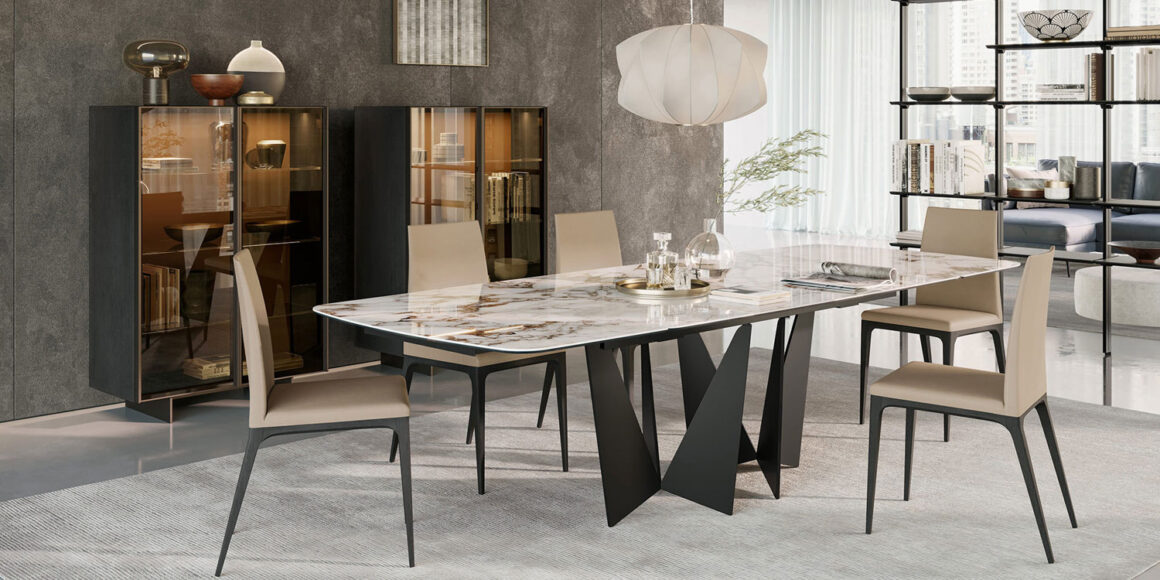 Space Optimization
The most heartbreaking furniture purchase anyone can make is purchasing a big piece of furniture for a small space or vice versa. The stress of replacing the furniture, and going over the same process of selecting suitable furniture for the required space can be very tiring. So, the first thing to consider before purchasing a modern table is how to optimize your minimal or big space to enhance the beauty and purpose of the dining space. A modern round dining table is one of the best choices when considering the space factor, and it also creates a simple and classy design for a home. The dining table can be situated in a kitchen space or a designated dining space. 
Aesthetics
Beauty is an important aspect when purchasing furniture; not only the beauty of the furniture but also the blending of the furniture size, design, and color with the design, color, and arrangement of furniture in the desired space. You would want the feel of luxury, homeliness, and inclusiveness when everyone sits for the dining. Using a luxury round dining table in your kitchen space or designated dining space will create an atmosphere that no one will forget quickly; that is an expectation to have when purchasing a modern table. 
Size and Age of the Family
The size of a family determines the size of the table needed. A large family will want to go for a sizable modern table to avoid the exclusion of any member of the family and this will emphasize intimacy. Also, when purchasing a dining table, the age of the occupants is a big deal. A family with children and elderly persons should avoid buying a table with sharp edges. Consider purchasing a round or oval dining table in this instance.

The durability of the material
All kinds of food will be displayed on a dining table, and there is no guarantee that liquids will not be poured on the table. So, for a long-lasting table, the durability of the material should be considered. It could be glass, wood, or both. 
Conclusion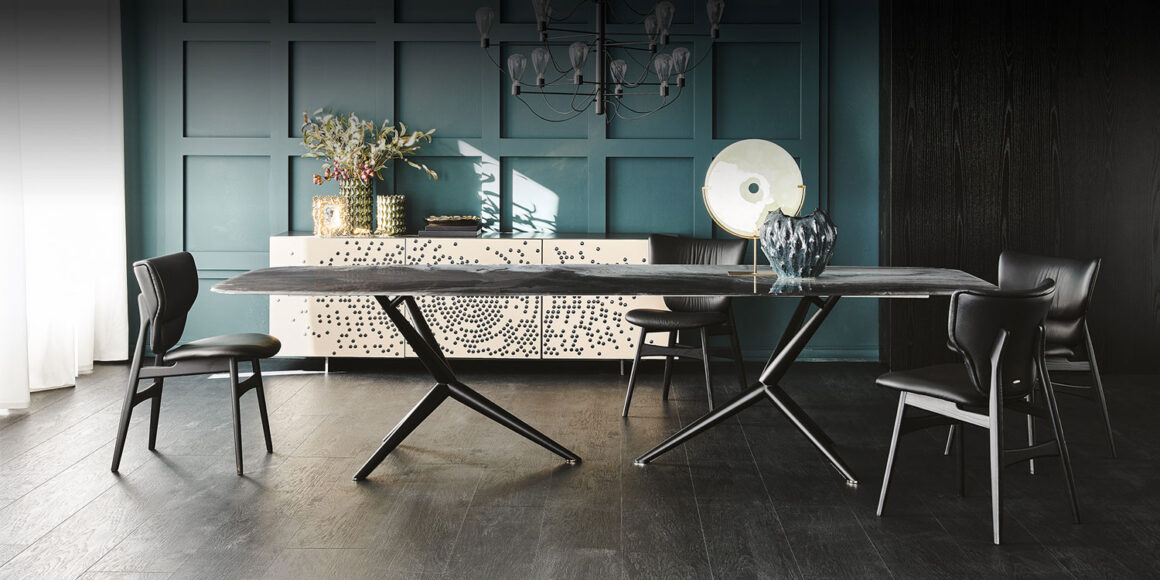 To elevate your dining experience, you should always go for a table that creates intimacy, fits into your designated space, blends with the aesthetic of the space, and exudes luxury. Meal time is a defined time for families to come together to bond. A modern round table will create an intimate moment for families to bond. No one can escape eye contact in that setting, so every issue is revealed and resolved. A good round table might just be the answer to the lag in communication in your family or office. Plan to purchase a durable modern dining table.