Selecting the right flooring for different areas of your home is a crucial decision that can significantly impact your living space's aesthetics, comfort, and functionality. With a plethora of flooring options available in the market, the task of making the right choice can be daunting. This guide will delve into the various factors and considerations for choosing the right flooring for each area of your home.
1. Living Room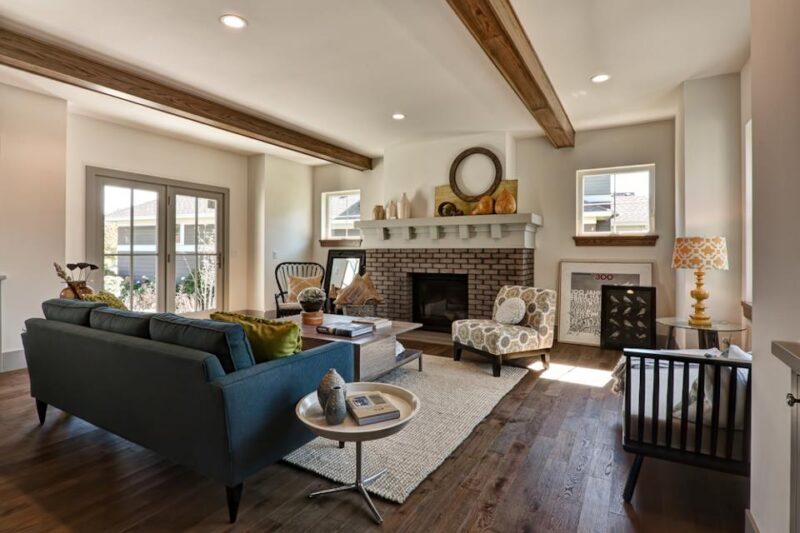 The living room is often the centrepiece of your home, where you entertain guests, relax, and spend quality time with family. Therefore, the flooring choice should be both aesthetically pleasing and durable.
Hardwood: Hardwood floors, such as oak, maple, or cherry, are a classic choice for living rooms. They exude warmth and elegance, creating a timeless look. Hardwood is durable and can be refinished when necessary, ensuring a long lifespan.
Laminate: Laminate flooring offers a cost-effective alternative to hardwood. It mimics the look of wood and comes in various styles and finishes. It's easy to maintain and resistant to scratches and stains.
Carpet: Carpeting is a cosy and comfortable choice for the living room. It provides warmth and sound insulation. Choose a low-pile carpet for easy maintenance, as it is less likely to trap dirt and allergens.


2. Kitchen
The kitchen is a high-traffic area that demands a durable and easy-to-clean flooring option.
Tile: Porcelain or ceramic tiles are popular choices for kitchens. They are resilient to spills, stains, and heavy foot traffic. Their various designs and patterns also allow for creative expression.
Vinyl: Vinyl flooring is a budget-friendly option that replicates the look of tile or wood. It's moisture-resistant and easy to clean, making it perfect for the kitchen.
Hardwood: While not as common as tile or vinyl, hardwood can be a beautiful option for kitchen flooring. However, choosing a hardwood with a protective finish is crucial to prevent water damage.


3. Bedroom
The bedroom is a personal sanctuary; the flooring choice should reflect your style and comfort preferences.
Carpet: Soft and plush carpeting is a popular choice for bedrooms. It provides warmth, sound insulation, and a cosy underfoot feel. Consider a neutral colour that complements your bedroom decor.
Hardwood: Hardwood floors add a touch of luxury to the bedroom. They are easy to clean and maintain, and you can place area rugs for added warmth and comfort.
Laminate or Engineered Wood: These options offer the look of hardwood but are more budget-friendly. They are also more resistant to moisture, which is essential in a bedroom.


4. Bathroom

Source: forbes.com
Bathrooms require flooring that can withstand moisture and humidity.
Ceramic or Porcelain Tile: These tiles are a top choice for bathrooms. They are water-resistant, easy to clean, and come in various styles, including those that mimic the look of wood or stone.
Vinyl: Luxury vinyl or sheet vinyl is another moisture-resistant option for bathrooms. It is softer underfoot than tile and is available in many designs.
Natural Stone: If you want to add a touch of luxury to your bathroom, consider natural stone like marble or slate. Just make sure to properly seal it to prevent water damage.


5. Dining Room

Source: amtico.com
The dining room is often an extension of the living area and should complement the overall design of your home.
Hardwood: Hardwood is an excellent choice for dining rooms, as it adds a touch of elegance and can withstand spills with proper maintenance.
Laminate: Laminate can mimic the look of hardwood at a more affordable price, making it a budget-friendly option for the dining room.
Tile: If you prefer a low-maintenance option, tile can be ideal. It's easy to clean and can withstand spills and heavy furniture.


6. Hallways and Entryways
High-traffic areas like hallways and entryways require durable and low-maintenance flooring.
Tile: Tile is a durable choice for entryways and hallways. It's easy to clean, and you can use entryway rugs to catch dirt and moisture.
Hardwood: Hardwood can create a seamless flow between rooms. It's crucial to choose a durable wood and apply a protective finish in these areas.
Barrier Matting: Ribbed barrier matting is vital for ensuring that you don't bring dirt from the outside inside your home.
7. Basement
Basements often have unique challenges, such as moisture and temperature fluctuations.
Vinyl: Luxury vinyl or waterproof vinyl plank flooring is an excellent choice for basements. It's waterproof, durable, and comes in various styles.
Engineered Wood: Engineered wood with a moisture-resistant core is suitable for basements, as it's less susceptible to warping and damage from humidity.
Ceramic Tile: If moisture is a concern, ceramic tile can provide a waterproof solution. Make sure the subfloor is properly prepared to prevent cracks and damage.


8. Home Office

Source: designingidea.com
A home office requires a balance of comfort, functionality, and aesthetics.
Hardwood: Hardwood or laminate can create a professional and inviting atmosphere. You can place an office chair mat to protect the floor from wear and tear.
Carpet Tiles: Carpet tiles are an excellent choice for home offices. They are easy to replace if one area gets damaged and come in various colours and styles.
Cork: Cork flooring is a sustainable and comfortable choice for a home office. It's soft underfoot, reduces noise, and is eco-friendly.


9. Outdoor Areas
Outdoor spaces like patios and decks also need appropriate flooring options
Decking: For decks and outdoor patios, wood decking or composite decking materials are popular choices. They provide a natural, elegant look and are resistant to the elements.
Concrete: Concrete is a durable option for outdoor areas. You can stamp or stain it to create a more visually appealing surface.
Stone Pavers: Stone pavers are a stylish choice for pathways and patios. They come in various colours and textures and are easy to maintain.
Factors to Consider
In addition to choosing the right material for each area, it's essential to consider various factors before making a final decision:
Budget: Your budget will influence the type of flooring you can choose. Keep in mind that while some options may have a higher upfront cost, they can also have a longer lifespan, reducing long-term expenses.
Maintenance: Consider how much time and effort you are willing to invest in maintaining your floors. Some options, like hardwood, require regular care, while others, like vinyl, are low-maintenance.
Durability: Different areas of your home experience varying levels of foot traffic and wear. Choose a flooring material that can withstand the demands of each specific area.
Climate: Consider your local climate and how it may impact your flooring choice. Some materials are better suited to humid or dry climates, while others can handle temperature fluctuations.
Selecting the right flooring for each area of your home is a crucial decision that should take into account various factors. The right flooring will enhance the beauty and functionality of your home.