How to make your kitchen look expensive in a budget-friendly way? Let me explain! The kitchen is often considered the heart of the home. It's a space where families gather, meals are prepared, and memories are made. Although many desire a magazine-worthy kitchen, a full renovation is not always feasible. However, there are plenty of ways to upgrade your kitchen's appearance without investing more money. With clever DIY solutions, strategic upgrades, and styling tips, you can make your kitchen look downright luxurious on a budget. Let's look into 10 ways to make your kitchen look expensive in a budget-friendly way and it is not just about aesthetics but also about ensuring safety and health.
The Importance of Proper Kitchen Lighting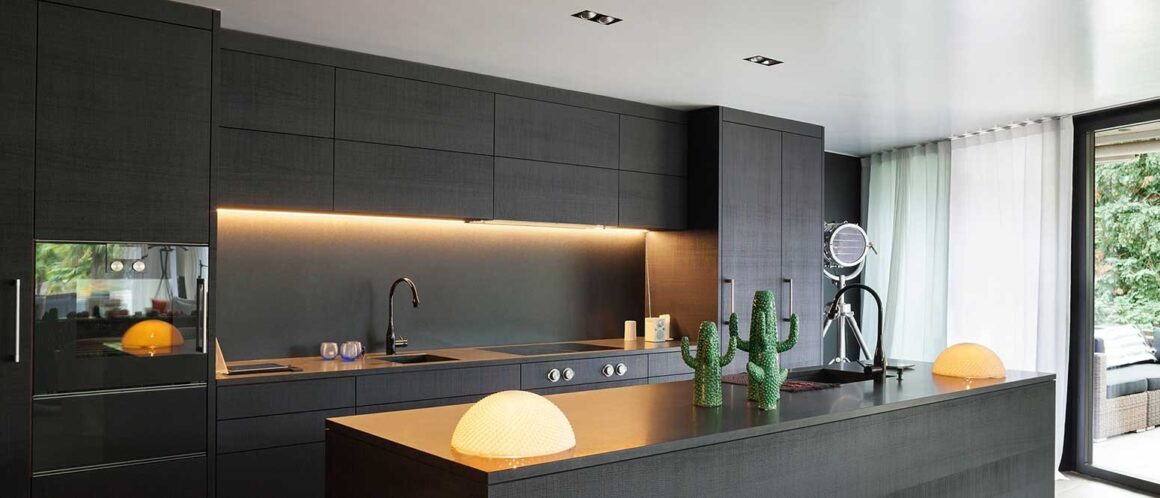 A special attention for lighting is required in the kitchen as it has a profound influence on our well-being.There are a few different types of lighting to think about. Ambient lighting gives a nice overall glow, which is good for general stuff. But when you really need to see precisely what you're working on, like reading a recipe or chopping veggies, task lighting is your best bud. It's like a super-targeted beam of light.
There are other options too, like pendants and under-cabinet lights. The point is, with the right lighting mix, your kitchen can be functional AND have a beautiful vibe. So don't stress too much – just think about what kind of activities happen in each spot, and choose lighting that makes you feel happy and safe.
It's important to think about every small detail you want for your farm sink kitchen. Now, achieving that dream kitchen doesn't have to drain your wallet. There are some simple, budget-friendly tricks to make your space look luxe! Let's explore.
Upgrade Your Hardware
The details make the difference between a basic kitchen and a luxurious one. An easy way to upgrade your space is by enhancing the hardware. Replace outdated or boring knobs and pulls with high-end options that align with your overall kitchen style. Go for finishes like black iron, brass, or antique bronze rather than standard chrome or stainless steel for a more upscale look. For additional visual interest, mix and match knobs and pulls throughout the kitchen.
Achieving this elevated aesthetic doesn't necessarily require replacing the existing hardware. Spray painting is an affordable option to give cabinets and drawers an instant makeover. Additionally, attaching new backplates to existing handles adds further detailing and dimension. With these simple upgrades, you can breathe new life into your kitchen's hardware.
Introduce Greenery
Incorporating plants into your kitchen instantly elevates the ambiance and air quality. Fill the window sills with an assortment of herbs, succulents, or vines to introduce natural beauty. If space is limited, hang trailing plants in macrame or wire holders. The infusion of greenery filters light in an aesthetically pleasing way while also purifying the air.
For a functional focal point, create a vertical garden near the countertops to grow cooking herbs like basil, thyme, rosemary, or mint. Having flavorful garnishes on hand makes cooking more convenient and delightful. The act of caring for the plants also provides a sense of nourishment and joy. With strategic placement, greenery can transform the entire feel of a kitchen.
Lighting: The Jewel of the Kitchen
Lighting plays a crucial role in establishing a kitchen's ambiance. The default fluorescent box lights give an industrial vibe rather than the warmth and elegance you may envision. Swapping these unflattering lights for pendant lights, chandeliers, or sconces makes a striking difference. Opt for styles that complement the current features rather than competing with them.
For example, drum pendant lights work well over a kitchen island while articulated arm sconces are ideal for illuminating task areas like food prep zones. Introducing varied lighting elements creates visual interest and depth throughout the space. Adjust the brightness and warmth of bulbs to find the perfect balance for cooking and conversing. With strategic upgrades, your once-dreary kitchen can sparkle and shine.
Accessorize to Personalize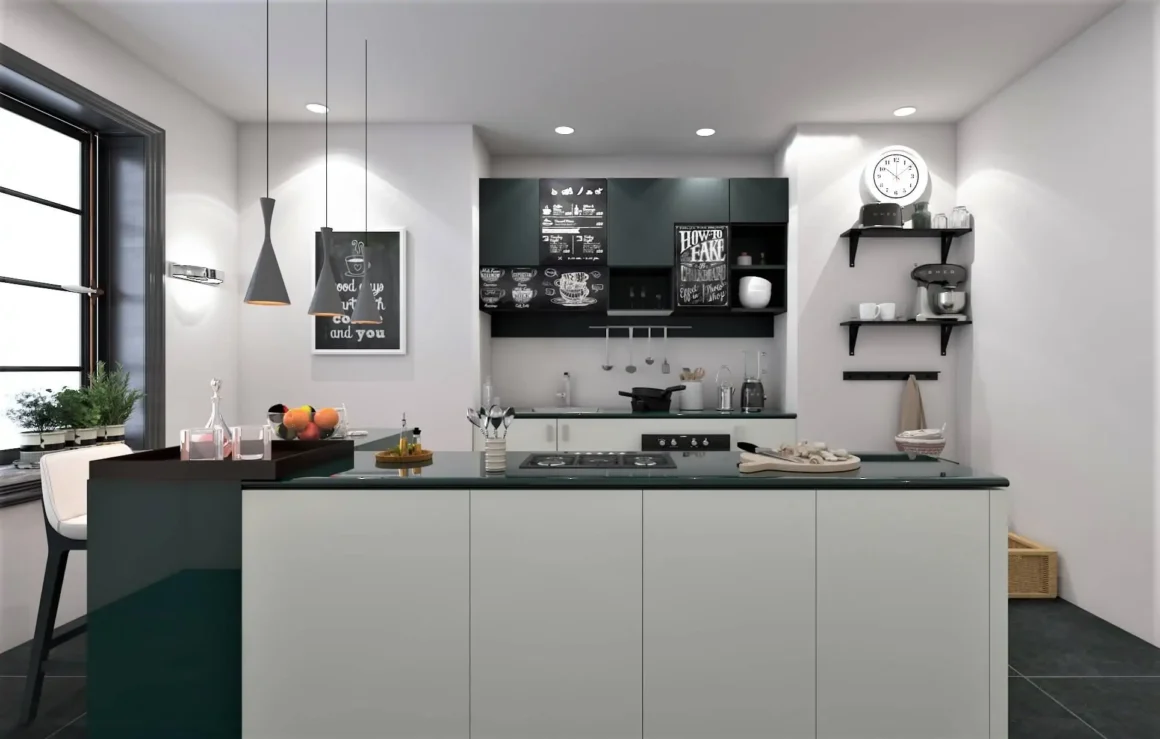 Injecting personality into a space prevents a cookie-cutter look. Cleverly accessorizing your kitchen allows you to infuse it with your distinct taste. Display prized antique dishes in open shelves or quirky hanging rails. Layer in accent pieces like ceramic utensil holders, colorful tea towels, and rustic cutting boards to liven up countertops.
For walls, incorporate framed photos, inspiring quotes, and colorful artwork. If your cabinets are looking tired, simply attach trim to add detailing that gives the illusion of custom built-ins. With each personalized element, you make the space truly yours. A thoughtfully accessorized kitchen has an inherent cozy and luxurious feel.
Incorporate Rugs
Including a rug in the kitchen may seem unusual but it can add warmth along with aesthetic appeal. Place a patterned or textured rug in front of the sink area for comfort while doing dishes. Not only does this add a cozy element but it also helps reduce back and foot strain.
Choose materials like cotton, jute, or easy-clean polypropylene rather than high-maintenance carpets. For high-traffic zones, use a rug pad to prevent slipping. The added texture and color of a rug instantly gives the kitchen a homey vibe. Just be sure to select easy-clean options suited to the kitchen's demands.
Stylish Stools
Counter stools provide not only a place to sit but also an opportunity to showcase your design style. Standard wood or metal stools can be swapped for ones with more stand-out details like an intricate cane base, velvet upholstery, or a gold finish. Choose stools with a flair that complements the existing décor. Mismatched stools add quirky character, while uniform stools create an upscale bistro aesthetic.
For small kitchens, consider stools that can be tucked under the counter when not in use. Storage stools with lift-up seats double as clever hiding spots. Your kitchen's stools deserve just as much attention as the other details. With an updated stool style, suddenly the space looks styled rather than just functional.
Faucet Facelift
Over time, faucets can lose their shine and start to show signs of wear. Replacing an outdated faucet instantly gives the kitchen an upgraded look. Look for high-arc styles in on-trend finishes like champagne bronze, matte black, brushed nickel, or oiled bronze. If possible, match the faucet finish to the existing hardware and pendant lights for a cohesive appearance.
Features like a pull-down spray head also provide added convenience while cooking. For a lower-budget option, replacing just the handles and sprayer head updates the look without replacing the entire fixture. With a sleek new faucet, even a basic kitchen starts to look luxurious.
Artistic Touches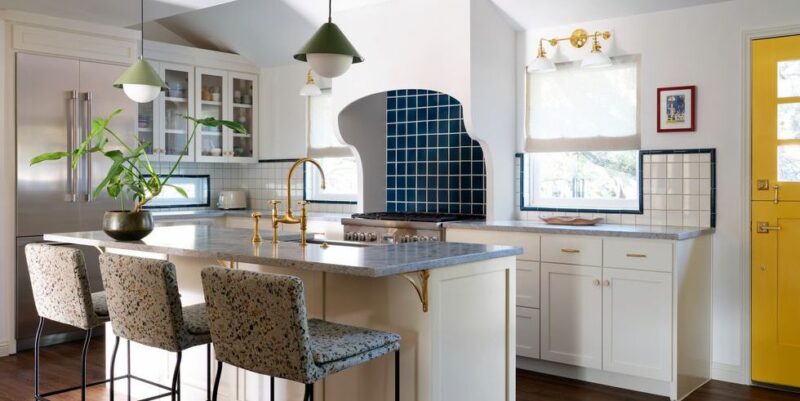 Typically, kitchen walls feature simple tile backsplashes or bare drywall. Break the mold by decoratively displaying artwork and wall accents. Group framed prints and paintings on the wall in lieu of boring empty space. Incorporate dimensional elements like wall-mounted utensil racks, floating corner shelves, or vertical succulent gardens.
If the cabinets and artwork share unified colors, the varied pieces will tie together nicely rather than clash. Don't be afraid to deviate from standard kitchen artwork like wine labels or lemons. Choose pieces that bring you joy, align with your taste, and make the kitchen feel uniquely yours.
Organizational Mastery
Clutter diminishes the aesthetic appeal of any space. Conceal the chaotic remnants of everyday living with strategic organizational solutions. Store pantry essentials in matching clear canisters to create a uniform appearance. Keep countertops clutter-free by using decorative trays and baskets to corral items.
Install racks on cabinet doors to hold cutting boards, utensils, pots, and pans right where you need them. Keep appliances tucked out of sight inside cabinets until use. With a place for everything, the kitchen maintains a magazine-worthy appearance of order and polish.
Deep Cleaning for a Fresh Look
Even the most luxurious kitchen loses its luster if left dirty and grimy. A deep clean provides an instant facelift that helps maintain the aesthetic between design refreshes. Dedicate time weekly or monthly to thoroughly clean the surfaces, appliances, walls, lighting fixtures, cabinets, and floors.
Use a mild abrasive cleaner and soft cloth to wipe down cabinets, eliminating grease buildup and fingerprints. Descale faucets and showerheads to restore shine. Organize appliances and wipe down surfaces. With concerted effort, the kitchen returns to a photo-worthy state. A clean, hygienic kitchen always looks its best.
Conclusion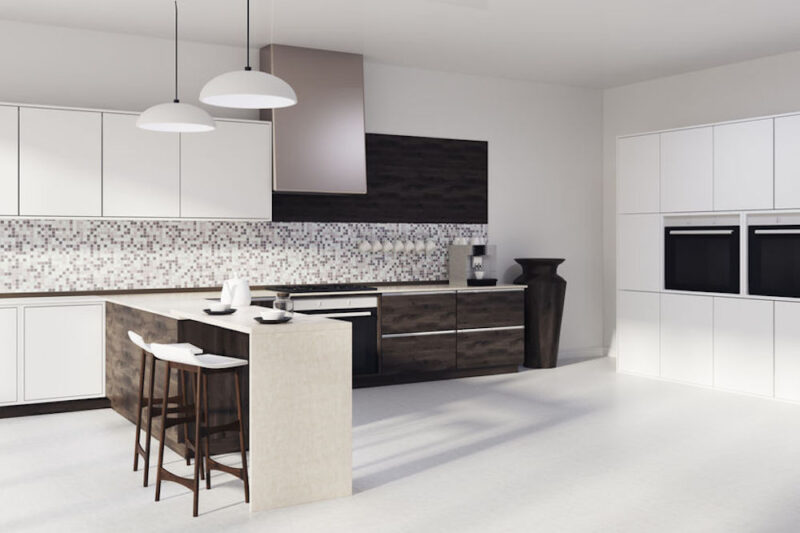 As mentioned above, with strategic upgrades, storage solutions, and styling tips, elevating your kitchen's appearance is within reach even on a budget. Focus on high-impact changes first, like enhancing lighting, updating hardware, and infusing personal style. Add organizational tools like matching canisters and racks to maintain order. Intentionally style vignettes for an upscale yet cozy feel. With diligence and creativity, you can cultivate a magazine-worthy kitchen without the sky-high price tag.
Frequently Asked Questions
How can I maintain the luxurious look of my kitchen on a budget?
Regular cleaning, periodic hardware updates, and decluttering go a long way. Avoid full remodels and focus on small upgrades like new lighting fixtures, appliances, hardware, and a fresh coat of paint. Styling vignettes and incorporating greenery also help elevate the look affordably.
Are there any DIY solutions to enhance the kitchen's appearance?
Absolutely! DIY projects like painting cabinets, installing new open shelving, upgrading hardware, and adding personalized accents allow you to refresh the kitchen yourself. Simple changes like new knobs and under-cabinet lighting make a noticeable difference.
How do I choose the right accessories that won't go out of style quickly?
Stick to timeless, good-quality accessories in versatile styles and neutral colors. Natural wood elements, stainless steel appliances, marble accents, and ceramic wares resist looking dated. Avoid very trendy colors, prints, and novelty accessories. Invest in pieces you'll enjoy for years to come.