When planning a new kitchen, it's important to take into account the requirements of everyone who'll be using it. You want to make it work for all members of the family without compromising on style or functionality. Pets are now considered family members, not property. They provide companionship, love, and even a certain amount of entertainment.
With more than half of all households in the UK owning at least one pet, it's not hard to see how much of an impact they have in our lives. English pet owners are transforming the cultural definition of the family. If you love your furry friend as much as they love you, there are ways to make them feel more valued, appreciated, and cared for.
Dogs and cats gravitate towards the kitchen – they like to be where the action is. Keep on reading to discover how to make the kitchen the heart of the home for your four-legged friend too. Here's what to consider when creating a pet-friendly kitchen.
Add A Nook for Your Pet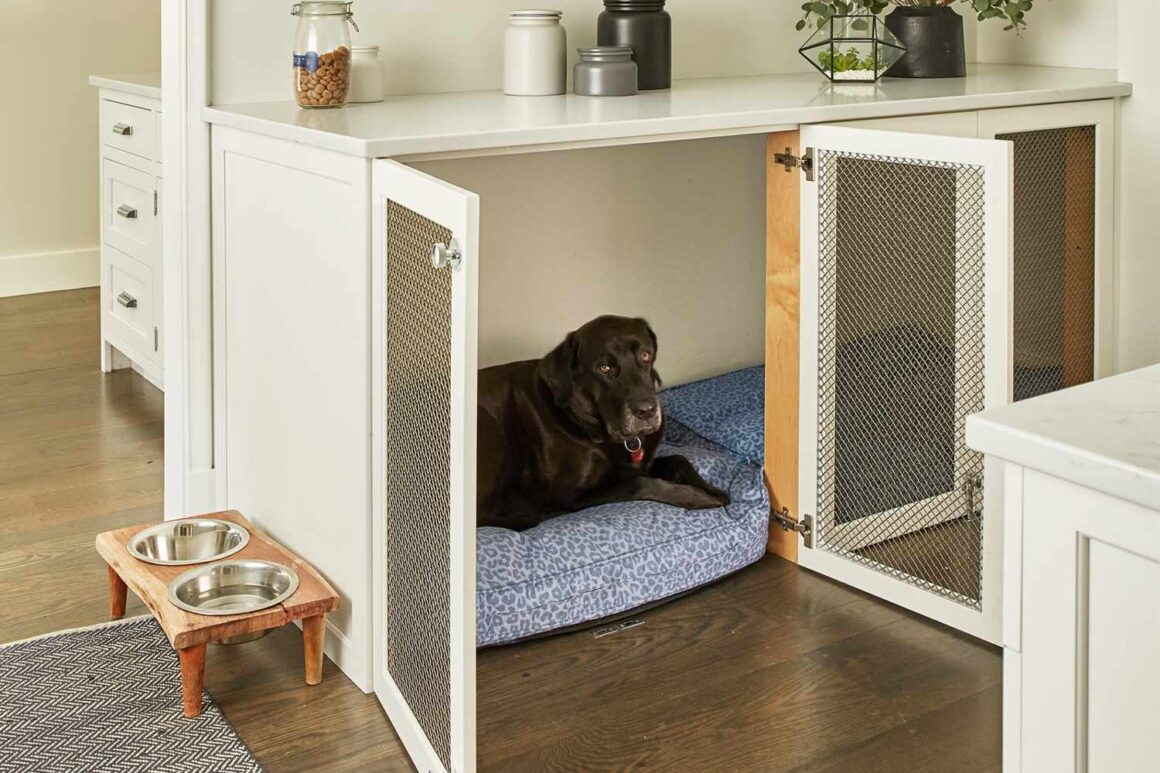 If you don't already have one, create a designated "hang out" spot for your pet, in sync with your aesthetic preferences but cosy and comfortable for your furry friend at the same time. Choose a spot away from the cooking area to protect your pet from the risk of hot pots and pans and sharp knives. Maybe you feel like you have eyes at the back of your head when it comes to your dog or cat.
Pets often steal food out of boredom or hunger without owners noticing, which is why it's important to keep them at bay. To design a kitchen that really works for you and your four-legged friend, include a spot for them, too, anywhere that can double as storage space for bowls, leads, and, of course, food.
Stick To Dark Tones
Contrary to popular opinion, darker tones don't make the kitchen appear smaller. If used correctly, they make the room feel warm and inviting, creating a welcoming atmosphere. If you want to keep your kitchen looking spotless, stick to dark tones such as charcoal, navy, forest green, and so on.
Scratches and smudges will go unnoticed, meaning you can disguise blemishes for a long-lasting finish. It's recommended to stay clear of light colours, even if you have a well-behaved dog or cat. Certain colours are more forgiving, so think about your pet's fur and try to pick a similar tone if possible. Finding the right colour combinations for the walls and cabinets can be challenging.
According to the experts at Kitchen Warehouse Ltd, there are no strict rules, so it all comes down to personal preference and the look you wish to achieve. You can create a restful colour scheme with dark walls in the kitchen, matching them with the cabinets or opting for a statement wall. With a little help from mirrors and reflective surfaces, it's not impossible to turn gloominess into something upbeat. A dark kitchen idea can be integrated into most spaces; if you're worried that it will be too much, paint the base units or just the island. If the sunlight is streaming in, any obvious marks will show.
Keep It Contained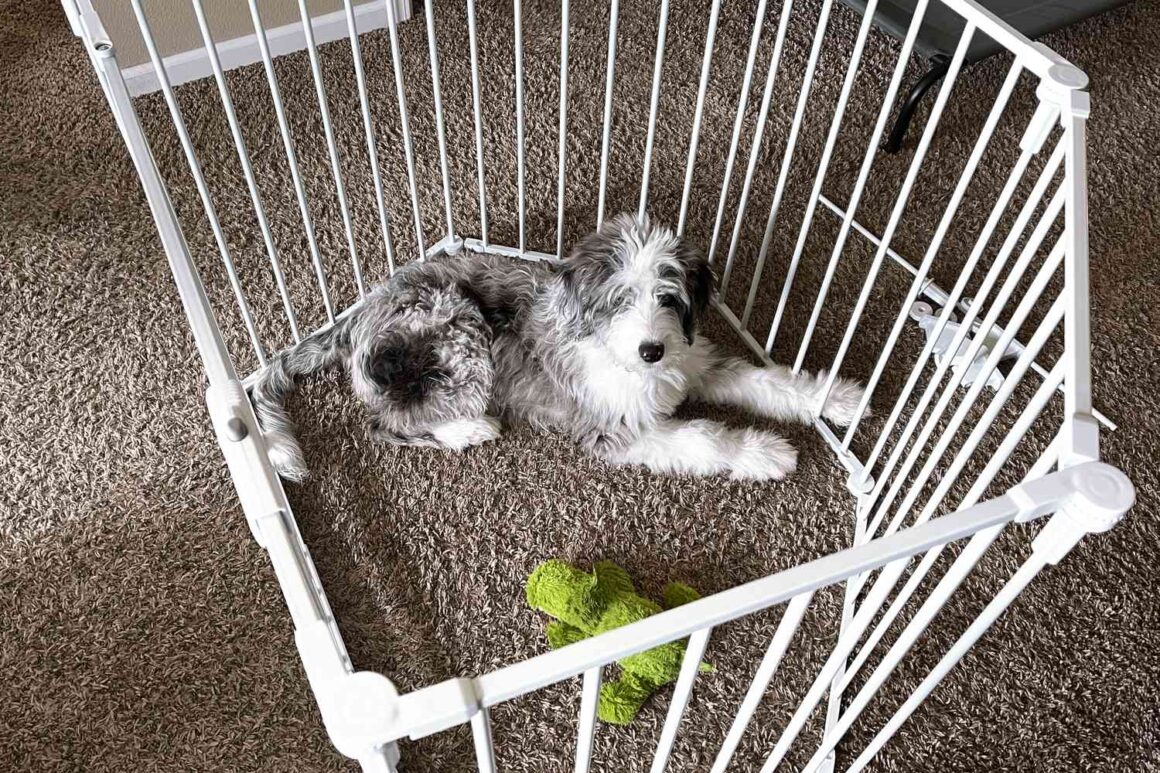 It's a good idea to teach your furry friend to get used to your absence, even if you don't plan to leave them alone for too long. You can leave your pet in the kitchen, as it's easier to clean up the potential mess. A gate can be placed across the doorway to prevent your four-legged friend from moving beyond the kitchen.
In case you didn't already know, pet gates have become increasingly stylish and sophisticated, so they seamlessly blend in with the décor, with designs ranging from wood to metals. If you leave cooking food unattended, your pet will scavenge for scraps, so they should be confined to another room. To keep your cat off the countertop, use placemats with double-sided tape; they hate getting their paws stuck.
Go For Softer Edges
Any dog or cat owner can vouch that jumping is an annoying habit. If you haven't yet conquered this pet peeve, it's advisable to go for softer edges – the last thing you want is dangerously sharp corners. Eased edges, for instance, are not only durable but also beautiful, so you can enjoy them for years to come. They provide a clean, streamlined look to the kitchen. Square edges also have a soft finish that helps prevent injuries. Also, you don't have to worry about chipping, which can be anaesthetic. A low-maintenance countertop is created with the best materials, giving your kitchen a modern, fresh look.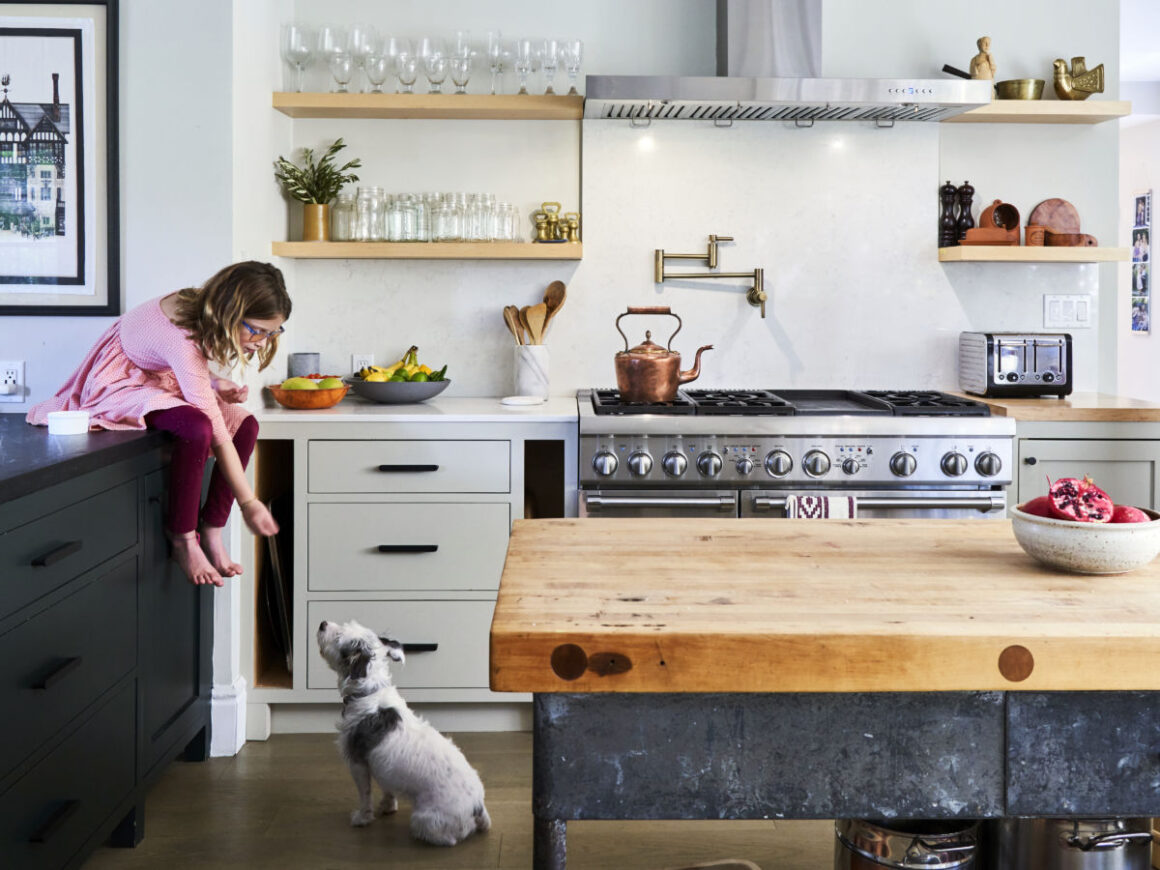 Finally, yet importantly, your furry friend comes with quite a few possessions you're going to have to find room for. Just think about it. You must fit food bowls, leashes, grooming supplies, and more into the space. If you can have a dedicated area in your kitchen for your dog or cat's essentials, why not? A wastebasket can provide bin storage, while a dedicated cabinet with drawer dividers can create organised space. If you don't have cabinets to spare, don't fret because you can create a dedicated shelf for your pet supply or add a standalone storage unit in an empty corner.
If you want, you can create a pet feeding station to keep food and water neat and tidy. When it's not in use, it slides under and keeps the mess out of the way. Have a built-in feeding station in a bottom cabinet or drawer – it looks incredible. The pet feeding station reduces visual clutter, and items like treats and supplements are hidden from view too. The project isn't recommended for pets who are at risk of bloating because they might be tempted to eat and drink too quickly. At any rate, the role of the feeder in this condition hasn't been established, but it's better to stay on the safe side.
The Takeaway
The kitchen is the heart of the home, so it's your responsibility to make sure it's a functional and practical area. Factor in your dog or cat if you're planning a remodelling.